04/19/19-DIVISION OF CONSERVATION & RESOURCES ENFORCEMENT CONFISCATES ILLEGAL LAY NETS
Posted on Apr 19, 2019 in DOCARE, Fishing, slider
DEPARTMENT OF LAND AND NATURAL RESOURCES
News Release
DAVID Y. IGE
GOVERNOR

SUZANNE D. CASE
CHAIRPERSON
For Immediate News Release: April 19, 2019
DIVISION OF CONSERVATION & RESOURCES ENFORCEMENT CONFISCATES ILLEGAL LAY NETS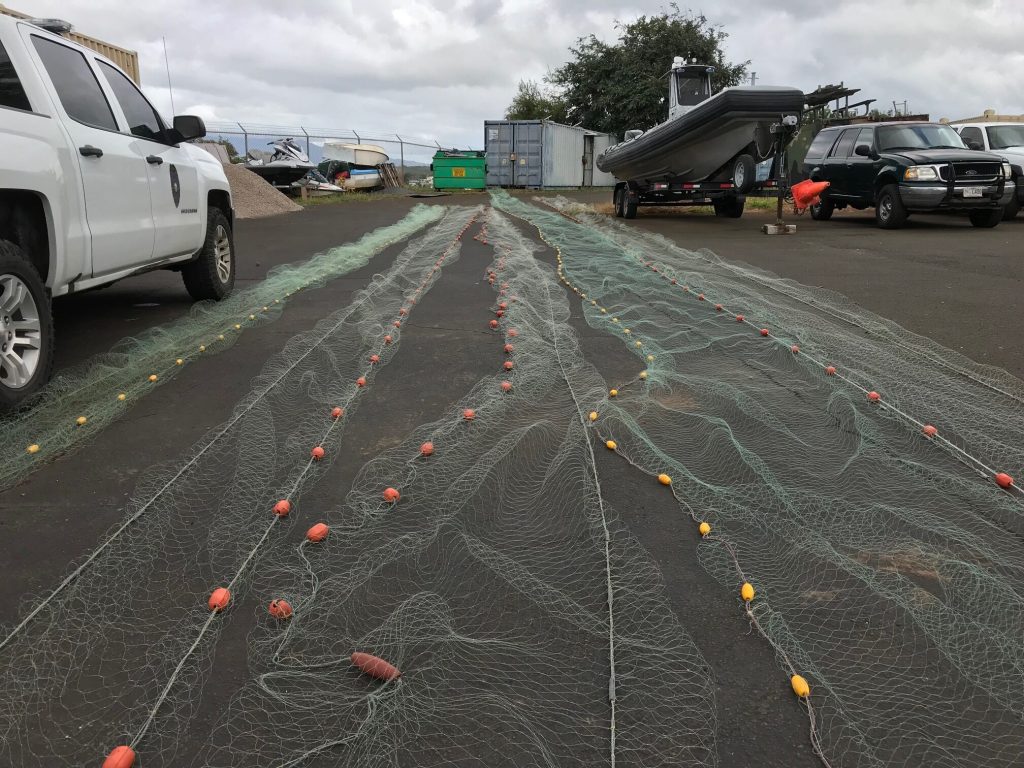 (Honolulu) – Nearly one thousand feet of suspected illegal lay net was confiscated by officers from the DLNR Division of Conservation and Resources Enforcement (DOCARE) this morning.  This, after a DOCARE officer on routine patrol on the shoreline adjacent to the La Mariana Sailing Club Restaurant on Sand Island, spotted a man tending several large bags at about 6:30.The officer suspected the bags were filled with what appeared to be lay nets.
A team of DOCARE officers inspected seven bags and found that four of them contained an estimated 100 undersized fish as well as live coral.  The fish species include Papio, Kala and Moi. The four nets with the illegal take were seized and 47-year-old Gary Shigematshu of Salt Lake received approximately ten citations.
DOCARE officers want to remind people about responsible and legal netting and protecting and conserving Hawai'i's natural resources.  People can report suspicious activity via the free DLNRTip application of by calling the statewide hotline at 643-DLNR (3567).
# # #
Media Contact:
Dan Dennison
Senior Communications Manager
(808) 587-0396
[email protected]