DEPARTMENT OF LAND AND NATURAL RESOURCES
News Release
DAVID Y. IGE
GOVERNOR

SUZANNE D. CASE 
CHAIRPERSON
For Immediate News Release: November 12, 2019
PROMISE CONTINUES IN THE WILD FOR ONE OF THE WORLD'S RAREST BIRDS
Four Kiwikiu Out in Restored Forest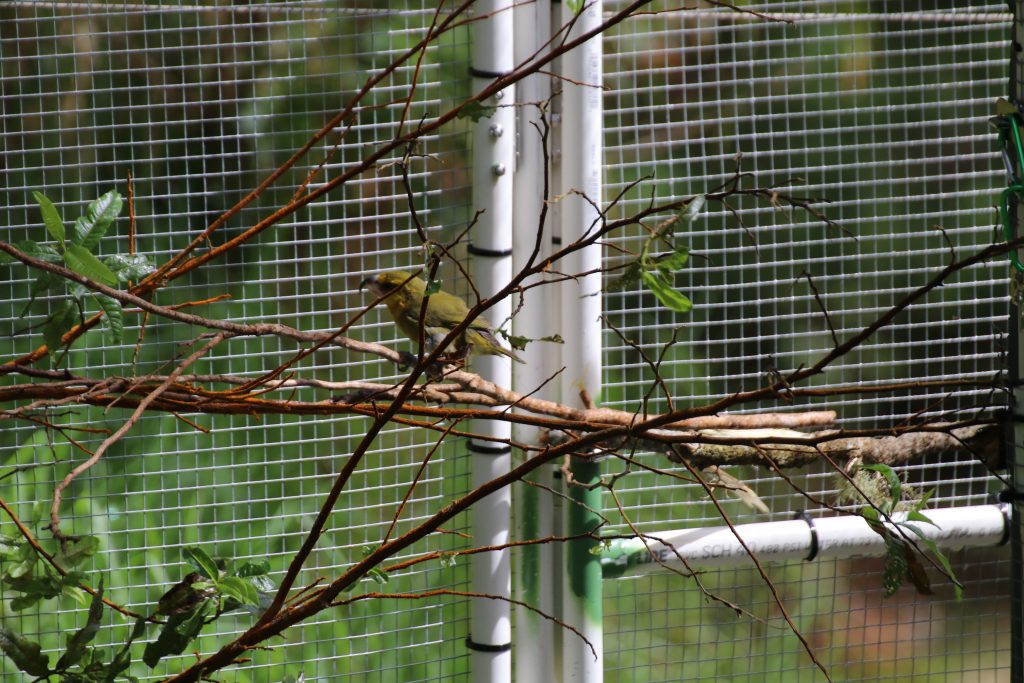 In order to view video please click on photo or view at this link: https://vimeo.com/370759956
(Nakula Natural Area Reserve, Maui) – In late October, thirteen critically endangered kiwikiu (Maui Parrotbill), were brought to the leeward slope of Haleakalā in the state's Nakula Natural Area Reserve (NAR). Over the past decade more than a quarter million native trees were planted in this NAR and the adjacent Kahikinui Forest Reserve to repair decades of habitat destruction caused by overgrazing by hooved animals like goats, cows, and sheep. One of the major goals of this effort was to recreate a largely native forest and understory as a new home for the kiwikiu. Seven of these birds were captured in the wild in the Hanawi NAR and flown to Nakula. The other six kiwikiu were reared in captivity at the Maui Bird Conservation Center (MBCC) and then transferred to Nakula for release.
"Unfortunately, of the thirteen birds translocated from Hanawi NAR or transferred from MBCC, we had five captive bird mortalities and four wild bird mortalities," said Dr. Hanna Mounce, Project Coordinator for the Maui Forest Bird Recovery Project, the lead organization in this multi-agency collaborative effort. "While we're waiting for the final necropsy (animal post-mortem) results from San Diego Zoo Global, preliminary tests suggest the birds died from avian malaria, one of the major killers of forest birds in Hawai'i and one of our greatest challenges to saving these species," Dr. Mounce said. "Project team members say it's extremely important that Hawai'i moves quickly toward proposed new methods for controlling mosquitoes that transmit the disease to forest birds."
Though it is not possible to eradicate mosquitos with existing conservation tools, the team has increased mosquito control efforts in the area to minimize the bird's exposure to the disease. Large-scale efforts to protect kiwikiu and other forest birds from mosquitos will be essential for the long-term survival of the species. Based on current monitoring, the team is cautiously optimistic about the survival of the remaining kiwikiu.
Experts in the field of species recovery say that efforts like this almost always have setbacks and a certain amount of mortality. Mounce explained, "When you're dealing with a species, estimated to have only between 44-312 birds, it's tough to lose even one of them. However, everyone on the capture and release teams understands that this type of project rarely has a 100% survival rate. We're pleased that three male birds and one female are beginning to move away from the feeders we set up and are foraging on native plants and trees."
At the Hanawi NAR and MBCC, the soon-to-be moved birds were given thorough veterinary exams to determine their suitability for the cross-mountain transfer and release. After being moved to Nakula NAR, the birds spent ten days in aviaries in a small area in the southwestern corner of Nakula. Prior to being released, they were outfitted with tiny radio transmitters to help researchers track their movements over the next month and a half. Preliminary results show the birds are foraging close to their release sites, but on certain days ranging as far as a kilometer away. 
The kiwikiu translocation project is a decade-long effort involving the Maui Forest Bird Recovery Project, the DLNR Division of Forestry and Wildlife, San Diego Zoo Global, the U.S. Fish and Wildlife Service, and American Bird Conservancy. Continued monitoring and tracking of the birds is the near-term future goal. Additional captures and releases depend on how this first group does over the next few months and will not happen until next year at the earliest.
Media Contact:
Dan Dennison
DLNR Senior Communications Manager
(808) 587-0396
[email protected]