DEPARTMENT OF LAND AND NATURAL RESOURCES
News Release
DAVID Y. IGE
GOVERNOR

SUZANNE D. CASE 
CHAIRPERSON
For Immediate News Release: December 9, 2019
ANNUAL FIRST DAY HIKE A GREAT WAY TO BURN OFF HOLIDAY CALORIES
Hundreds Expected to Ring in the New Year at Kaiwi Scenic Shoreline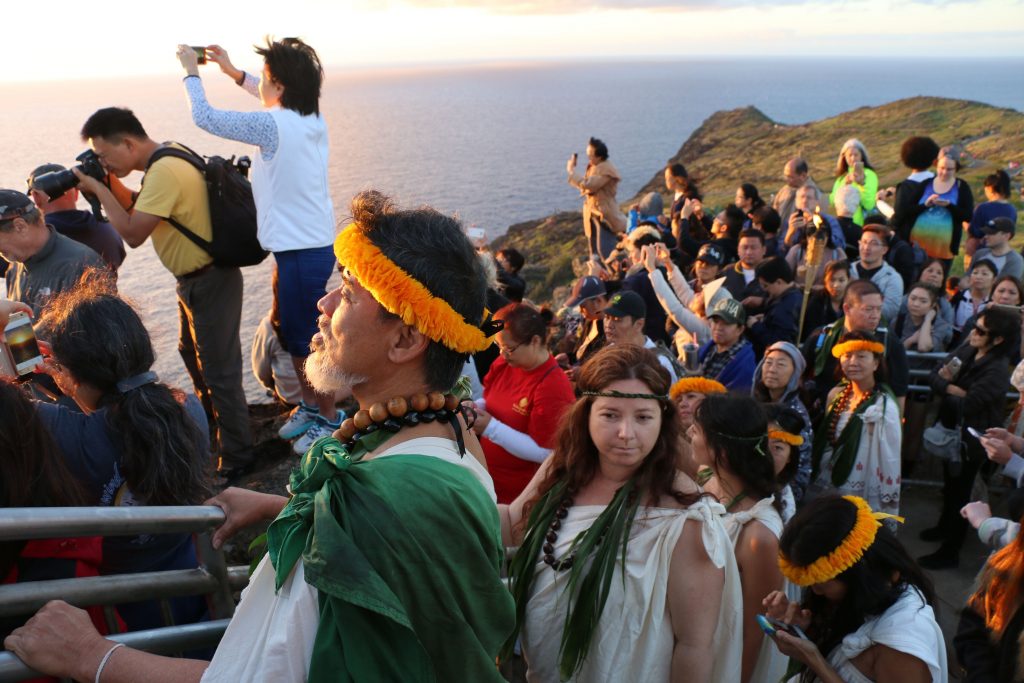 To view video from the 2018 First Day Hike, please click on photo or view at this link: https://vimeo.com/249321712
(Honolulu) – It's become an iconic New Year's Day tradition in Hawai'i and across the country.  State Parks in all 50 states are again offering free, guided, First Day Hikes, on Jan. 1, 2020. In the Aloha State, the hike to the Makapu'u Lookout at the Kaiwi State Scenic Shoreline is actually self-guided; just follow the crowd up the one-mile-long, paved path for stunning views as the sun rises at 7:09 a.m.
"Hawai'i's unique version of the New Year's Day hike not only provides the means for individuals and families to welcome the coming year in the outdoors, exercising and connecting with nature, but we blend in multi-culturalism," explained Curt Cottrell, Administrator of the DLNR Division of State Parks.  As in year's past, the crowd at the top will be treated to the traditional blowing of a pu (conch shell) to herald in the first sunrise of the year, followed by an oli and then a performance by the drummers of the Taiko Center of the Pacific. Cottrell continued, "Not only are the views stunning, with the possibility of seeing Humpback whales breaching in the ocean below, but the sounds and sights of the pu, the oli, and the taiko drummers give repeat and new visitors alike, chicken skin."
The Kaiwi First Day Hike, has often been the best-attended in the country, due largely to Hawai'i's mild winter weather, the ease of the hike, and the fact that it is very family friendly and designed for anyone, no matter their hiking ability. As many as 700 people have made the trek in past years. The gates to the park will open at 5 a.m. to give people plenty of time to get to the top before the sun rises.  Participants are encouraged to bring a light jacket, rain gear if needed, water, and leashes and poop bags for dogs.  There are no restroom facilities at Kaiwi. Please remember to pack out all rubbish.
According to America's State Parks, last year nearly 55,000 people rang in the New Year, collectively hiking over 133,000 miles throughout the country.  Numerous others hiked state park trails throughout the day. Hawai'i's and America's state parks programs are committed to promoting outdoor recreation in hopes to help address obesity, especially in children. Furthermore, exercise and outdoor activities rejuvenate the mind and body, promoting overall mental and physical health and wellness. Many believe that time spent in nature enhances creativity and lifts our moods!
# # #
Media Contact:
Dan Dennison
Senior Communications Manager
(808) 587-0396
[email protected]