DEPARTMENT OF LAND AND NATURAL RESOURCES
News Release
DAVID Y. IGE
GOVERNOR

SUZANNE D. CASE 
CHAIRPERSON
For Immediate News Release: February 27, 2020
FEDERAL & STATE FORESTERS PLEDGE COLLABORATION ON URGENT CHALLENGES
Hawai'i Becomes 13th State to Sign Shared Stewardship Agreement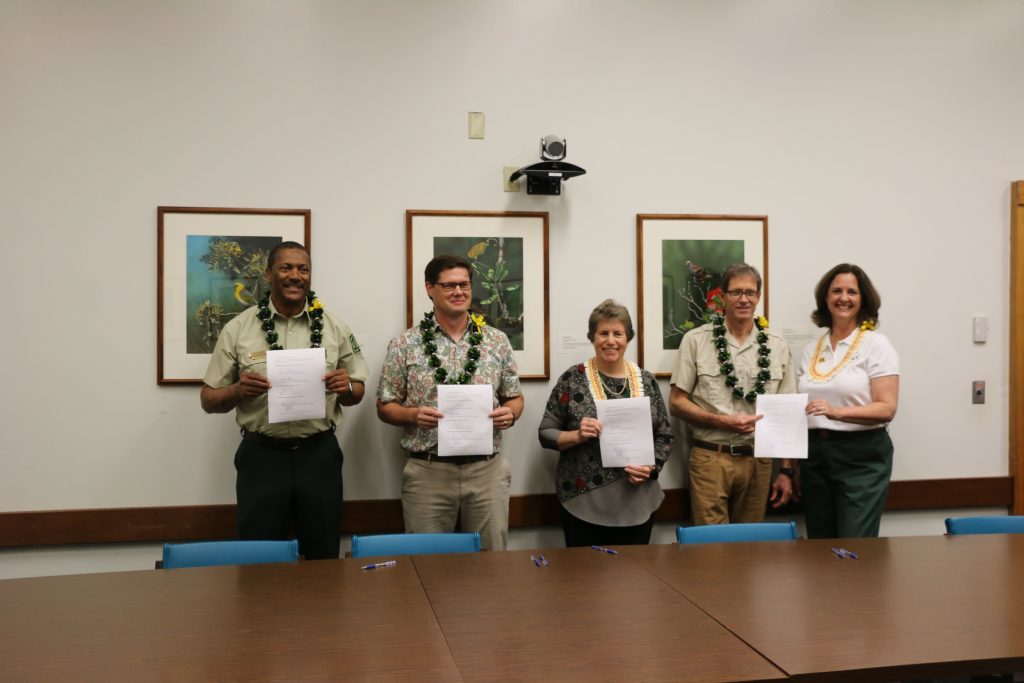 To view video please click on photo or view at this link: https://vimeo.com/394333989
(Honolulu) – Catastrophic wildfires, degraded watersheds, epidemics of invasive species and disease are but a few of the challenges facing forest managers across the country and in Hawai'i. Add these threats to increasing demands for a variety of uses of public forest lands and managers have their hands full.
Today, Hawai'i, through the DLNR Division of Forestry and Wildlife (DOFAW) became the thirteenth U.S. state to sign a Shared Stewardship Agreement with the USDA Forest Service (USFS). This follows approval of a memorandum-of-agreement (MOU) by the state Board of Land and Natural Resources on Feb. 14th.
The USDA Forest Service announced its new strategy for improving forest conditions in August 2018. In addition to the states, the Association of Western State Governors has endorsed the collaborative approach to help identify priorities for landscape-scale treatment of common challenges.
David Smith, DOFAW Administrator said, "The Forest Service and DLNR both have vested interests in managing forests and watersheds in Hawai'i as part of the nation's forests.  Increasing our coordination, particularly in areas where our interests overlap, is mutually beneficial for protecting and restoring healthy forests across the state, while also increasing efficiency by sharing or leveraging resources."
The state-federal MOU outlines both agency's commitments to increase the scope and scale of critical forest treatments that protect communities, create and sustain jobs, and improve forest health and resiliency. In practicality, DLNR/DOFAW & thus USFS, have been collaborating on projects and initiatives for decades.
DLNR Chair Suzanne Case commented, "The Shared Stewardship MOU formalizes much of what we've been doing for a very long time with our partners at the forest service. It will help us to continue being proactive in identifying projects to protect and improve forest and watershed conditions, to better ensure Hawai'i's forests continue their role in sustaining life and livelihoods in the islands, as well as safely connecting people to our forests."
Signing on behalf of the USDA Forest Service was Pacific Southwest Regional Forester, Randy Moore. He added, "Collaboration between state and federal agencies on issues of forest health and resiliency is critical. The Forest Service is fortunate to collaborate on restoration projects here and share science and research to address issues to help care for the land and serve people. We are excited to partner with the state to enhance our collaboration though this Shared Stewardship agreement with Hawai'i."
DLNR and the USFS plan to take an integrated approach to prioritize investments and to connect with a multitude of government agencies, private landowners, counties, universities, and communities to have the greatest impacts on priorities outlined in the State of Hawai'i Forest Action Plan and the Hawai'i Interagency Biosecurity Plan.
The signing of the MOU happened today.
# # #
Media Contact:
Dan Dennison
Senior Communications Manager
(808) 587-0396
[email protected]