DEPARTMENT OF LAND AND NATURAL RESOURCES
News Release
DAVID Y. IGE
GOVERNOR

SUZANNE D. CASE 
CHAIRPERSON
FOR IMMEDIATE RELEASE
April 14, 2020
2020-2021 HAWAI'I HUNTING STAMP CONTEST WINNERS ANNOUNCED
(Honolulu)  – Winners of the 2020-2021 Hawai'i Wildlife Conservation and Game Bird Stamp Art Contest were announced this week by the DLNR Division of Forestry and Wildlife (DOFAW). DOFAW would like to thank all the wildlife artists that submitted entries for this year's contest.  A committee reviewed all submissions and two winners were chosen:
Game Bird Stamp Winner – Carol Tredway. Carol is an award-winning local artist. She exhibits her paintings in Kona's Glyph Gallery, which features many of Hawaii's remarkable artists. Birds are a favorite subject and her work features many species found in Hawai'i, including both native and introduced bird species. Her winning submission features the spotted dove, a popular gamebird from Asia that was brought to Hawaii in 1800s for the purpose of hunting. Visually the male spotted dove is larger and has a broader chest with a thick neck, as well as more pronounced nostrils compared to the female. Their habitat is grasslands from mauka to makai and they can be found in abundance in urban areas. The painting depicts a pair on a lava rock next to native sedge.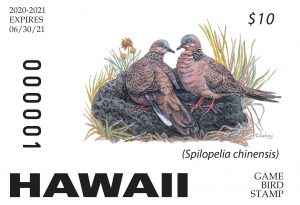 Conservation Stamp Winner – David Hayes. David currently resides on the island of Hawai'i and his artwork is displayed in the Volcano Art Center. David has provided amazing pieces of art for this contest throughout the years and has an eye for creating lifelike images of native forest birds and mammals in their habitat. David's winning submission features the Columbian black-tailed deer. Thirty-five Columbian black-tailed deer were introduced to Kaua'i in 1961 from Oregon by the State of Hawai'i Fish and Game Division.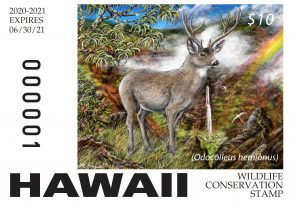 These two new stamps will be available for the new 2020-21 hunting season.
The conservation stamp is required on the Hawai'i State hunting license, and the game bird hunting stamp is additionally required for those intending to hunt game birds. Funds from sales of these stamps go into the State Wildlife Revolving Fund to support wildlife populations and habitat management, and to manage hunting programs in Hawai'i.  Both stamps will be available on July 1, 2020 to wildlife stamp collectors by calling (808) 587-0166 or visiting the Division of Forestry and Wildlife office located at 1151 Punchbowl Street, Room 325 Honolulu, HI 96813.
# # #
Media Contact:
AJ McWhorter
DLNR Communications Specialist
(808) 587-0396
[email protected]