DEPARTMENT OF LAND AND NATURAL RESOURCES
News Release
DAVID Y. IGE
GOVERNOR

SUZANNE D. CASE 
CHAIRPERSON
FOR IMMEDIATE RELEASE
May 6, 2020
BEACH BLESSING FOR ROYAL HAWAIIAN GROIN REPLACEMENT PROJECT
93-Year Old Beach Groin Renovation Moves Forward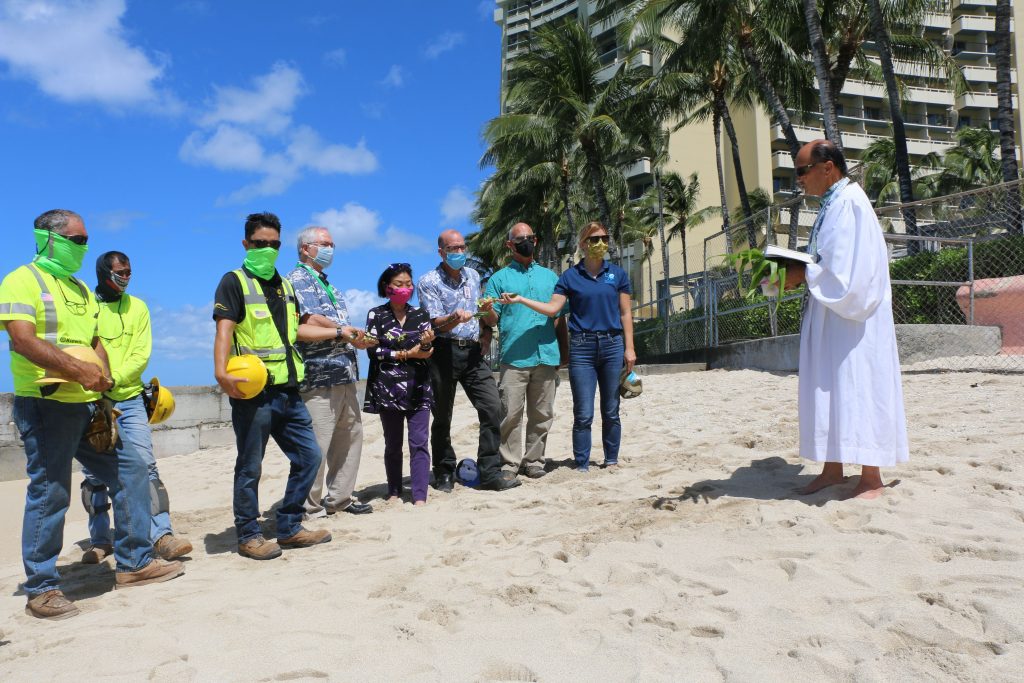 To view video please click on photo or at  this link: https://vimeo.com/415711536
(Honolulu) – As major contributors to the Royal Hawaiian Groin Replacement Project held on to a ti leaf lei, Kahu Cordell Kekoa remarked, "Today, what we are doing is just enhancing what those have done before us. Part of what I want to do is we want to honor those who had come before us."
Today's blessing marked the first week of construction for the long awaited restoration of the Royal Hawaiian Groin. DLNR Office of Conservation and Coastal Lands (OCCL) administrator Sam Lemmo, Waikīkī Beach Special Improvement Association (WBSIDA) president Rick Egged, State Senator Sharon Y. Moriwaki, Waikīkī Beach management coordinator Dolan Eversole, and Kiewit Infrastructure project manager Jared Tavares; and his crew participated in the small ceremony. Each played a pivotal role in ensuring the protect took place.
Kahu Kekoa blessed the team and the beach groin with ti leaves dipped in 25-year-old rain water and sea salt from Maui.  As each member of the team placed a rainwater-soaked hand on what remains of the groin, Kahu Kekoa closed out the prayer with, "For all of our aloha spirit, we bring goodness, now and forevermore." 
The project began Monday and is set to take two months to complete. The project consultant and engineering designer is Sea Engineering, Inc and the construction contractor is Kiewit Infrastructure West Co.
# # #
Media Contact:
Giovonni Parks
Communications Specialist
(808) 587-0396
[email protected]