DEPARTMENT OF LAND AND NATURAL RESOURCES
News Release
DAVID Y. IGE
GOVERNOR

SUZANNE D. CASE 
CHAIRPERSON
FOR IMMEDIATE RELEASE
May 15, 2020
NEW ROYAL HAWAIIAN GROIN TAKING SHAPE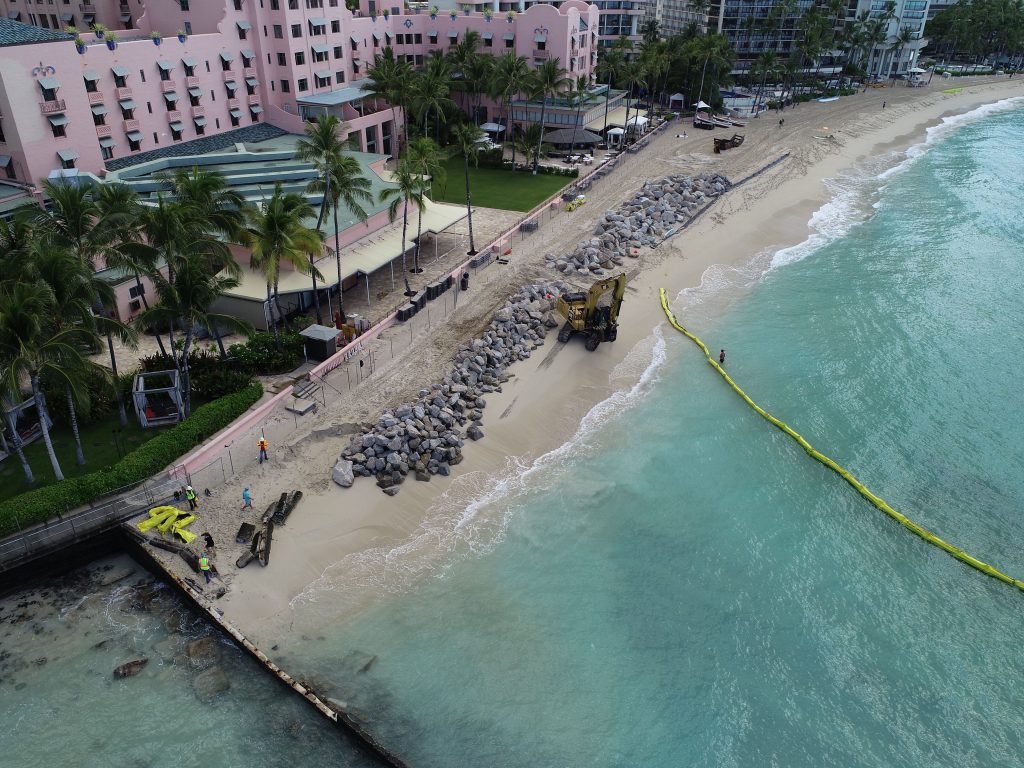 To view video please click on photo or view at the link: https://vimeo.com/419129216
(Honolulu) – The reconstruction of the existing, 93-year-old Royal Hawaiian Groin in Waikīkī and the construction of a new $1.5 million replacement begins next week.
Last week construction crews mobilized the equipment and this week they built a temporary access road along the beach from Kuhio Beach to the groin. Large rocks that are to be used as the outer layer armor stone have been delivered to the staging area near the groin.
This morning partial demolition of the top of the existing groin began, in order to prepare for the installation of the boulders for the new rock groin. Going forward the boulders will be used to assemble a base around the old groin which will allow the construction crew to assemble the remainder of the structure. This adaptive, re-use construction method means the new groin is being built around the remnants of the old one.
Sam Lemmo, the Administrator of the DLNR Office of Conservation and Coastal Lands (OCCL) explained, "After the groin access-platform is finished, the actual building-up of the groin will start at the ocean-end and as rocks are placed and secured, the equipment will methodically work back to the beach. We are asking everyone to avoid the construction staging areas at Kuhio Beach and in the vicinity of Royal Hawaiian Groin, for their safety and to give workers the chance of completing the project sooner than originally scheduled." 
The project is a public-private partnership between DLNR/OCCL and the Waikīkī Beach Special Improvement District Association (WBSIDA). No enlargement of the beach is planned, as it is designed to maintain the approximate width outlined in the 2012 Waikīkī Beach maintenance shoreline nourishment project. The construction work is being facilitated and is safer due to the lack of people on the beach because of the COVID-19 emergency.
# # #
Additional details:
https://www.wbsida.org/projects-royalhawaiiangroin
Media Contact:
Dan Dennison
Senior Communications Manager
(808) 587-0396
[email protected]