DEPARTMENT OF LAND AND NATURAL RESOURCES
News Release
DAVID Y. IGE
GOVERNOR

SUZANNE D. CASE 
CHAIRPERSON
FOR IMMEDIATE RELEASE
June 10, 2020
KAUA'I AQUATIC RESOURCES STAFF MONITORING SEASONAL CHANGES IN CORAL DISEASE AND REEF HEALTH AT 'ANINI BAY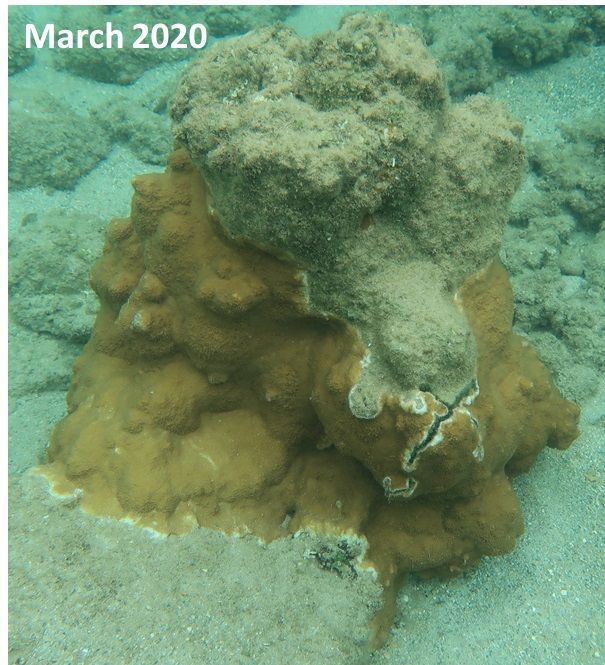 (Līhuʻe) – One reef monitoring project by the DLNR Division of Aquatic Resources (DAR) staff on Kauaʻi has focused efforts at ʻAnini Reef over the past year. Recently monitoring teams observed signs of recovery since a prolific coral disease was recorded in September-October of 2019.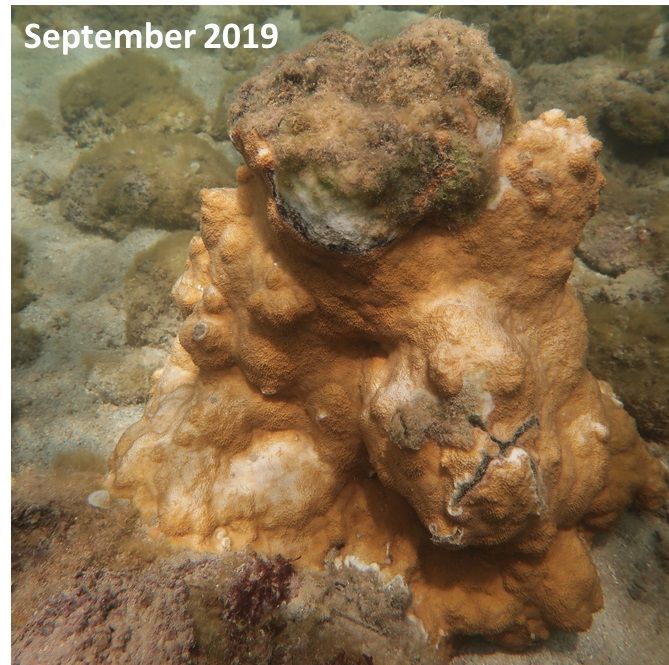 That summer, DAR received reports of black band disease (BBD) affecting Montipora (rice) corals on the inner reef at ʻAnini. DAR staff responded immediately to conduct surveys along ʻAnini Reef recording the extent of the coral disease. The surveys revealed that 11.5% of the M. capitata and M. patula (rice coral and sandpaper coral) colonies at ʻAnini were affected by BBD, which was greater than the amount reported during a previous outbreak in 2012-2015. At that time staff also observed widespread coral bleaching, overgrowth of macroalgae and cyanobacterial algae mats, low fish abundance, warmer sea surface temperatures, and high amounts of sediment on the reef and in the water column. It is believed that warm water and coastal sources of sediment and excess nutrients, exacerbated by insufficient flushing of the inner reef from ocean swells, created an environment that led to these reef conditions.
Follow-up surveys at 'Anini in February and March this year found that the prevalence of black band disease dropped to 0.3%, which is considered a normal level of disease. Many previously diseased rice corals showed signs of recovery and regrowth, especially along the previous band-of-lesion, or infection. Divers were pleased to see many other positive changes on the reef, including improved water clarity, regrowth of limu kohu, recovery of bleached corals, schooling and foraging by juvenile fish, and comparatively low prevalence of macroalgae and cyanobacteria growth on the reef.
Although the Kauaʻi monitoring team observed encouraging signs of recovery and new growth, they also observed signs of coral death, likely due to diseased colonies that could not fight off the infection or recover from severe bleaching. DAR aquatic biologists believe that changing seasons bringing north swells to flush out the protected waters of the inner reef and cooler sea temperatures allowed recovery on the reef to happen.
In order to help inform management decisions, the staff is developing a project to use Structure from Motion (SfM) technology to capture seasonal changes at ʻAnini Reef, including coral disease outbreaks and bleaching events.
# # #
If you observe coral bleaching, disease, or invasive species around the island, please make a report at: https://eorhawaii.org/make-a-report/
Media contact:
AJ McWhorter
Communications Specialist
Hawaii Department of Land and Natural Resources
[email protected]
808-587-0396 (Communications Office)