DEPARTMENT OF LAND AND NATURAL RESOURCES
News Release
DAVID Y. IGE
GOVERNOR

SUZANNE D. CASE 
CHAIRPERSON
For Immediate News Release: May 20, 2021
WAIKĪKĪ BEACH MAINTENANCE PROJECT COMPLETE
Finished three weeks ahead of schedule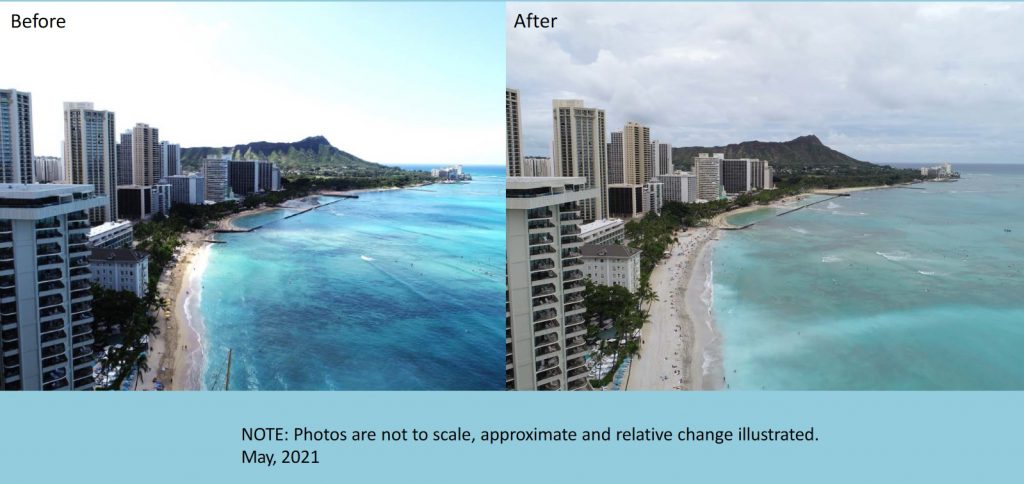 To view video please click on photo or view at this link: https://vimeo.com/519295137
(Waikīkī) – Just in time for the upcoming summer season, the Waikīkī Beach Maintenance project to restore and rejuvenate Waikīkī is complete. The 14-week-long recurring maintenance retrieved marine sand from a large sand field in shallow waters about 1,000-feet offshore. The project has roughly doubled the beach width on most sections of the Royal Hawaiian Beach cell between the Royal Hawaiian Hotel and Kūhiō Beach Park. 
Sand was first dredged and then pumped to a stockpile at the Kūhiō Beach swim basin. Over six days sand was then trucked to the Royal Hawaiian Beach, which reopened last Friday. The entire project was completed three weeks ahead of schedule because hauling and placing sand was done over 12-hour-long periods rather than half-days.
The project started with offshore dredging of marine sand on January 26, 2021. Approximately 21,700-cubic-yards of sand was moved from offshore to the beach.
This is another example of a public-private partnership between the DLNR Office of Conservation and Coastal Lands (OCCL) which managed the project and the Waikīkī Beach Special Improvement District Association (WBSIDA). WBSIDA provided $1 million toward the $3.5 million cost.
Contractors, Kiewit Infrastructure Group and American Marine were able to work through poor weather and high surf conditions to complete the job ahead of schedule. This project is part of a planned (5-10 year) maintenance of Waikīkī Beach using a "sand recycling" concept utilizing offshore sand eroded from the beach and putting it back.
OCCL Administrator Sam Lemmo explained, "As Hawai'i starts to develop climate change adaptation strategies, we begin to recognize there are a limited number of viable options for protection and adaptation for our different communities. This type of regular beach maintenance is appropriate for a highly developed and economically vital urban coastal environment like Waikīkī and is an integral part of longer-term resilience strategies for Waikīkī. We are faced with serious threats from climate change impacts and this project is one of a series of options we have available to mitigate these threats."
Dolan Eversole, of the Sea Grant Program at the University of Hawai'i and WBSIDA described the project "Planning for resilience for Waikīkī includes considering a lot of different variables including projections for sea-level rise, beach erosion, flooding and anticipated beach and coastal land use priorities. Without regular maintenance of the beach in Waikīkī, we expect to not only lose this important natural resource asset, but we would also experience more frequent flooding and more severe impacts from seasonal King Tides and local storm events. It is important we view the marine ecosystem, the coral reefs and beaches as a natural buffer to coastal hazards that require protection and regular maintenance just like other man-made protections like seawalls and shoreline structures."
Rick Egged, President of the WBSIDA added, "We are delighted with the project outcomes and are especially pleased with the results of the accelerated sand placement schedule. With the visitor economy just starting to recover from the global pandemic, it was critical this project be completed before the busy summer season begins. I am happy to say, residents and visitors can all expect a new and refreshed Waikīkī Beach just in time for summer."
This is the second time in a decade Waikīkī has had a sand replenishment project. This type of maintenance to counter sea level rise will be necessary over the course of the next few decades; likely every 5-10 years, if not more often due to expected strength and frequency of storms.  
# # #
Before and After Photographs – Waikīkī Beach Maintenance project (May 2021): https://www.wbsida.org/s/Pre_post_2021-Waikiki-Maintenance.pdf
Additional maps and project details:
https://www.wbsida.org/waikiki-beach-maintenance
Media Contact:
AJ McWhorter
Communications Specialist
Hawai'i Department of Land and Natural Resources
[email protected]
808-587-0396 (Communications Office)