JOSH GREEN, M.D.
GOVERNOR

DAWN CHANG
CHAIRPERSON
For Immediate Release:  February 21, 2023
UPDATE ON GROUNDED YACHT AT HONOLUA BAY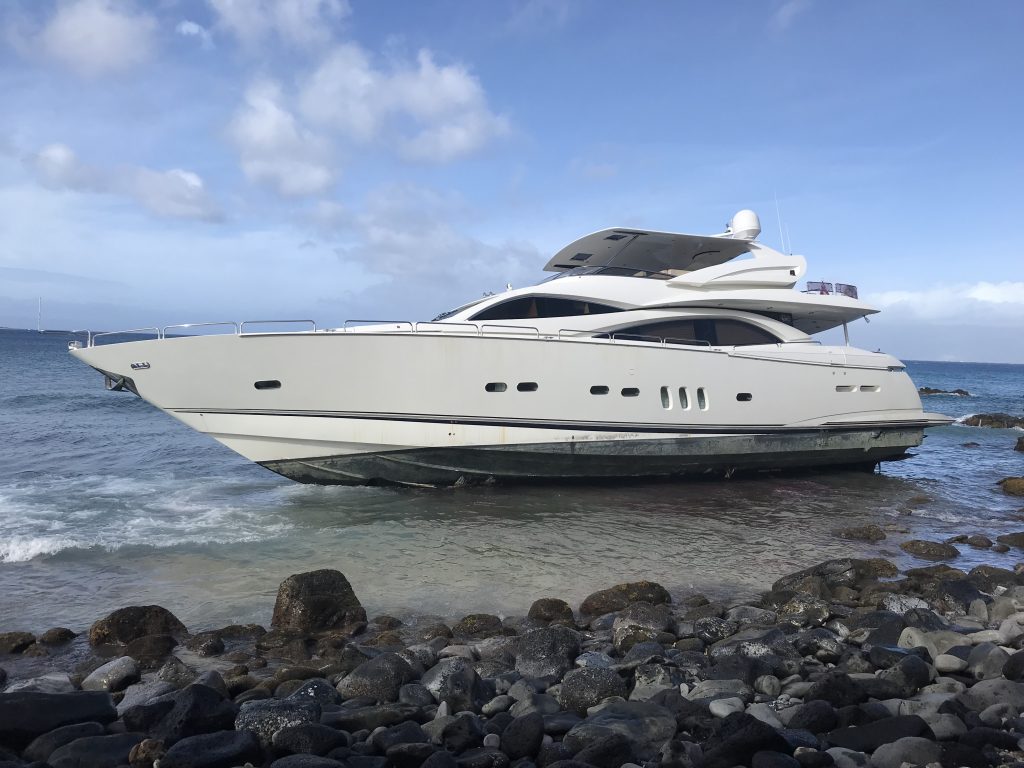 To view video please click on photo or view at this link: https://vimeo.com/801086594 
(HONOLUA BAY, MAUI) – It's likely to be another few days before the 94-foot-long luxury yacht Nakoa is freed from the rocks and reef at Honolua Bay in northwest Maui.
The U.S. Coast Guard (USCG) federalized the vessel today, which means the yacht cannot be moved until all fuel, batteries, and any other pollutants on board are removed. That process may involve a helicopter and is expected to take at least through tomorrow.
This morning, a sheen of diesel fuel was leaking from the boat's hull and was visible in surrounding water. By this afternoon, a pair of officers from the DLNR Division of Conservation & Resources Enforcement (DOCARE), who had been on the scene all day, reported that one of the owner's friends managed to board the yacht and shut off all pumps. By late this afternoon, the sheen was not visible, but you could still smell fuel in the air. Booms will be placed around the fuel to keep any remaining diesel from moving out of the immediate area.
Once the fuel and other potential hazards are removed, the USCG will release the vessel back to the owner. At that time, he will need to provide the DLNR an acceptable salvage plan for the vessel's removal. Should the State not agree with the salvage plan, or the owner is unable to cover the cost of the salvage, the State will take the lead to remove the vessel and the owner will be responsible for all costs.
This morning, a team from the DLNR Division of Aquatic Resources (DAR) did an initial underwater assessment of potential damage to coral reefs and live rock. Divers noted an estimated 30 coral and live rock were damaged but will need to return to do a more thorough assessment once the vessel is removed. Based on those findings, the boat's owner could face significant penalties as determined by the State Board of Land and Natural Resources. Corals and live rock (other non-coral reef organisms) are protected by State law.
Additionally, the DLNR Division of Boating and Ocean Recreation (DOBOR) and DOCARE are investigating the circumstances that led to the Nakoa grounding. Additional citations and fines could be levied based on the findings of that investigation.
DLNR continues to coordinate closely with the USCG, Maui County, and Maui elected officials to remove the vessel as quickly and safely as possible.
DLNR First Deputy Laura Kaakua said "We understand everyone's frustration with the grounding and harm to the reef at Honolua, a bay with abundant marine life that's loved by many residents of Maui and visitors alike. Wednesday, the focus will be defueling the vessel, and then we can turn to efficient removal with the least additional damage possible."
# # #
RESOURCES 
(All images/video courtesy: DLNR)
HD Video – Nakoa, Honolua Bay (Feb. 21, 2023):  https://vimeo.com/801086594
Photographs – Nakoa, Honolua Bay  (Feb. 21, 2023):  https://www.dropbox.com/sh/lmficasrdlk4pgu/AABQE2eEZcbWjUMjJjwaTXpRa?dl=0
Media Contact: 
Dan Dennison
Senior Communications Manager