03/28/23 – DOCARE REFERS 33 DOLPHIN HARASSEMENT CASES TO FEDERAL LAW ENFORCEMENT
Posted on Mar 28, 2023 in DOCARE, News Releases, slider
JOSH GREEN, M.D.
GOVERNOR

DAWN CHANG
CHAIRPERSON
For Immediate Release:  March 28, 2023
DOCARE REFERS 33 DOLPHIN HARASSEMENT CASES TO FEDERAL LAW ENFORCEMENT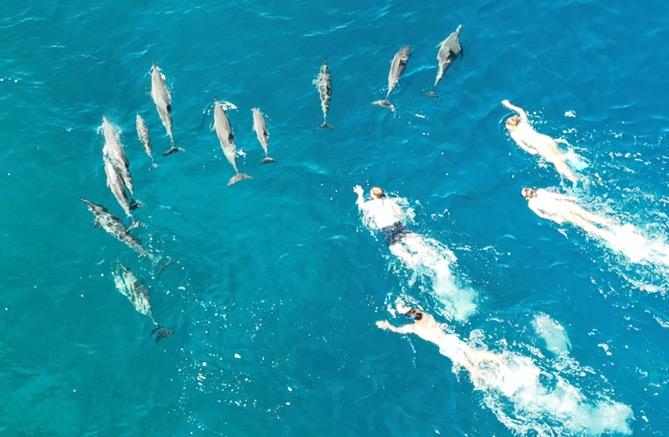 To view video please click on photo or view at this link: https://vimeo.com/812603935
(KONA, HAWAI'I ISLAND) – DLNR Division of Conservation and Resources Enforcement (DOCARE) officers initiated cases against a large group of swimmers actively pursuing a pod of dolphins in Hōnaunau Bay Sunday morning, during a routine patrol in the South Kona District.
Drone video and photographs show a group of swimmers who appear to be aggressively pursuing, corralling, and harassing the pod. DOCARE officers contacted the group of 33 in the water and alerted them to the violation. They were met by uniformed officers on land, where a joint investigation was initiated by DOCARE and the NOAA Office of Law Enforcement (OLE).
Under the Joint Enforcement Agreement with the DLNR, DOCARE Officers are deputized as federal officers and are authorized to enforce federal marine laws, such as the Marine Mammal Protection Act. Cases like these are worked jointly and are referred to OLE for review and final disposition. It is an excellent partnership where it is a combined joint effort to accomplish the same goal of protecting our living marine resources.
# # #
RESOURCES 
(All video/images courtesy: DLNR)
HD video – Hōnaunau Bay, Hawai'i Island (March 26, 2023): https://vimeo.com/812603935
MEDIA CONTACT 
Dan Dennison                                                                       
Senior Communications Manager