JOSH GREEN, M.D.
GOVERNOR

DAWN CHANG
CHAIRPERSON
For Immediate Release:  April 12, 2023
NĒNĒ FEEDING AT HAWAI'I ISLAND SHOPPING CENTER TO END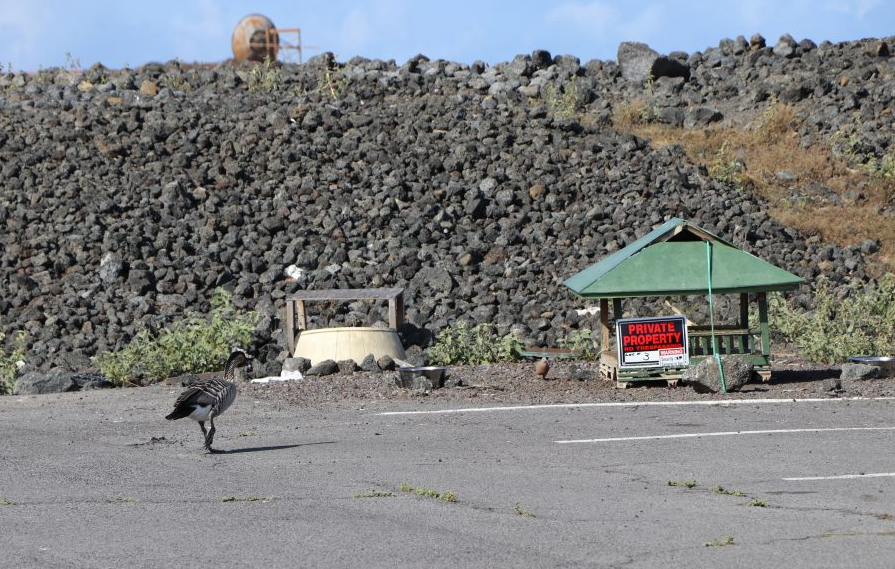 To view video please click on photo or view at this link: https://vimeo.com/816950826
(WAIKOLOA, HAWAI'I) – The DLNR has directed the removal of cat-feeding stations located at a Hawai'i Island shopping center, following complaints that the endangered Hawai'i state bird, the nēnē (Hawaiian goose), are being negatively impacted by the consumption of cat food and close contact with feral cats.
While Queens' Marketplace did not install the feeding stations (located in the back parking lot), it has agreed to remove them. The stations will be returned to the nonprofit organization that feeds the feral cats located throughout the Waikoloa Beach Resort community.
In a letter sent to Alexander & Baldwin (A&B), the owner of the Queens' Marketplace, on Tuesday, DLNR Chair Dawn Chang noted, "The endangered nēnē have been observed consuming the cat food and regularly spending time among the feral cat colony which has resulted in harm to nēnē."
The DLNR letter cites numerous potential impacts to the federally threatened species, and state-listed endangered species including:
Cat food is a not a natural diet item for nēnē.
Cat feeding affects the natural behaviors of nēnē, bringing them into close contact with people and roads, exposing them to dangers from vehicles, dogs, feral cats and mongoose.
Feeding 'habituates' nēnē to humans, leading to separation from their natural environment and further reliance on feeding stations.
Cats are known carriers of the infection toxoplasmosis which is a leading cause of death for nēnē.
Chang's letter added, "While we recognize that some members of the community feel a strong attachment to feral cats, DLNR's mission and mandate is to protect and preserve these endangered and endemic species."
The DLNR Division of Forestry and Wildlife (DOFAW) and the DLNR Division of Conservation and Resources Enforcement (DOCARE), confirmed the feeding of nēnē was happening. U.S. Fish and Wildlife Service was consulted and considers the feeding an illegal take.
If A&B does not comply with the DLNR directive to remove the cat-feeding stations from its property, and prohibit further feeding, it could face penalties for illegal take of a protected species. "We appreciate A&B's cooperation and prompt attention to this situation. We hope the people of Hawaiʻi will help by keeping all cats inside, adopting if they can provide safe indoor homes, and not putting food outside that our native wildlife might eat," Chang said.
Raymond McGuire, the DOFAW wildlife biologist who has been dealing with the issue commented, "Everybody who gets into wildlife work loves animals. We're not anti-cat, but when we see a concern with our endangered wildlife, we need to address it. Nēnē are very special, not just to our islands, not just to the State, but to the people. We are lovers of all animals but have a responsibility to protect our native species first and foremost."
A&B has until April 25 to remove the cat-feeding stations and has informed DLNR it intends to meet that deadline.
In addition to removing cat feeding stations, DLNR suggests that action be taken to capture feral cats and remove them from the landscape, as they pose a threat to nēnē and other native wildlife through direct predation and spreading toxoplasmosis.
Indoor cats live longer and are protected from threats of disease and aggression from other cats and vehicles. Cats living outdoors can travel miles in a day and cats have been documented killing entire colonies of endangered native birds. DLNR urges people to keep pet cats indoors and avoid feeding feral cats, and in general supports a model of "Trap, Neuter, Adopt" to transition feral cats into indoor care wherever possible.
# # #
RESOURCES 
(All images/video courtesy: DLNR)
HD Video – Waikoloa cat feeding stations (April 11, 2023): https://vimeo.com/816950826
Photographs – Waikoloa cat feeding stations (April 11, 2023): https://www.dropbox.com/scl/fo/izninduw4c98zu3pyxc3d/h?dl=0&rlkey=jv4ip777ixra7swkfvgm4noxm
Media Contact: 
Dan Dennison
Senior Communications Manager
Hawai'i Dept. of Land and Natural Resources