JOSH GREEN, M.D.
GOVERNOR

DAWN CHANG
CHAIRPERSON
For Immediate Release:  April 13, 2023
STUDENTS INVITED TO VIRTUAL FIELD TRIP OF SNAIL EXTINCTION PREVENTION LAB
A behind-the-scenes tour to celebrate both Year of the Kāhuli and Earth Day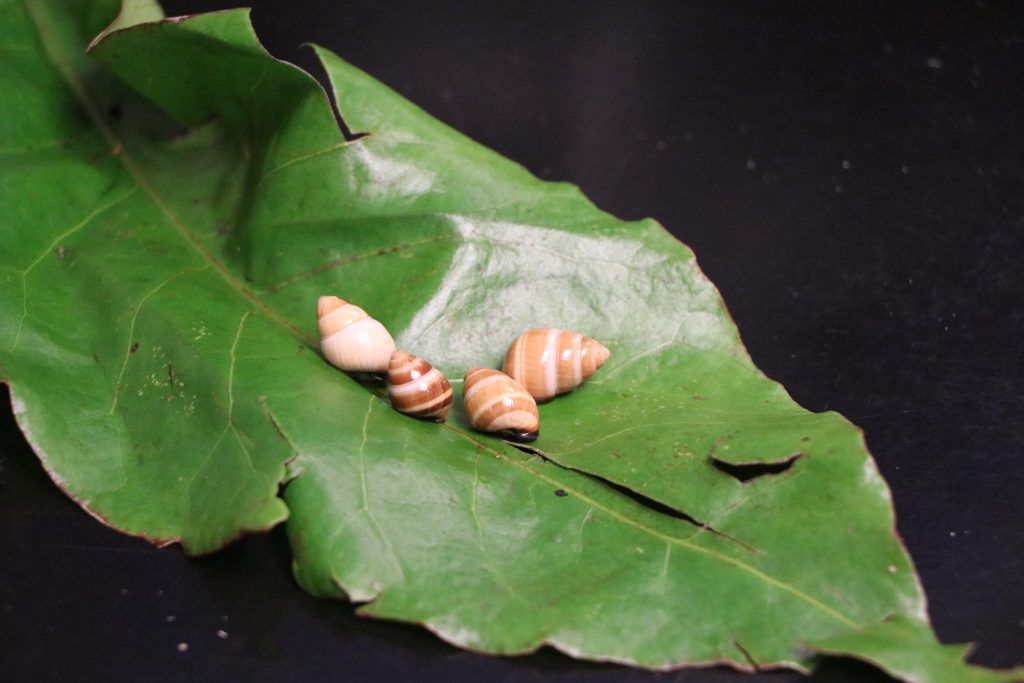 To view video please click on photo or view at this link: https://vimeo.com/798947091
(HONOLULU) – Typically, a field trip to see how kāhuli (native land snails) are protected from extinction requires access to a secure lab, hours of hiking to mountain-top forests, and plenty of caution to make sure attendees don't accidentally harm the snails themselves.
Now, a new virtual field trip created by the DLNR Division of Forestry and Wildlife (DOFAW), allows students of all ages to go behind-the-scenes of a world-class conservation program without leaving their classroom.
The virtual tour was created to celebrate the conjunction of Earth Day and Year of the Kāhuli, proclaimed by Governor Josh Green, M.D. It combines 360˚ imagery and videos with expert staff at two sensitive locations not normally open to visitors.
The first few stops occur at the Snail Extinction Prevention Program lab, where endangered snails receive specialized care to encourage population growth. The field trip then moves to a "kāhuli kīpuka," a section of protected, high-elevation forest where rebounding snail populations can be safely returned to a predator-free environment. Due to the sensitive nature of the kāhuli kīpuka, in-person visits are prohibited and the actual location is not disclosed.
"We're excited to show people the work we and our partners across the state do to protect our rare kāhuli," said Dr. David Sischo, head of the DLNR Snail Extinction Prevention Program. "Our lab space is small and carefully regulated for the snails, so we can't host large classrooms or frequent in-person visitors. We hope this virtual tour helps students explore our work while keeping our kāhuli safe as they prepare to be put back into our forests."
Educators are encouraged to take their classrooms on this virtual field trip and are invited to download kāhuli activities or request free packs of kāhuli stickers by mail from DOFAW. Through the field trip and associated web pages, students can learn about invertebrate biology, hear from young professionals receiving workforce training in the laboratory, and better understand the ecological and cultural importance of these small but important animals.
# # #
RESOURCES
(All images/video courtesy: DLNR)
HD video – Snail Extinction Prevention Program laboratory (Feb. 23, 2023): https://vimeo.com/798947091
Photographs – Snail Extinction Prevention Program laboratory (Feb. 23, 2023): https://www.dropbox.com/scl/fo/mqxoh1s1443uzupfvmffc/h?dl=0&rlkey=1nermv2193fs839a266hf4rnn
Year of the Kāhuli webpage (virtual field trip, activities, and stickers): https://dlnr.hawaii.gov/ecosystems/year-of-the-kahuli/
Forestry & Wildlife Virtual Field Trips: https://dlnr.hawaii.gov/dofaw/virtual
Media Contact:
Madison Rice
Communications Specialist
Hawai'i Dept. of Land and Natural Resources