2023: Year of the Kāhuli

2023 is officially the Year of the Kāhuli, proclaimed by Governor Josh Green on February 23. There were once roughly 750 species of kāhuli, or Hawaiian land snails, across our islands and found nowhere else in the world. Our kāhuli are both ecologically important (as cleaners of fungus and bacteria from our native plants) and culturally important, as they are featured in Native Hawaiian mele, hula, oli, and lei. In the Year of the Kāhuli, we both celebrate these snails and recognize their plight: of those roughly 750 species, 60% have now been lost forever. Our remaining kāhuli face serious threats including invasive species predation, habitat loss, and climate change, and 100 or more species may go extinct in the next 10 years without additional action.
Governor Green proclaimed the Year of the Kāhuli to raise awareness of these imperiled jewels of Hawaiian forests. To learn more and get involved, check out the activities below and stay tuned for kāhuli events all year long. You can also learn about different snail species and the work of the Snail Extinction Prevention Program and Bishop Museum Malacology Program through the links at the bottom of this page.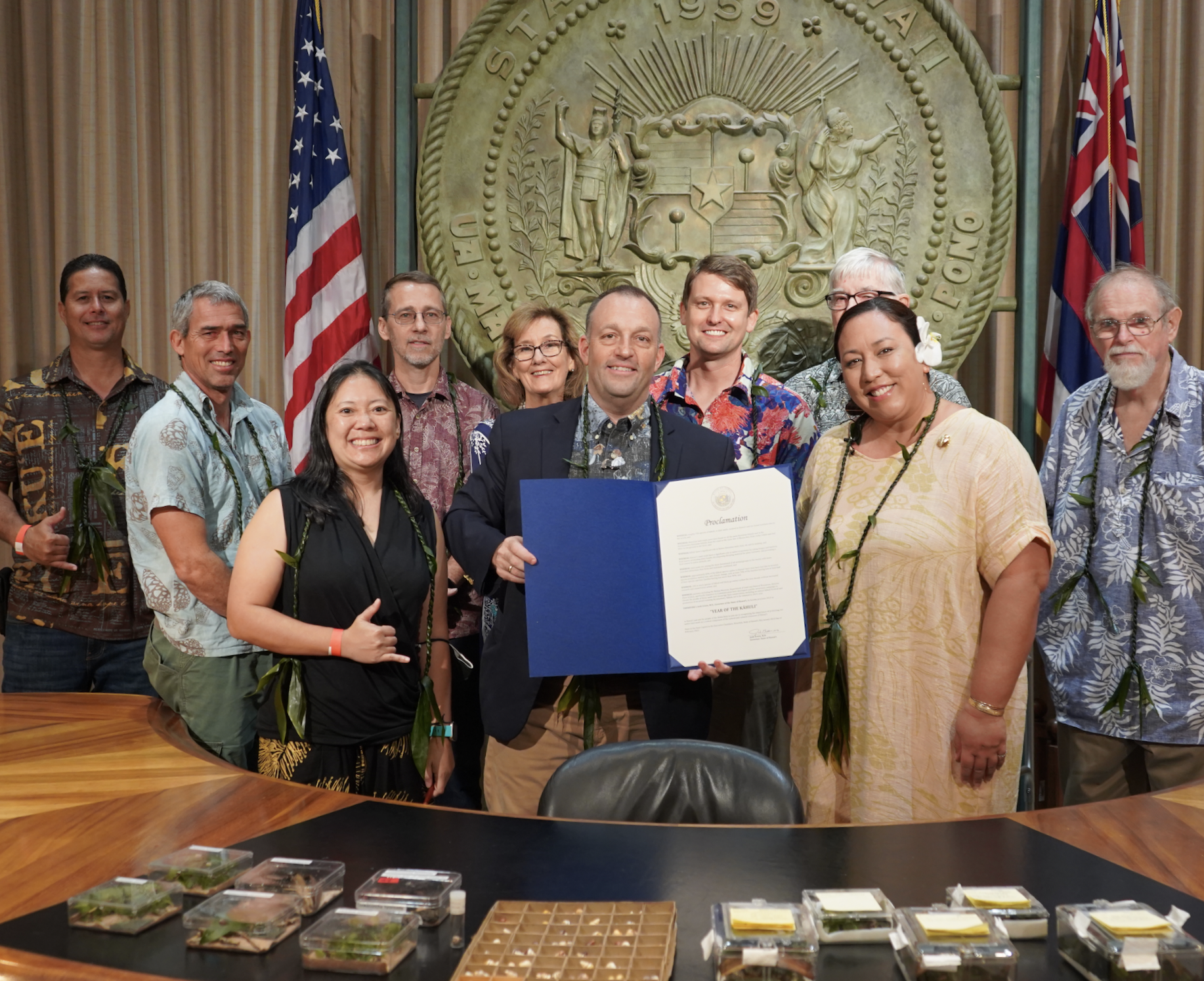 Year of the Kāhuli Events
DLNR Forestry & Wildlife and Bishop Museum will be rolling out activities at a snail's pace to help you celebrate kāhuli throughout all of 2023. Here's what's happening now, what to expect later in the year, what's already pau.
Happening now
The polls are open: Vote for your Kāhuli!
Our partners at Bishop Museum have launched an online Hawaiʻi State Snails voting platform where you can learn about the snails on your island and then vote for the official land snail that should be designated as a symbol of your island.
Based on your votes, we plan to work with legislators in 2024 to put those designations into law.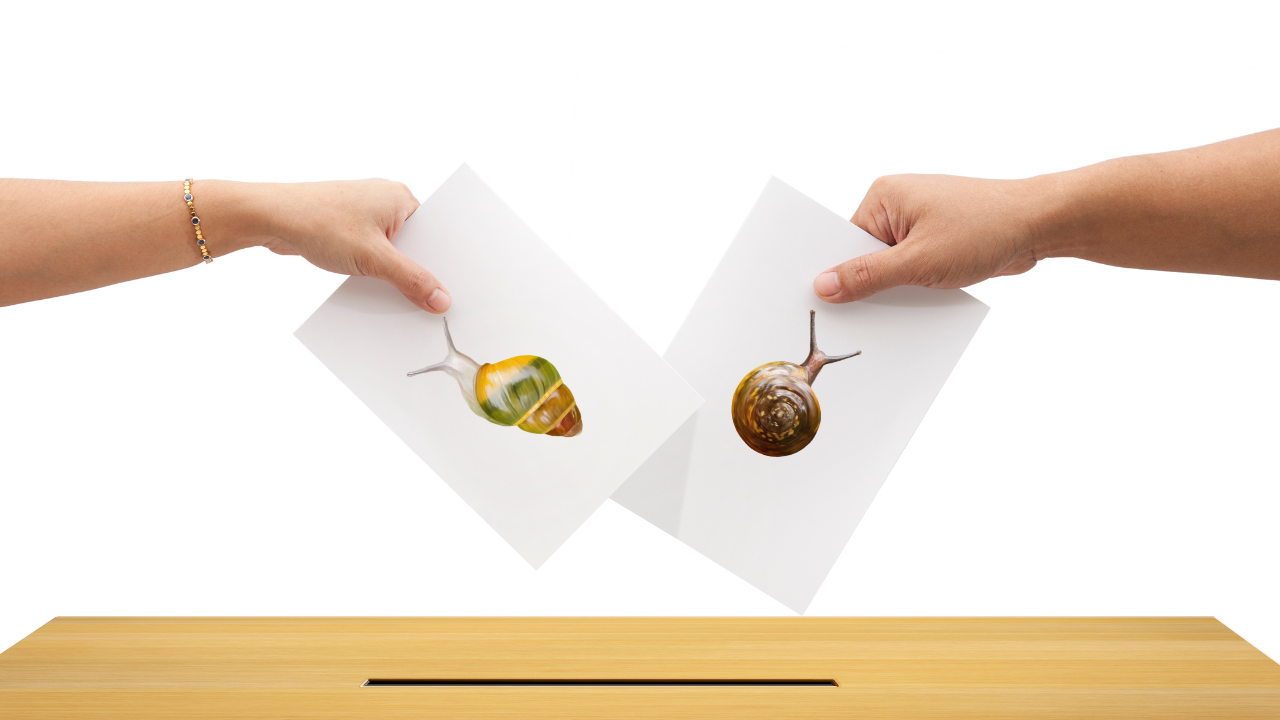 Watch online: Kāhuli, a new, award-winning documentary
Director Chris A Johns brings a close-up look at Hawaiʻi's land snails and the people racing to save them from extinction. The film is part of the Pacific Heartbeat Series, a production of Pacific Islanders in Communications in partnership with PBS. It is included in a triple-feature of short documentaries entitled Hawaiʻi's Precious Resources. The three films include:
Kumu Niu, a 15-min short film on the cultural importance of coconut palms and efforts to bring them back into our communities
Kāhuli, a 25-min film exploring the efforts of DLNR's Snail Extinction Prevention Program and Bishop Museum in saving these imperiled snails
After the Endling, an animated feature about Lonely George, the last Achatinella apexfulva.
You can stream the episode at the PBS website: Hawaiʻi's Precious Resources- Pacific Heartbeat Series. The episode will be broadcast over 600 times on PBS nationwide, with local airdates on PBS Hawaiʻi on September 2 at 8:00 PM and September 7 at 10:00 PM.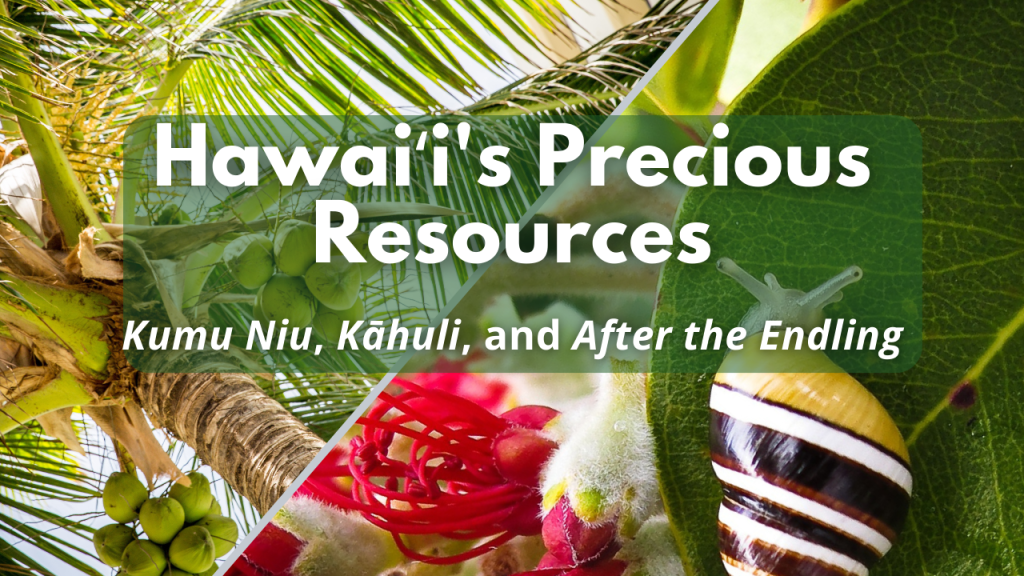 Kāhuli Festival at the Bishop Museum: September 23rd
Bishop Museum will hold the second annual Kāhuli Festival on September 23. This is an opportunity to learn about and celebrate some of the biocultural diversity that makes Hawaiʻi unique and a place we all love to call home. The daylong program will include talks by conservationists, authors, researchers, and cultural practitioners; informational and activity booths hosted by community partners; snail captive rearing exhibits featuring live endangered and rare snails from Bishop Museum's Hawaiian Land Snail Conservation Program and the Department of Land and Natural Resources' Snail Extinction Prevention Program; art exhibits featuring local artists, and more. You can learn more and register now at the Bishop Museum's Kāhuli Festival webpage.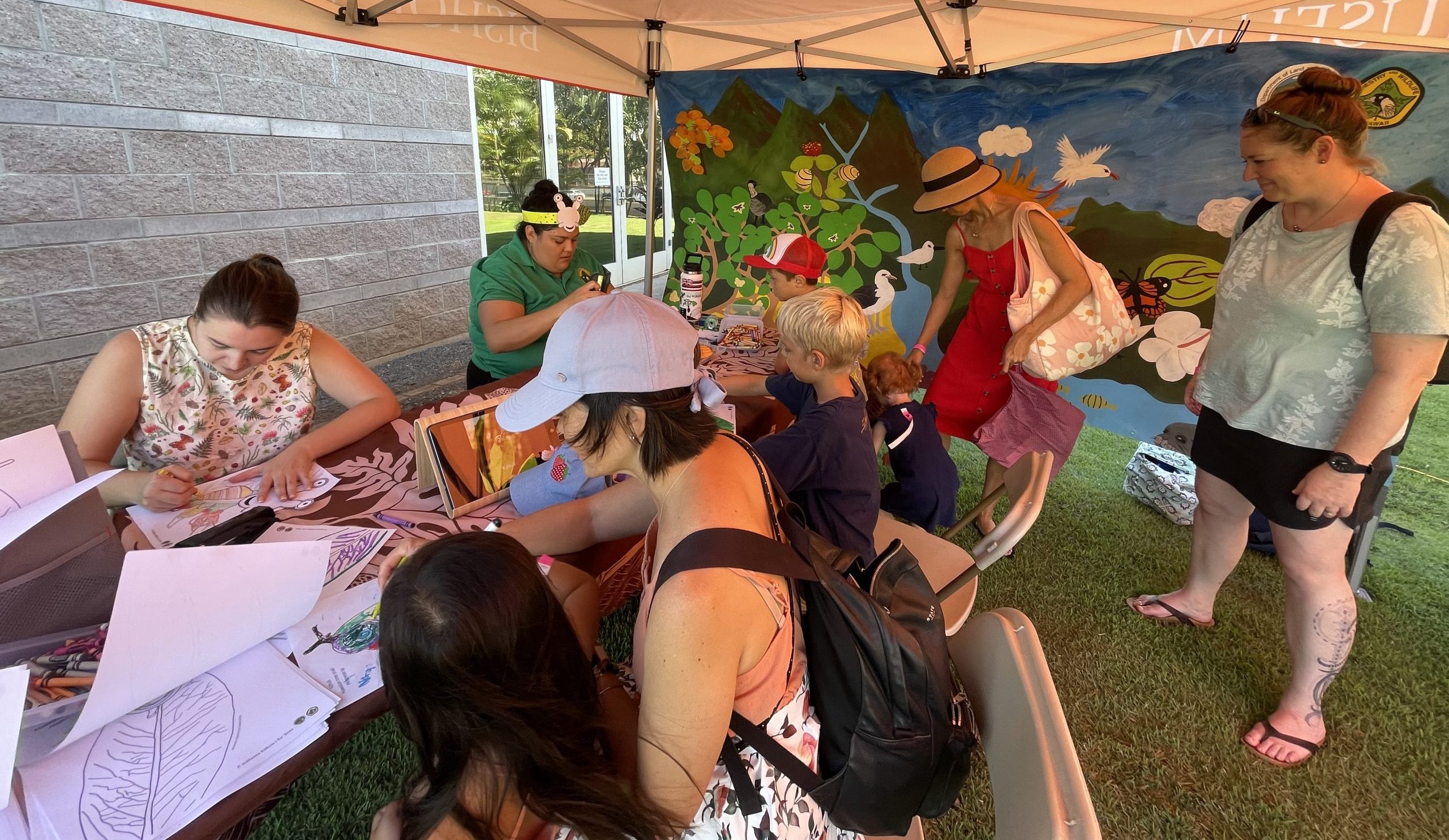 Virtual Field Trip: Snail Lab & Return to the Forest
Our kāhuli are some of the rarest animals on earth. One way to prevent extinction is to take threatened populations of rare snails into the lab of the Snail Extinction Prevention Program, where the kāhuli receive specialized care and are encouraged to grow their populations. When the population has grown, lab staff can then return kāhuli to protected forests we call "kāhuli kīpuka." In this virtual field trip, you can explore the lab, meet the staff who keep our kāhuli safe, and join a team returning kāhuli to the forest. This field trip takes students of all ages to places that simply aren't feasible to see in person, and allow them to see these rare, wonderful animals up close. Take the field trip on your own by clicking below, or as a classroom by projecting the field trip onto a larger screen.
Get your snail stickers, magnets, and postcards
We will be passing out kāhuli stickers, magnets, and postcards at outreach events all year long. If you want some now, just shoot us an email with your mailing address and we will mail you some snail swag (supplies limited; Hawaiʻi residents only, please).
Get your kāhuli digital swag and take kāhuli wherever you go
Show your kāhuli love with phone wallpapers and Zoom backgrounds featuring our beloved land snails. The Zoom backgrounds also work as wallpapers for computers and tables. In real life kāhuli are hard to see- they're small and mostly only found in our mauka forests. Now you can have a digital kāhuli in your pocket, or bring one to your next meeting.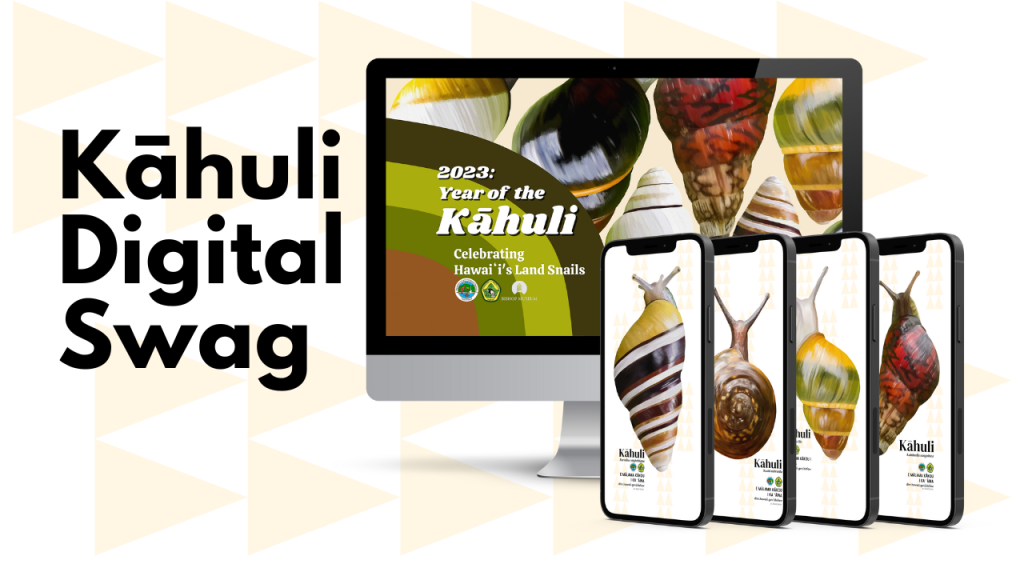 Kāhuli Care: Make a Donation
Help us care for our kāhuli by making an online donation of any amount to the Natural Area Reserves System, which helps protect lands that in many cases provide habitat for kāhuli. On the donation page you can also take a virtual tour of our Natural Area Reserves across Hawaiʻi and learn more about these special protected areas. Learn more and donate here.
Kāhuli Art & Murals
Hawaiʻi has an amazing community of artists who have been inspired by our beautiful kāhuli. In response to the proclamation of Year of the Kāhuli, artists have been creating amazing graphics, prints, pins, and clothing. Check out #kahuli on Instagram to see some of the amazing work being done to share the beauty of these creatures.
Our 2023 DLNR conservation stamp art contest featured kāhuli this year, with artists encouraged to submit original works depicting kāhuli and the winning artwork being featured on the conservation stamp required for hunting in Hawaiʻi. Funds from the sale of the conservation stamp support the work of DLNR Forestry & Wildlife.
And if you drive down H1 in Honolulu take a quick glance mauka as you pass the Bishop Museum. The museum partnered with artist Kai Kalukukui on a beautiful kāhuli mural that brightens the day of everyone in Honolulu traffic.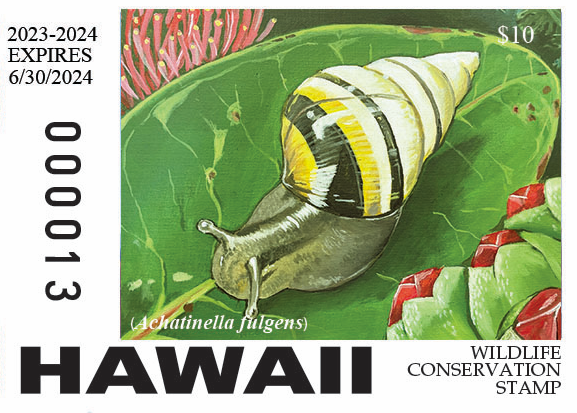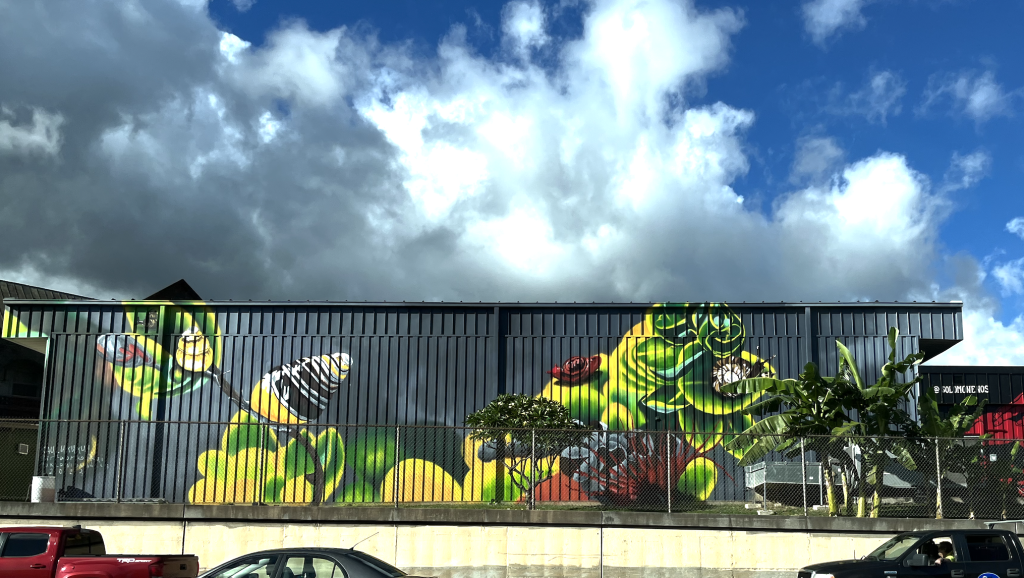 Kāhuli Headband Activity
For a hands-on activity in your classroom or home, try our kāhuli headband. This simple paper craft allows you to cut, paste, and color your way to becoming a native Hawaiian kāhuli. 
Download our kāhuli headband in color, or in black and white. Cut out the headband, snail head, and shells. Paste the ends of the headband to the back of the snail head. Color your shells however you'd like, and then tape or paste the shells to the sides of the headband. If you're looking for color inspiration, check out the real snails that call our forests home.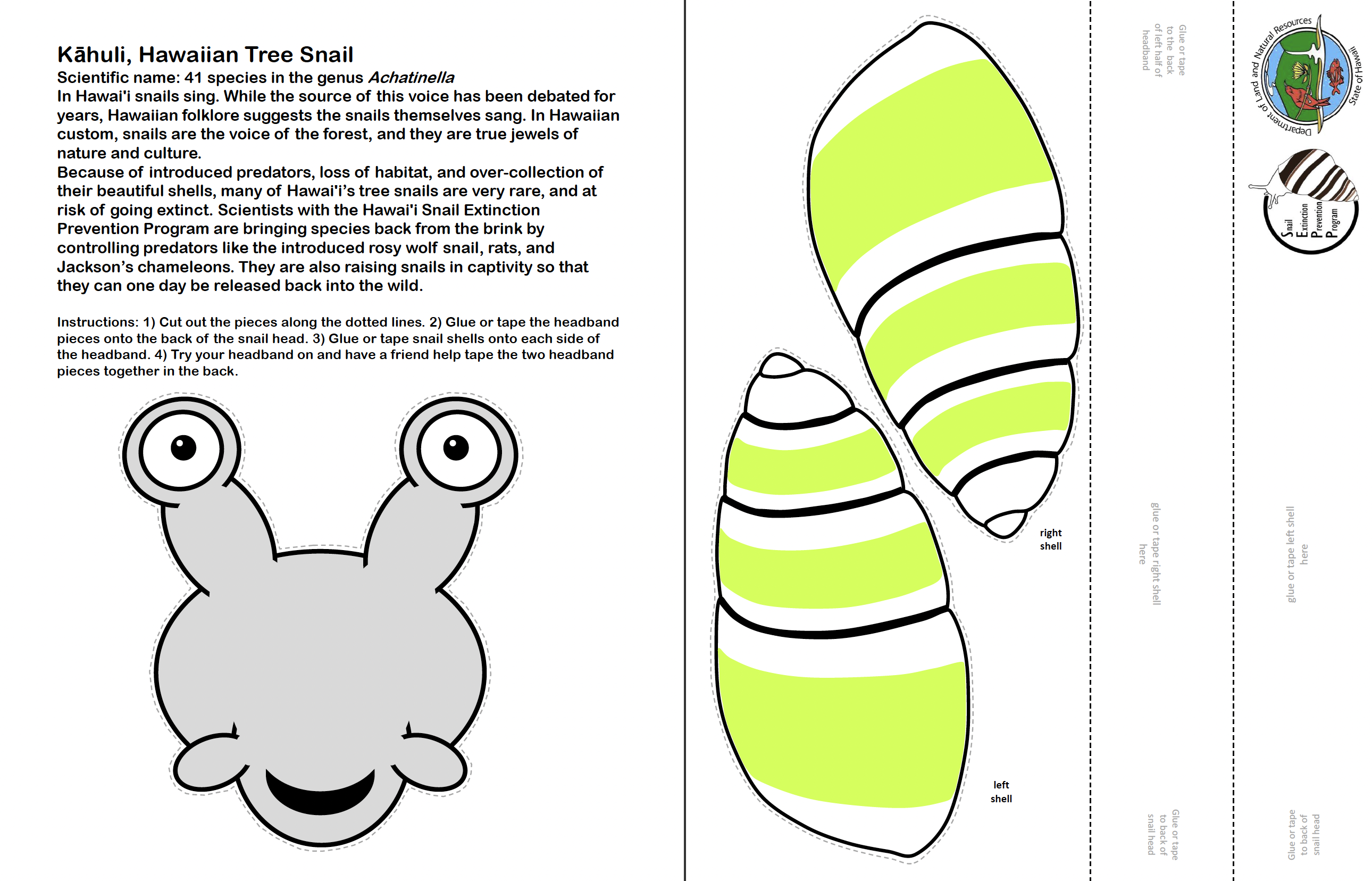 Past Events
Kāhuli in the State Libraries Summer Reading Series
We partnered with the Hawaiʻi State Library System to inspire your summer reading and bring kāhuli to a library near you. Ask your local library for a reading list of kāhuli-related books that were featured in the summer 2023 reading program. We visited 15 libraries across the state this year to provide advanced screenings of the award-winning documentary Kāhuli, guide participants through a virtual field trip of the Snail Extinction Prevention Lab, and share display boxes of real kāhuli shells so participants can see their beautiful patterns.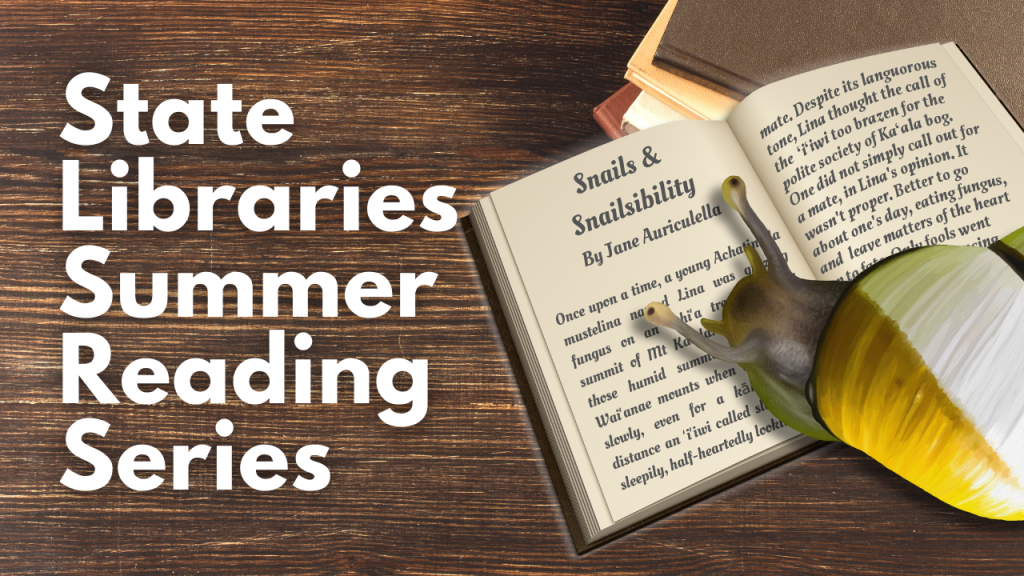 Kāhuli Brewli: A limited-edition beer from Honolulu Beerworks
At the end of April Honolulu Beerworks released a limited-edition beer called Kāhuli Brewli. The beer celebrates our beloved land snails and a portion of the sales go to support the Snail Extinction Prevention Program at DLNR Forestry & Wildlife.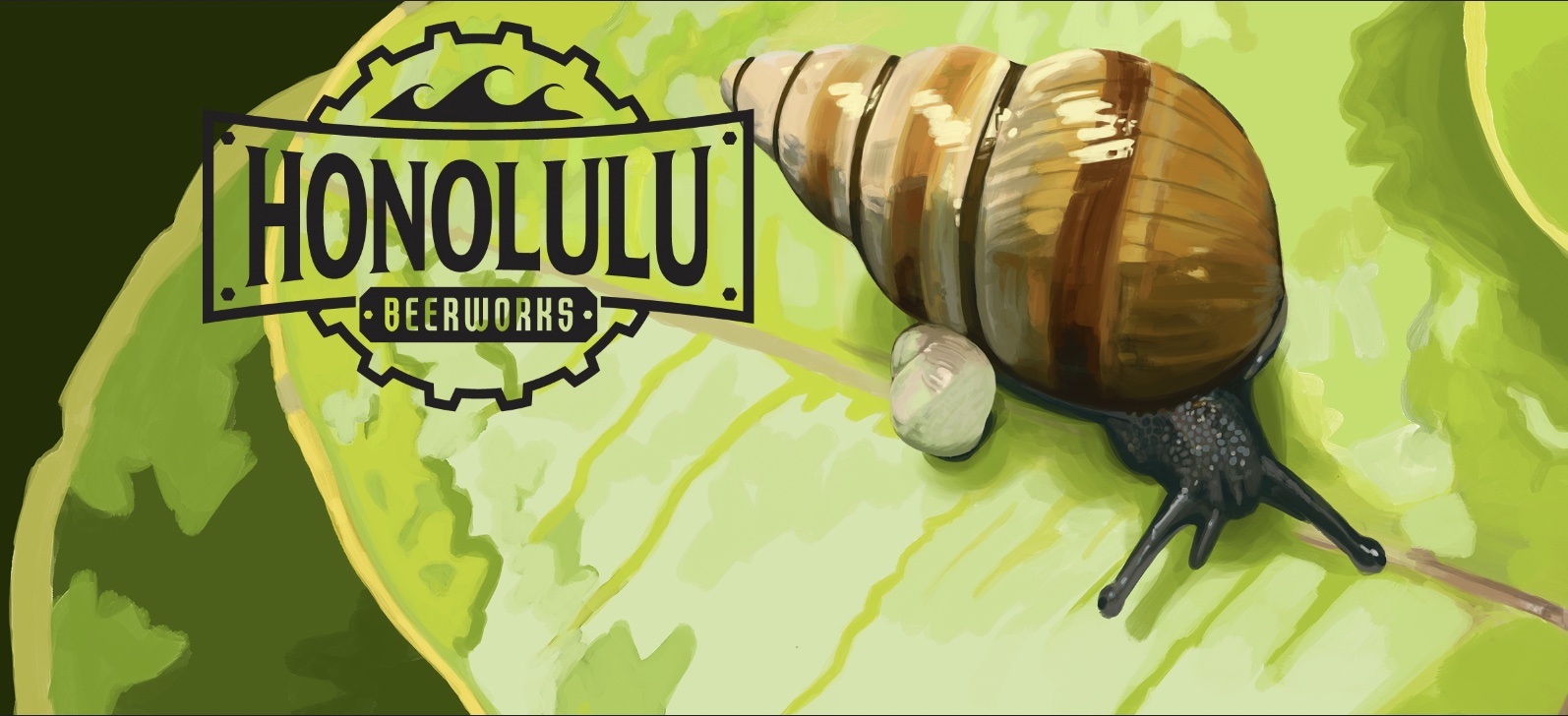 Governor's Proclamation Ceremony: 2023 is the Year of the Kāhuli
In February Governor Josh Green, MD, invited Hawaiʻi's community of snail enthusiasts to join him at the Capitol for the proclamation of 2023 as the Year of the Kāhuli. This event kicked off our year of community events and educational activities, and allowed some of our kāhuli friends to be front-and-center at the Governor's office. The Governor shared his personal history with snails and his appreciation of our native kāhuli as an important and imperiled part of our Hawaiian ecosystems.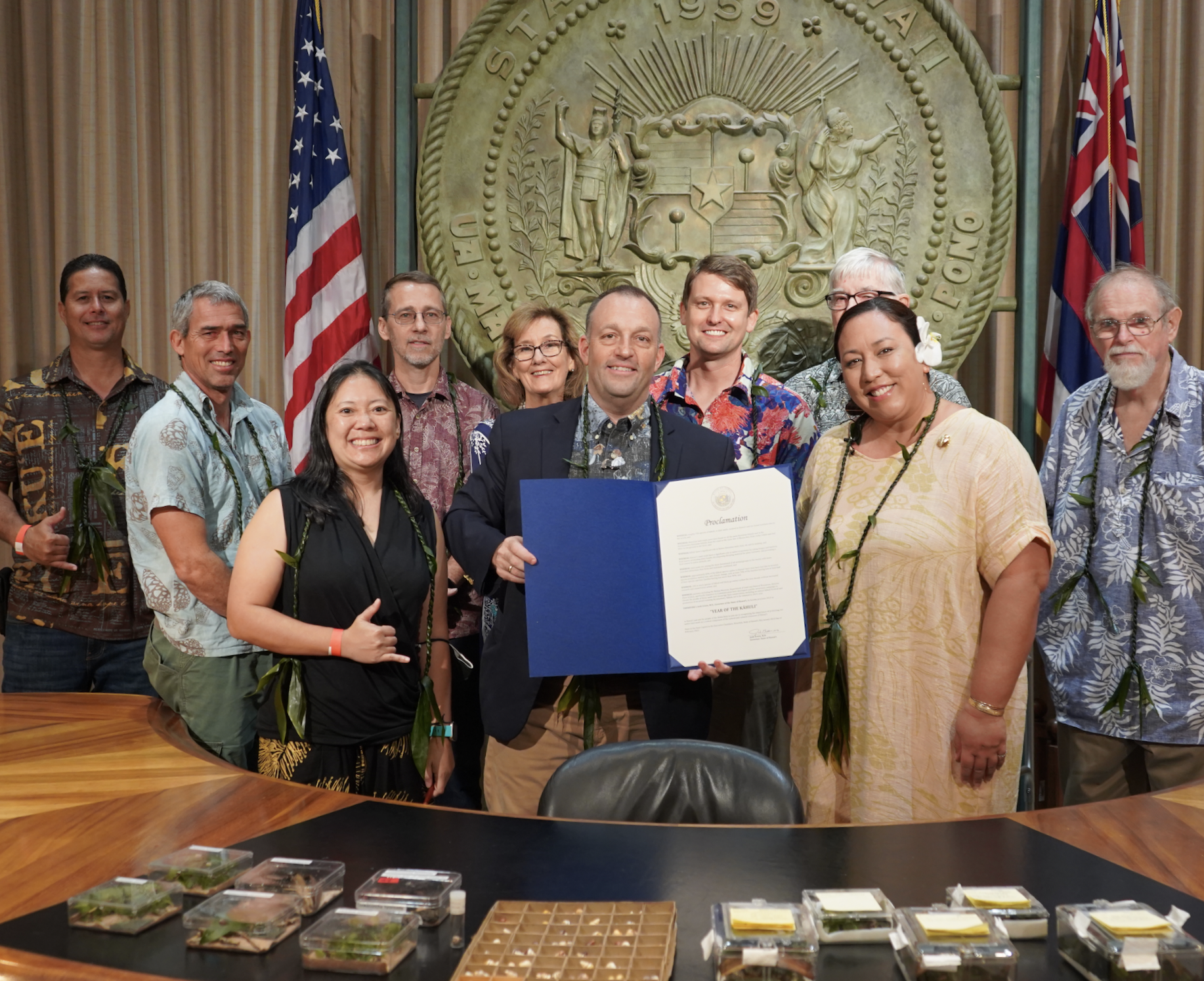 Mahalo to all of our kāhuli partners for making Year of the Kāhuli possible!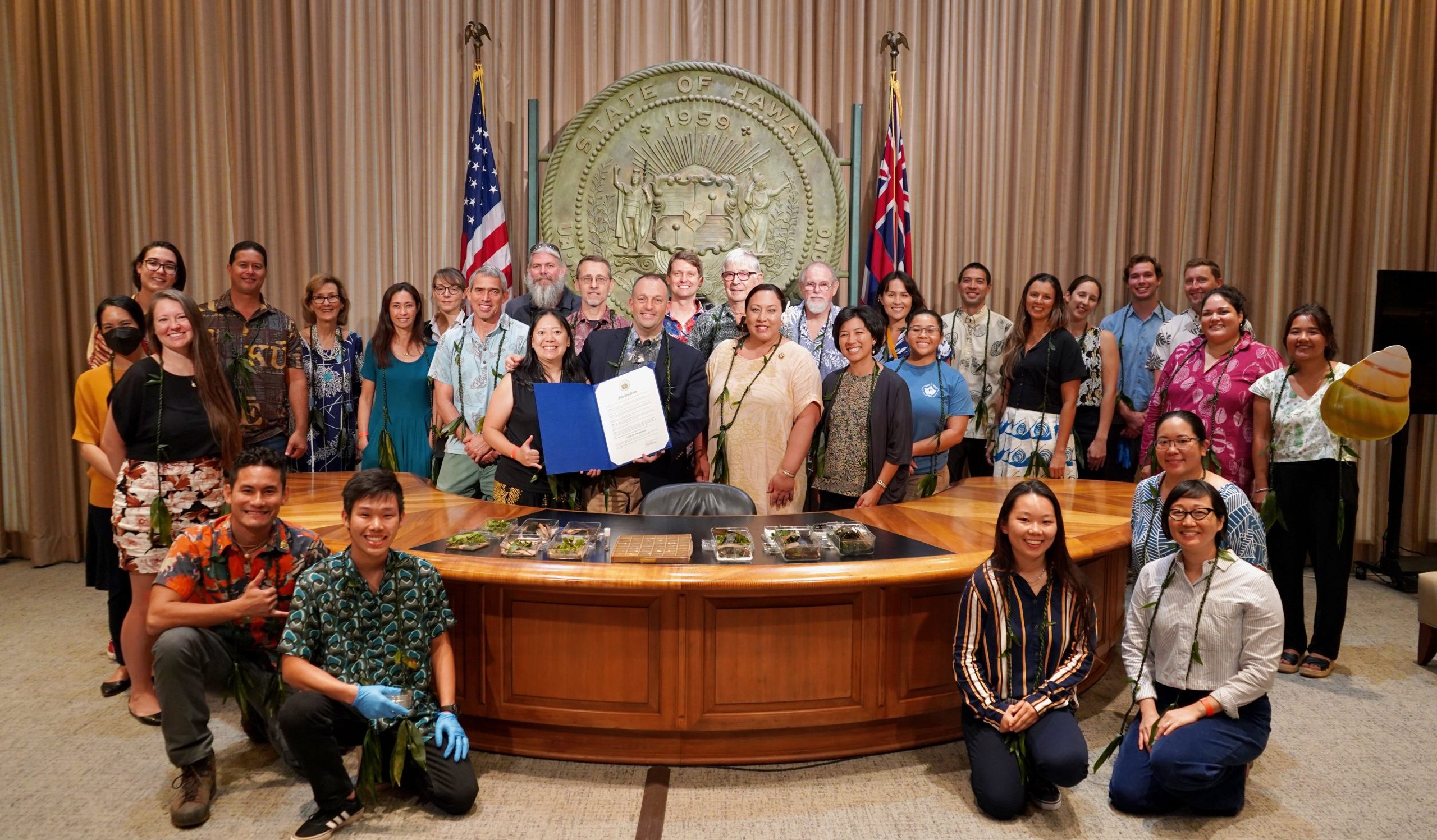 Learn More About Hawaiʻi's Land Snail Conservation Programs
Visit our partners at the Bishop Museum Malacology Program to learn about their research and conservation efforts, as well as their shell collection and biodiversity data.
For information about the Snail Extinction Prevention Program within DLNR Forestry & Wildlife, click any of the links below.