JOSH GREEN, M.D.
GOVERNOR

DAWN CHANG
CHAIRPERSON
For Immediate Release:  May 2, 2023
SALVAGE OF GROUNDED VESSEL AT LĀHAINĀ  BEGINS WITH PROTECTION OF CULTURALLY SIGNIFICANT BIRTHING STONE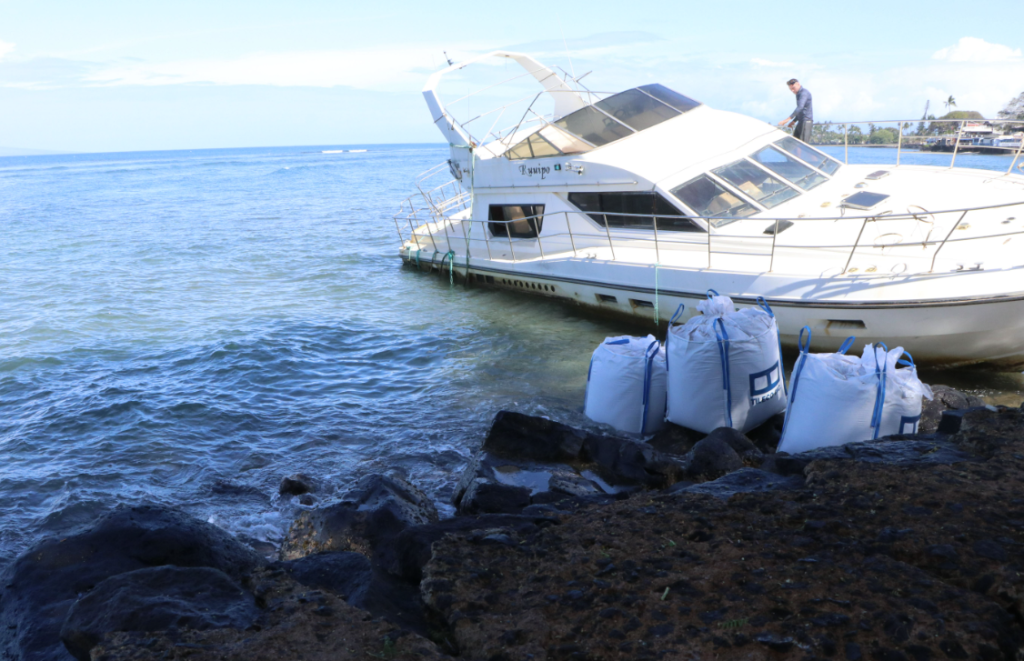 To view video please click on photo or view at this link: https://vimeo.com/823179115
(LĀHAINĀ, MAUI) – The salvage of the grounded vessel, Kuuipo, began today with the placement of large sandbags between the boat and the Hauola stone (birthing stone), less than eight-feet away.
The boat grounded on March 8 and ten days later the DLNR Division of Boating and Ocean Recreation (DOBOR) informed Vernon Ray Lindsey of Wailuku, the vessel's owner, it was taking control of the boat and was hiring a contractor to move it to a safe location. Lindsey had been informed to stay well away from Hauola stone due to its cultural and historical significance. DOBOR later learned that a contractor hired by Lindsey, refloated the Kuuipo, and brought it to its current location near the birthing stone.
This morning cultural practitioner Ke'eaumoku Kapu and his wife Uilani stood watch as the sandbags were put into position. "To Hawaiians, Hauola stone carries the same kind of significance that Plymouth Rock had to America's first settlers. A silver lining to this grounding is that it's brought needed attention to Hauola and our desire to educate and inform people about its cultural significance."
This is the only birthing stone on Maui that's in the water. In pre-contact times, ali'i (royalty) gathered around the stone when a chiefess was giving birth.
Kapu said DLNR contacted him to get advice on how to protect the stone during a salvage operation, expected to last as long as three days. He appreciates the department's approach and care for the Hauola stone and he is in touch with state and county officials about expanding knowledge and information about the Lāhainā historical district, including the birthing stone.
"We're just here to monitor and support the salvage plan," Kapu said. Today, the salvage crew successfully pulled the boat parallel to the seawall. This afternoon the salvage crew from D&D Towing is cutting the cabin from the boat.
On Thursday they plan to lift what remains of the vessel onto shore where it will be trucked away. "Since there's little information about the Hauola stone, this is a good opportunity to learn more about it and make people care about protecting this treasure of Hawaiian culture."
# # #
RESOURCES
(All images/video courtesy: DLNR)
HD video – Salvage of Kuuipo (May 2, 2023)
Photographs – Salvage of Kuuipo (May 2, 2023):
https://www.dropbox.com/sh/g8l5p6b90o7qvnc/AADL8nlB7zjAZEqbAxW1cn9sa?dl=0
Media Contact: 
Dan Dennison
Senior Communications Manager