JOSH GREEN, M.D.
GOVERNOR

DAWN CHANG
CHAIRPERSON
For Immediate Release:  May 3, 2023
PROTECT NATIVE ANIMALS BY KEEPING THEM WILD
Flyers Being Distributed on Hawai'i Island Emphasize Care for Native Species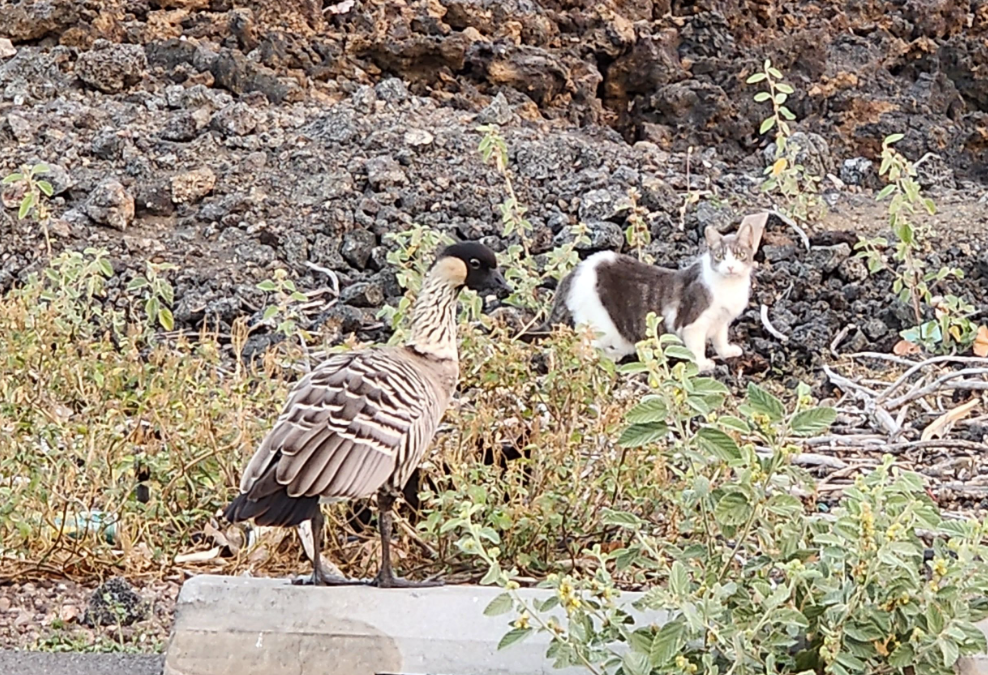 (HONOLULU)  – Native species existed before humans in Hawai'i and most are found nowhere else in the world. Many are threatened or endangered, due to predation, disease, and habitat loss.
That is the theme of a new full-color flyer set to be distributed, initially to large property owners and community members in the Waikoloa area of Hawai'i Island, where the feeding of feral cats, one of the primary predators of native forest birds, has attracted nēnē. The Hawai'i State Bird is protected as an endangered species under state law, and as a threatened species under federal law. Attracting them with food, no matter the intent, is illegal.
"The flyer is intended to provide accurate and current information about protecting native animals, including the nēnē; this is the Department's mission. We hope this information will provide everyone a better understanding and appreciation for why cat feeding boxes can harm nēnē. Once it has been made abundantly clear that the continued feeding of feral cats in places where nēnē are present is a violation of the law, appropriate enforcement action may be taken. We are required by law to protect native species," said DLNR Chair Dawn Chang.
Dr. Josh Atwood, of the DLNR Division of Forestry and Wildlife (DOFAW), created the flyers. He's had significant experience addressing the problem of feral cats statewide.
"We understand that people love cats, but we hope that they might also find love for the native Hawaiian animals that make this place special. We ask people to remember that Hawai'i isn't the mainland. We have some of the highest rates of extinction and more endangered species than any other state. Community members who choose not to feed feral cats are also choosing to protect our native Hawaiian animals," Atwood commented.
The back of the flyer notes that, "protecting our native species is a shared kuleana." It includes tips on how everyone can kōkua our native animal neighbors.
Know your neighbors – native birds and mammals
Don't feed wildlife, and don't leave food for other animals
Landowners can help by knowing the law
Respect native species by giving aloha from a distance
Copies will be distributed to Waikoloa property owners first, and it is hoped landowners and community members across the state will find them helpful and fully embrace the protection of native species. "This is their home, to which we are recent arrivals," the flyer states.
# # #
RESOURCES 
(All images and video courtesy: DLNR)
Download and print a flyer: https://dlnr.hawaii.gov/wildlife/feeding
HD video and photographs – Nēnē eating cat food at Waikoloa (April 17, 2023):
https://www.dropbox.com/scl/fo/zwg07b953hh77nebsu7kv/h?dl=0&rlkey=9hwmzlxyxnvufv2bzi07601q5
Media Contact: 
Dan Dennison
Senior Communications Manager