JOSH GREEN, M.D.
GOVERNOR

DAWN CHANG
CHAIRPERSON
For Immediate Release:  June 16, 2023
MĀNOA FALLS TRAIL TO CLOSE FOR IMPROVEMENTS LAST WEEK OF JUNE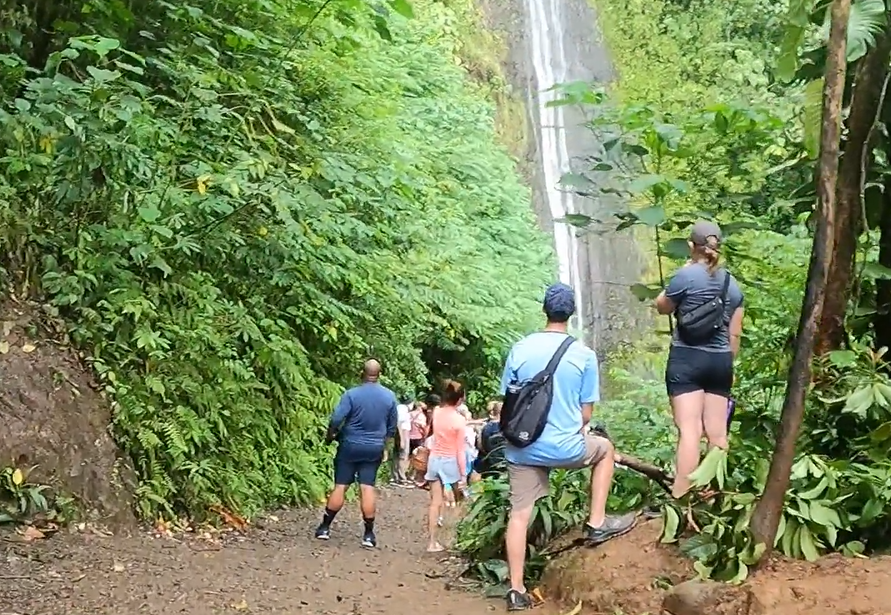 To view video please click on photo or view at this link: https://vimeo.com/729683521
(HONOLULU) – Maintenance and repairs to portions of the Mānoa Falls Trail are scheduled to begin Monday, June 26 and will result in a five-day closure of the popular destination.
The temporary closure will ensure everyone's safely as heavy equipment will be operating on potentially unstable terrain. Work will include trail hardening and run-off management to mitigate soil erosion and slippery conditions.
DLNR Division of Forestry and Wildlife (DOFAW) staff will be assisted by KUPU Hawai'i Youth Conservation Corps. It is anticipated that the trail will reopen July 1.
Currently, Mānoa Falls receives an average of 200,000 visitors annually. Over time, heavy foot traffic mixed with the consistently wet climate in Mānoa Valley creates uneven conditions and contributes to erosion and other trail degradation that need to be addressed. The repairs will help sustain the trail and improve the experience for hikers.
During the trail closure, other hiking options on Oʻahu can be found at the Nā Ala Hele Program website.
For more information regarding commercial tour use and the upcoming closure please contact Aaron Lowe, Oʻahu Nā Ala Hele Trails and Access Specialist, at 808-973-9782.
# # #
RESOURCES
(All images/video courtesy: DLNR)
HD video – Mānoa Falls (July 12, 2022):
Photographs – Mānoa Falls Trail – post repairs (June 2021):
https://www.dropbox.com/sh/iz96ygxi8j4dtuw/AABpHbO2K3girf35NMPXhRBva?dl=0
Nā Ala Hele Program website: www.hawaiitrails.hawaii.gov
Media Contact:
Ryan Aguilar
Communications Specialist
Hawai'i Dept. of Land and Natural Resources