JOSH GREEN, M.D.
GOVERNOR

DAWN CHANG
CHAIRPERSON
For Immediate Release:  June 28, 2023
DLNR LEADER RECOGNIZED FOR CONNECTING COMMUNITIES TO ʻĀINA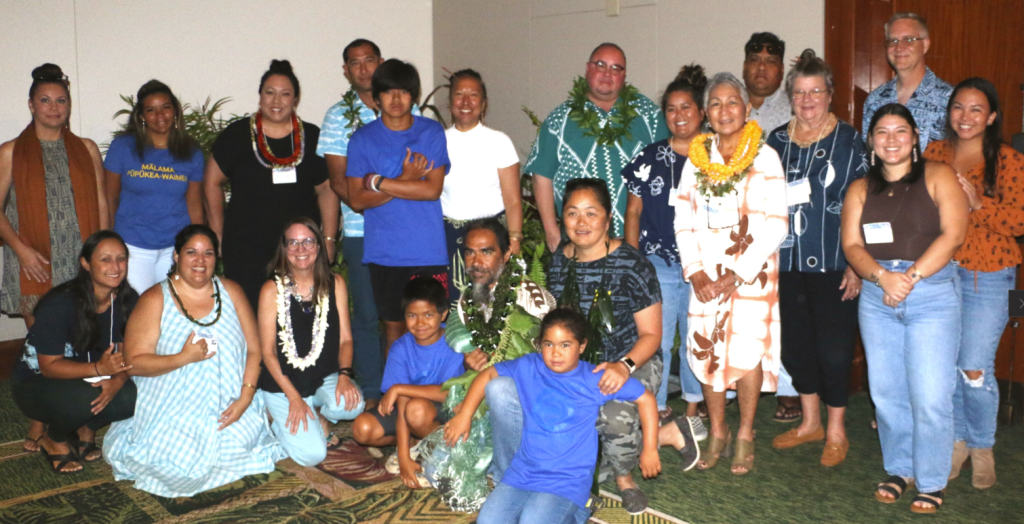 To view video please click on photo or view at this link: https://vimeo.com/840610906
(HONOLULU) – This morning, at the 30th Annual Hawaiʻi Conservation Conference on Oʻahu, DLNR's Edward "Luna" Kekoa received the 2023 Hawaiʻi Conservation Alliance Outstanding Leadership Award for his contributions to community-based natural resource management and conservation in the state.
Kekoa is the Recreational Fisheries Program Manager with the DLNR Division of Aquatic Resources (DAR). His efforts include helping to coordinate the Holomua Marine Initiative, a comprehensive program that focuses on engaging and empowering communities in sustaining nearshore ocean resources. His influence in the conservation and ʻāina stewardship community in support of Hawai'i's native ecosystems is massive  ̶  and also a window to his character.
"Luna leads with a unique blend of passion and humility for Hawaiʻi's natural resources and its people," said DLNR Chair Dawn Chang. "He brings a thoughtful approach to his work, drawing on culture and experience to engage communities. We're lucky to have him at the department, and I think the state is lucky as well."
What's clear is that his impact goes beyond effective environmental management and conservation advocacy, it connects Native Hawaiian and local communities to the ʻāina and the ocean.
# # #
RESOURCES
(All images/video courtesy: DLNR)
HD Video – HCA Outstanding Leadership Award (June 28, 2023):
Photographs – HCA Outstanding Leadership Award (June 28, 2023):
https://www.dropbox.com/sh/u2loz9hpf4k2ndy/AACx0YKYltSP8jiS4Uwe6F0_a?dl=0
Media Contact:
Ryan Aguilar
Communications Specialist
Hawai'i Dept. of Land and Natural Resources