07/14/23 – LAND BOARD RECEIVES BRIEFING ON THE STATE OF WAIKĪKĪ COASTAL LANDS
Posted on Jul 17, 2023 in Main, News Releases, OCCL, slider
JOSH GREEN, M.D.
GOVERNOR

DAWN CHANG
CHAIRPERSON
For Immediate Release:  July 14, 2023
LAND BOARD RECEIVES BRIEFING ON THE STATE OF WAIKĪKĪ COASTAL LANDS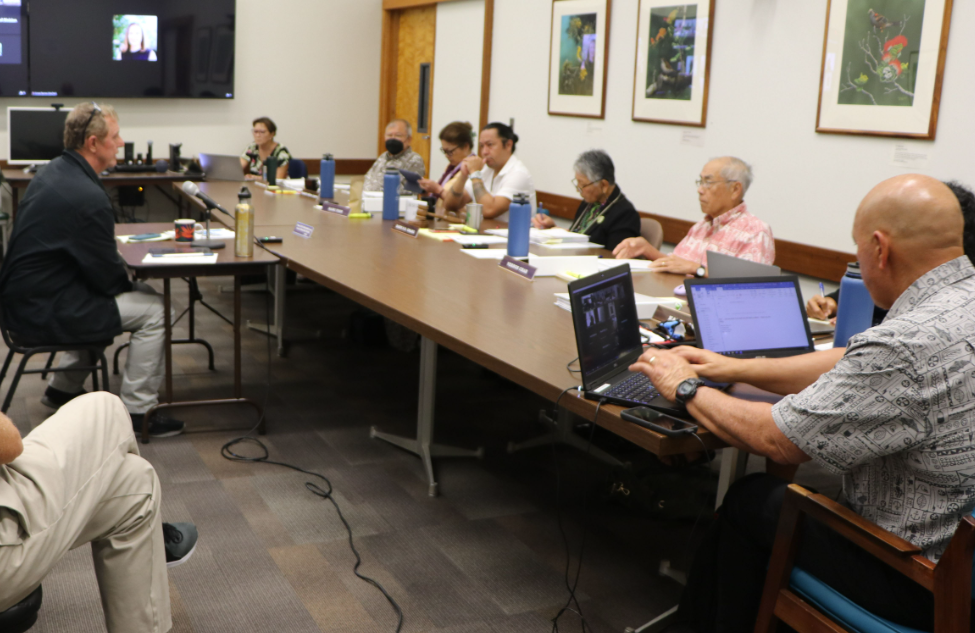 To view video please click on photo or view at this link: https://vimeo.com/845450322
(HONOLULU) – Tension between an iconic visitor destination and beach erosion, exasperated by climate change, took front and center at today's meeting of the state Board of Land and Natural Resources (BLNR).  A Programmatic Environmental Impact Statement (EIS) is being prepared for the Waikīkī Beach Improvement and Maintenance Program. Once it is finalized the BLNR will need to authorize submission of the EIS to the Governor for acceptance.
Michael Cain, administrator of the DLNR Office of Conservation and Coastal Lands (OCCL), told board members during today's informational presentation, "It is possible you will be asked to consider permits for projects related to this program, as well as potential memorandums of understanding regarding public-private partnerships for those projects."
Cain provided a short history of development in Waikīkī, a virtual tour of the area, and addressed sections of the EIS.
In a written report provided to board members, OCCL stated, "Although seawalls were recognized by the Territorial government as the primary cause of beach erosion, and were prohibited in 1917, the ban was not enforced. Approximately 37 seawalls were constructed in Waikīkī, and by 1920 most of the shoreline was lined with walls. By the 1930s only a remnant strip of beach remained along much of the shoreline. Large-scale beach nourishment projects were initiated, creating, or greatly expanding what would become Kaimana, Queen's Surf, Kapiʿolani, and Kūhiō Beaches. These beaches were built to follow the straight lines of the existing seawalls and roads rather than the natural contours of the original bay and were held in place by a series of groins and breakwaters."
In 2015, the Waikīkī Beach Special Improvement District Association (WBSIDA) was created by a City and County of Honolulu ordinance to preserve and restore Waikīkī Beach, and to serve as a cost-share partner in public-private partnerships. It is represented by stakeholders representing businesses, government, hotels and resorts, nonprofit organizations, scientists, and engineers.
WBSIDA played a key role in the planning process that led to the Waikīkī Beach Improvement and Maintenance Program and partnered with the DLNR in funding the EIS for the program.
Potential beach improvement and maintenance projects covering four Waikīkī sectors (Fort DeRussy, Halekūlani, Royal Hawaiian, and Kūhiō) could include new beach stabilization projects, recovery of offshore sand for beach replenishment, and maintenance or replacement of seawalls and groins. All the projects will require permits and action from the BLNR, at which time public comment will be sought.
The OCCL presentation today was a non-action item and included comments from the WBSIDA and from Sea Engineering, Inc. which prepared the Final Programmatic EIS intended to cover all proposed future projects.
# # #
(RESOURCES)
(All images/video courtesy: DLNR)
HD video – Waikīkī Beach informational briefing (July 14, 2023):
HD video – Waikīkī Beach restoration project (March 3, 2021):
Photographs – Waikīkī Beach informational briefing (July 14, 2023):
https://www.dropbox.com/sh/za87yvb8bmgmhva/AAACls4_rvnCL9iET7kU8F93a?dl=0
Photographs – Waikīkī Beach restoration project (March 3, 2021):
https://www.dropbox.com/scl/fo/pj4wpijus91m6u7mbceyz/h?rlkey=2vahn3wg3x3dnuhz07dvro2rz&dl=0
Materials for BLNR Informational Briefing (July 14, 2023):
https://dlnr.hawaii.gov/occl/waikiki/
Media Contact:
Dan Dennison
Senior Communications Manager