JOSH GREEN, M.D.
GOVERNOR

DAWN CHANG
CHAIRPERSON
FOR IMMEDIATE RELEASE
September 9, 2023
WAIMEA PREVENTION AND RESILIENCE FAIR PUTS WILDFIRE CENTER STAGE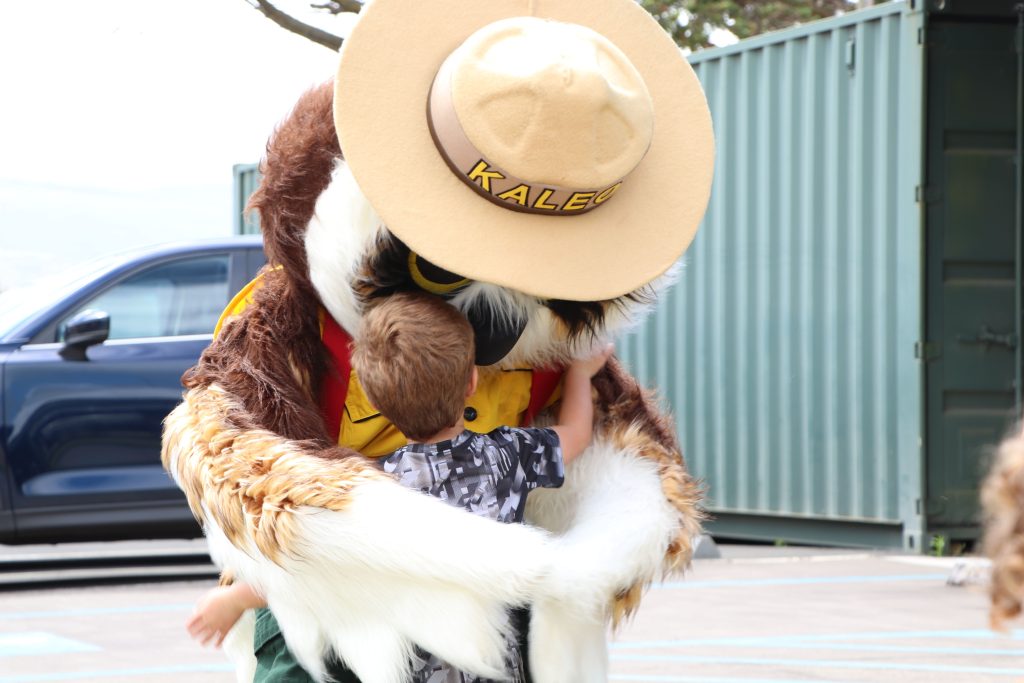 To view video please click on photo
(WAIMEA, HAWAI'I ISLAND) – As many as 1,000 people were expected to attend a wildfire fair today, organized by the Waimea Resilience Hub, at the Mana Christian 'Ohana's Kahilu Town Hall.
Planning for the fair began last winter, well in advance of wildfires on Hawai'i Island and recent ones on Maui, including the blaze that leveled Lāhainā town and killed more than 100 people, with five dozen others still unaccounted for.
One of the organizers of the event, Tim Bostock, believes many Waimea area residents became more fire wise following the massive Mana Road fire four years ago.
"As recent fire disasters around the state have shown, preparation and resilience are critical to all communities for all kinds of natural and human-caused disasters," Bostock said.
Participants were encouraged to place colored dots under disaster types they most worry about. Wildfires and earthquakes were the top two.
Another theme of the fair was knowing your neighborhood and your neighbors. Organizer Diane Chadwick said, "When a disaster strikes it's critical for your neighbors to know what you need, as well as letting them know how you might be able to help. For example, if you have an older or disabled neighbor you could potentially save a life by helping them evacuate.
Last month's Maui wildfires fires in particular, created heightened awareness of the risks of wildfire to entire communities, neighborhoods, and individuals in Hawai'i where climate change has resulted in longer and more serious droughts leading to tinder dry fuels which can spread fires extremely fast.
Many of the tables spread across the floor were geared toward wildfire preparedness, prevention, and resilience. Outside several island fire departments had apparatus on display, always a big hit for keiki, as was Kaleo the Pueo, the mascot for the Hawai'i Wildfire Management Organization (HWMO).
The non-profit has long been a clearinghouse for drought and wildfire information, including introducing the annual Wildfire and Drought Lookout! campaign in partnership with DLNR and other fire agencies six years ago.
HWMO and the Firewise USA program, which it administers, literally had center stage at the fair. In the month since the Lāhainā fire, leaders of the organization have done dozens of media interviews and have seen a tremendous uptick in requests for the programming and resources it offers statewide.
One speaker compared being fire ready to the concept of "it takes a village to raise a child."
"Recent fires have demonstrated, in the most graphic and tragic manner imaginable, why no community, no individual, no one anywhere in Hawai'i can afford to be complacent about wildfires. As the experts tell us, they can ignite just about anywhere or anytime of the year. The theme of connecting is very important. We all need to work toward making our homes, our properties, and our communities more resilient. The time is now," Bostock added.
# # #
RESOURCES 
(All images and video courtesy: DLNR)
HD video – Waimea Wildfire Prevention and Resilience Fair (Sept. 9, 2023):
Photographs – Waimea Wildfire Prevention and Resilience Fair (Sept. 9, 2023):
https://www.dropbox.com/scl/fo/gwwixafdbfpc4kq4ibqlk/h?rlkey=enb2fw1ugrkpnvj445rbds0nd&dl=0
Media Contact: 
Dan Dennison
Communications Director
(808) 587-0396
[email protected]