JOSH GREEN, M.D.
GOVERNOR

DAWN CHANG
CHAIRPERSON
FOR IMMEDIATE RELEASE
September 14, 2023
WEST MAUI COMMERCIAL BOAT OPERATORS MEET WITH DLNR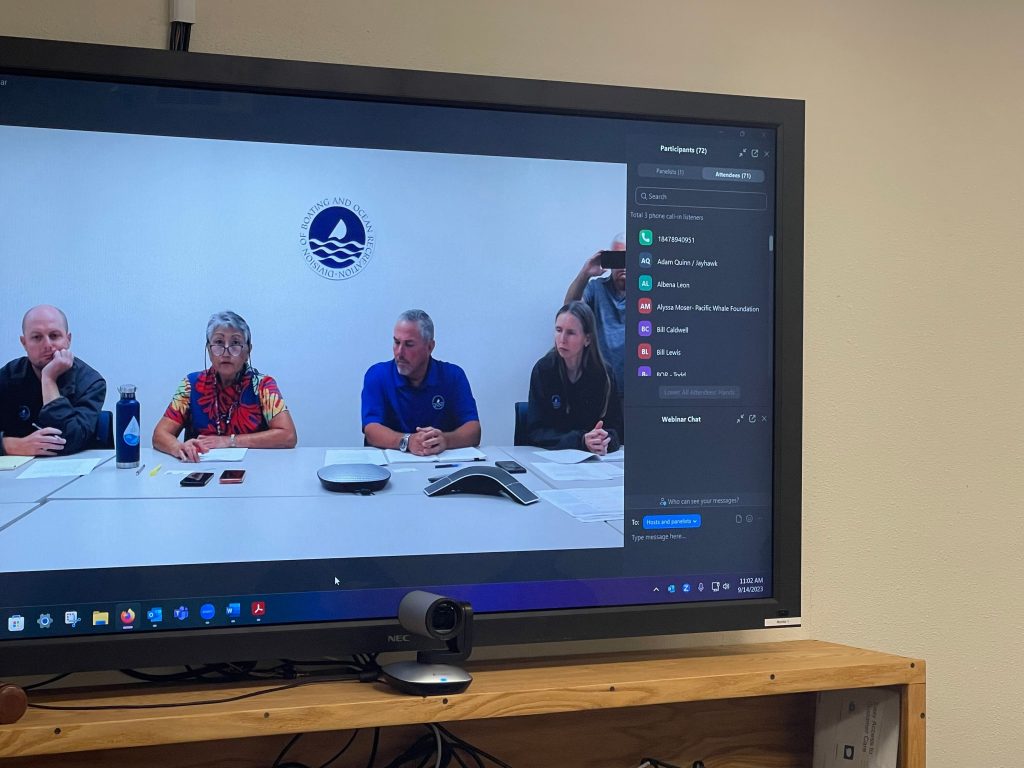 To view video please click on photo
(HONOLULU) – Some owners of commercial ocean tour companies, not only lost their vessels in the Lahaina fire, several lost homes as well.
DLNR Chair Dawn Chang acknowledged their losses during a virtual meeting with nearly 100 operators today. The Lahaina recovery meeting was intended to answer as many questions as possible about the status and futures of the Lahaina Small Boat Harbor, Mala Wharf, Ma'alaea Small Boat  Harbor, and Ka'anapali launch area in west Maui.
Tomorrow, a contractor retained by the U.S. Coast Guard (USCG) is expected to begin staging equipment at the Lahaina harbor, where more than 100 vessels were damaged or destroyed in the August 8 fire. Cultural and historical specialists are being hired to oversee the salvage work.
Once vessel salvage, debris clearing, and possible harbor dredging are completed, the DLNR Division of Boating and Ocean Recreation (DOBOR), which operates harbor facilities, will begin rebuilding its harbor office, piers, and slips. That work is expected to take at least two years. There is a possibility of certain parts of the harbor becoming accessible during construction if it doesn't jeopardize anyone's safety.
In the meantime, commercial operators who either lost boats or slips in Lahaina are asking what they can do to get up and running again. The economic impacts on them and the greater Maui community are weighing heavily on their minds.
Chang told them that slips for displaced vessels from Lahaina and Mala are available, on a first-come, first-served basis at the Ma'alaea Small Boat Harbor on the south shore of the island. She also encouraged operators who currently have slips at Ma'alaea to consider sharing them with those displaced for loading and unloading of passengers. There is no additional parking capacity at the harbor.
Mala Wharf is on the edge of the disaster zone but was not directly impacted by the fire. Access to it is currently restricted by Maui County, but DOBOR officials say once access is opened, it should not take long to get it back into operation. In recent years conflicts between commercial operators and recreational boaters at the ramp have escalated.  Chang asked all stakeholders and the community to use this time to work together and determine a path forward to co-existence.
In conclusion, Chang told the group, that while not all their questions could be answered today, DOBOR staff will get back to individuals with answers. She also said DLNR is open to having future meetings to engage with commercial operators and recreational boaters to create a new paradigm for boating in west Maui.
# # #
RESOURCES
(All images/video courtesy: DLNR)
HD video – DLNR Lahaina recovery meeting (Sept. 14, 2023):
HD video – Ma'alaea Small Boat Harbor (Sept. 13, 2023):
Photographs – DLNR Lahaina recovery meeting (Sept. 14, 2023):
https://www.dropbox.com/scl/fo/1xyesh0novdd2vib1eqlf/h?rlkey=arnuwbs8mkfln7gi3rk3zqio8&dl=0
Photographs – Ma'alaea Small Boat Harbor (Sept. 13, 2023):
https://www.dropbox.com/scl/fo/t1ncbqa8wdfgqn8n1cwz4/h?rlkey=yc9z67a3pyb971xrgc26byl6n&dl=0
Media Contact:
Dan Dennison
Communications Director
(808) 587-0396
[email protected]