10/02/23-REEF-KILLING SEDIMENT AND EROSION AMONG TOP CONCERNS OF MOLOKA'I RESIDENTS
Posted on Oct 2, 2023 in Main, Media, News Releases, slider
JOSH GREEN, M.D.
GOVERNOR

DAWN CHANG
CHAIRPERSON
FOR IMMEDIATE RELEASE
October 2, 2023
REEF-KILLING SEDIMENT AND EROSION AMONG TOP CONCERNS OF MOLOKA'I RESIDENTS 
DLNR Encouraged to Support and Help Facilitate Island's Subsistence Economy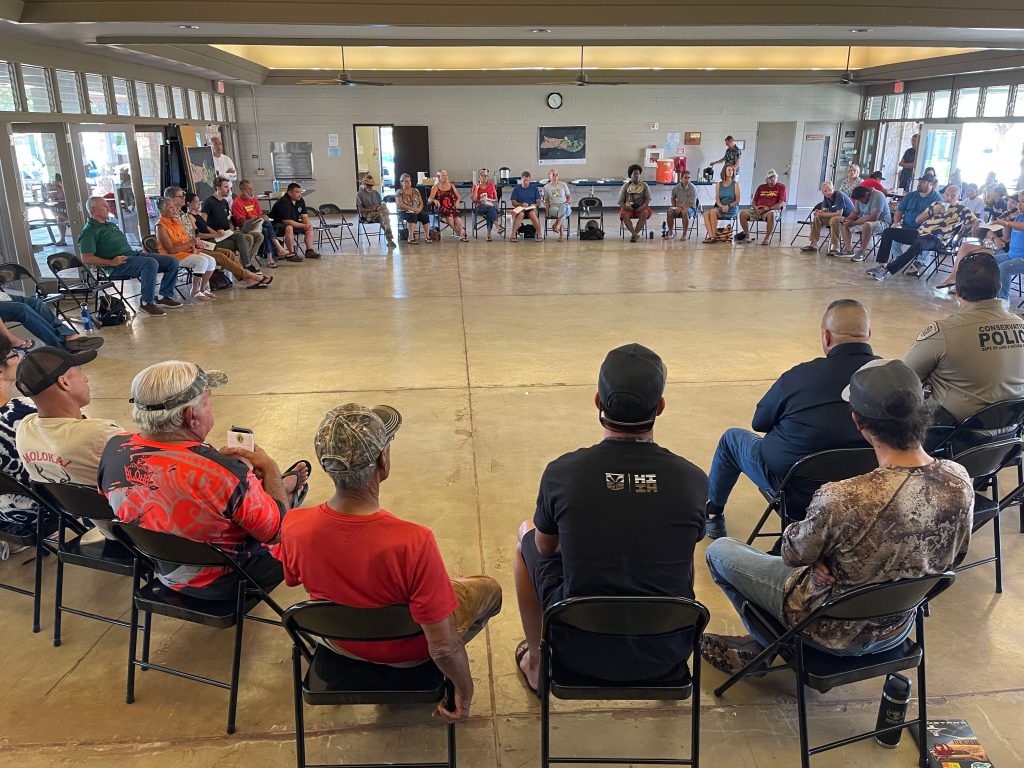 To view video please click on photo
(KAUNAKAKAI, MOLOKA'I) – Of all the main Hawaiian Islands, Moloka'i is the poster child for the concept of mauka to makai. Barren landscapes and forests laid bare by decades of invasive hooved animals and water diversions have sent sediment from high country erosion onto the Friendly Isle's fringing coral reef, described as a national treasure.
This was one of the main community concerns addressed in a DLNR community listening session on Saturday. About 45 Moloka'i residents spent the morning, shoulder-to-shoulder in a circle with DLNR, including Chair Dawn Chang, Deputy Director Laura Kaakua, and nine of 11 division administrators and staff.
Zhan Dudoit, who facilitated the session told the gathering this was the first time anyone can remember so many top DLNR leaders arriving on the island at one time to talk story.
"They've heard the cry of the people to be able to listen to them face-to-face. I don't know any other time when DLNR has done that, but they are arranging to come to every island. What they want is to hear what you have to say. What they want is our kuleana, our place, Zahn told participants. To DLNR leadership she said, "We invite you over here but we're also watching you. We're going to hold you accountable."
In opening remarks Chang explained DLNR's overriding mission of protecting the natural and cultural resources of Hawai'i. As a former facilitator, Chang added, "I've come to this island to facilitate many challenging issues, but I've always found the Moloka'i people to be passionate warriors but very respectful. So, mahalo for the opportunity to be here."
After brief presentations from division administrators and staff, Moloka'i residents brought up some of the issues the island is facing. Most dealt with water, mauka to makai.
Native Hawaiian activist and educator Walter Ritte provided Chang with three studies, some of which are more than two decades old and encouraged Chang to develop task forces to address some of the persistent issues.
"On Moloka'i we have two economies. One is the cash economy and the other one is the subsistence economy.  So, we've been having a really hard time getting that message out to the state. But that message really needs to be ingrained in DLNR, because DLNR plays a huge role in our subsistence economy," Ritte explained.
"So, the federal government told the State of Hawai'i, that the reefs on Moloka'i is a national treasure. And is a national treasure because it continually grows, no matter where the storms are because Lana'i protects us from storms on one side and Maui protects us on the other side. So, this reef is a national treasure. There's a problem with the reef," Ritte continued.
Russel G.K. Phiser described community efforts to take care a portion of reef that has not been degraded by erosion or sedimentation. "We take care of that 'āina. We pick up so much 'ōpala from the reefs. That's our fishing grounds. A pristine reef is valuable to all of us. Got so many different types of fish out there, from the manini to the 'ama'ama."
Another speaker Donna Paoa added, "I've lived in the same house for 50 years at Kawela. The sediment from Kawela Stream, which is actually a river, is what killed reefs out in front of Kawela. Mauka to makai is of course where the issue stems. When I came in 50 years ago the water was still being diverted, but it was still healthy at Kawela."
With much of the focus of the meeting on west Moloka'i, Lori Buchanan turned attention to east Moloka'i, and Hālawa in particular. "All the conservation district types of uses where people are doing whatever they are not supposed to do. Who's the 911 again?" she said.
Chang pledged, "We will try to develop an internal 911. So, when I got a question from Donna about the Kawela Stream, we circulated that to all of the divisions. They're the people on the ground and they'll get it to us. But please give us some time. We need to be sure we're coordinating with everybody else."
Other issues raised spanned from needing additional DLNR staff on Moloka'i; to fishing regulations; to Axis deer overpopulation and driving dangers; to delays in members being approved to sit on the Moloka'i Island Burial Council.
The meeting concluded with Deputy Kaakua committing to post summary notes on DLNR's website shortly, and DLNR administrators and staff working to improve the identified issues.
Community listening sessions on Kaua'i, O'ahu, Maui, Lana'i, and Hawai'i Island are in the planning stages and will be scheduled shortly. Chang concluded, "We felt it was important to start with Moloka'i and the experience there has provided us with an opportunity to refine and enhance how these sessions run, to ensure that sharing and listening are maximized."
 # # #
                                                                                                                                                                 RESOURCES 
(All images/video courtesy: DLNR)
HD Video – Moloka'i Talk Story Listening Session (Sept. 30, 2023):
Photographs – Moloka'i Talk Story Listening Session (Sept. 30, 2023):
https://www.dropbox.com/scl/fo/0dyx3nzyjupodhk37q7uj/h?rlkey=97z4ijefiwn31bi8dz5jjv3fe&dl=0
Media Contact: 
Dan Dennison[email protected]808-587-0396
Communications Director Hawai'i Department of Land and Natural Resources