JOSH GREEN, M.D.
GOVERNOR

DAWN CHANG
CHAIRPERSON
FOR IMMEDIATE RELEASE
Oct. 6, 2023
TWO-MONTH LONG UPCOUNTRY MAUI FIRE WATCH CONTINUES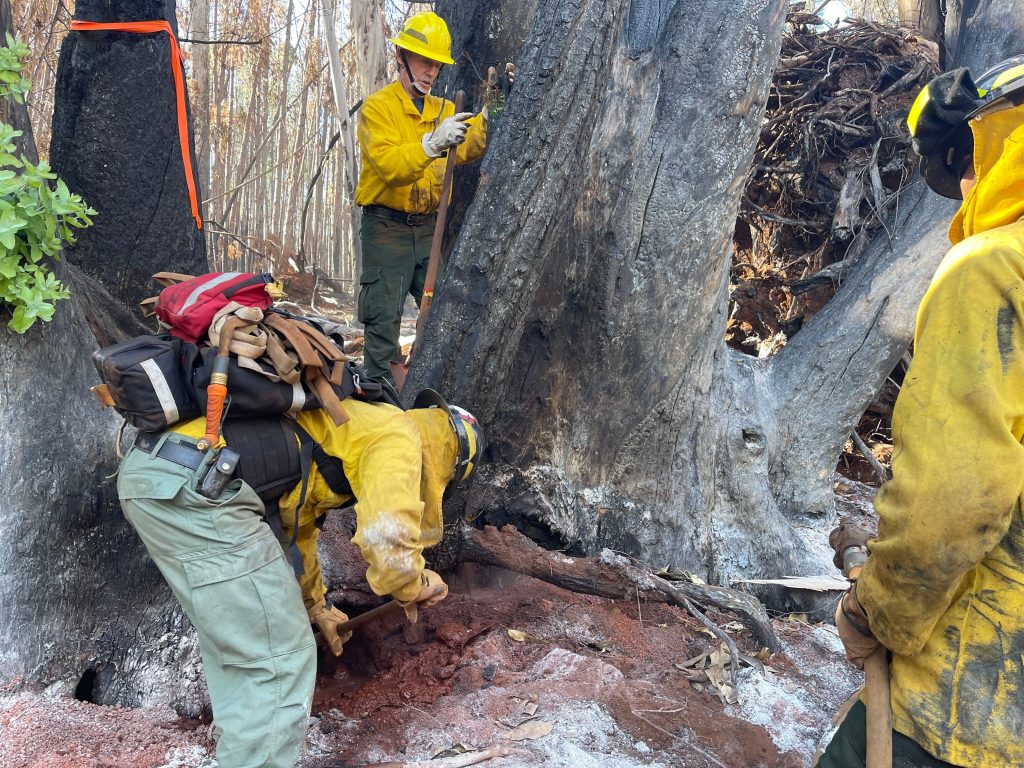 To view video please click on photo
(WAIHOU SPRING FOREST RESERVE, MAUI) – Two days shy of the two-month anniversary of the start of the 1,000-acre Olinda Fire, daily fire patrols continue. Firefighters from the DLNR Division of Forestry and Wildlife (DOFAW) continue checking for hot spots and smokers.
Holding a device that looks like a flashlight, DOFAW's Bill Evanson demonstrates a portable heat detector that he uses to help find still smoldering logs, trunks, and trees. When hot areas are detected, the device emits a loud, screeching sound. "It's one of the tools we have available as we do these daily fire watches," Evanson explained.
The fire crew's daily routine involves driving a brush truck around the perimeter of the fire numerous times. Much of the route is along fire breaks created by bulldozers to keep the fire from spreading. Those roads show just how dry much of upcountry Maui is, with the last measurable rain a distant memory. Fine, red dust obscures the vision of anyone driving behind the fire pumper.
"Normally, we'd begin seeing some rainy season precipitation, but this year it's incredibly dry. It doesn't take much to ignite fires in these conditions," Evanson said.
People across the state, but particularly on Maui, with four wildfires (Olinda, Kula, Pulehu, and Lāhainā) all sparking on August 8, are really sensitive to the smell of smoke in the air. "That's all it takes for someone to call 911," Evanson added.
During their patrols on Thursday, the crew discovered an imu, so named for the pits used to roast pigs. A large Eucalyptus tree, scorched from top to bottom had wisps of smoke escaping at ground level. The crew emptied the tanker's entire 300-gallons of water on the hot spot before refilling it at a nearby hydrant and continuing fire watch.
Evanson said, "Due to the heightened awareness and sensitivity about wildfire now, we want to ensure that this fire is out cold." He says he's not surprised to find fire still smoldering deep into the roots of trees. "These are the stubborn ones that require  trained noses and eyes to ferret out."
The forest area they're patrolling resembles fall conditions in the desert Southwest with the crunch of leaves underfoot and even trees that were not burned in the fire appearing stressed due to the lack of rain.
Fire agencies across the state are encouraging people to exercise extreme caution to avoid igniting wildfires. David Smith, DOFAW Administrator said, "Climate change is real. We're seeing it around us and unfortunately in tragic ways, given the loss of life and property devastation in Lāhainā. No one wants to see a repeat of that."
# # #
RESOURCES 
(All images and video courtesy: DLNR)
HD video – Olinda fire watch (Oct. 5, 2023):
HD video – Two Months on Fire Watch at the Olinda Fire (web feature):
Photographs – Olinda fire watch (Oct. 5, 2023):
https://www.dropbox.com/scl/fo/xu5f3vvlogzkmdrkckq7k/h?rlkey=21afvxdfco01vvev1wdg03m57&dl=0
Media Contact: 
Dan Dennison
Communications Director
(808) 587-0396
[email protected]