JOSH GREEN, M.D.
GOVERNOR

DAWN CHANG
CHAIRPERSON
FOR IMMEDIATE RELEASE 
Oct. 21, 2023
THOUSANDS OF HANDS HELP RESTORE 600-YEAR-OLD ALAKOKO FISHPOND WALL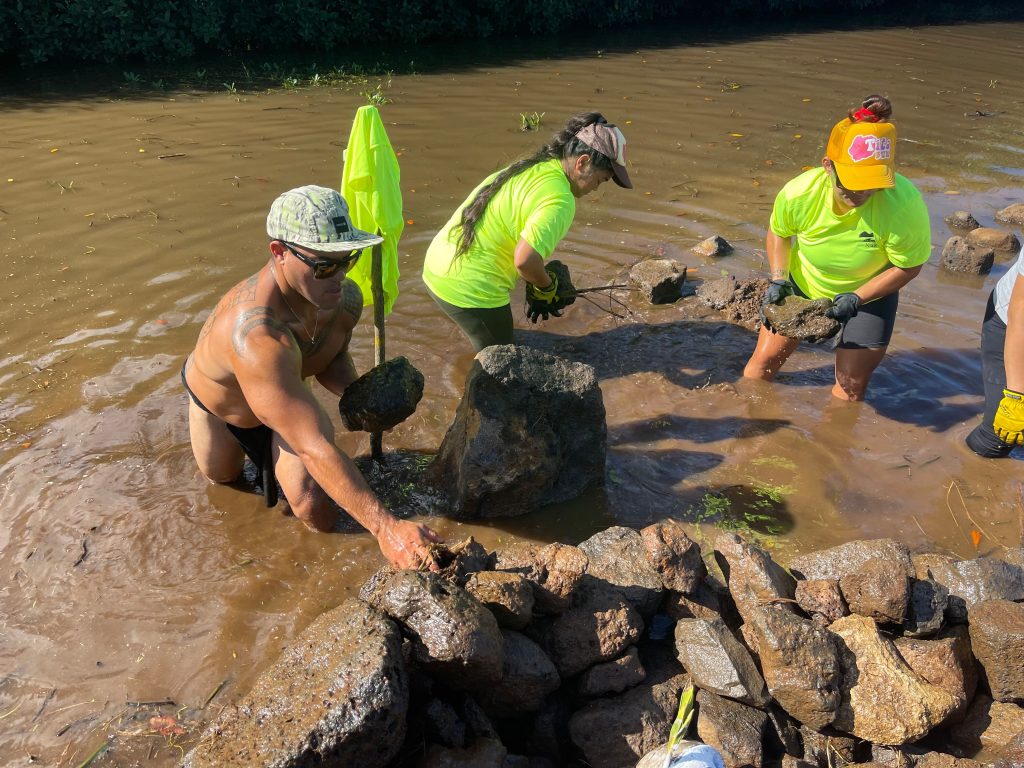 To view video please click on photo
(ALAKOKO FISHPOND, KAUA'I) – It was an impressive sight. People of all ages, in a half-mile long line, each placing rock after rock on an ancient wall that protects the Alakoko fishpond, just outside Līhu'e.
Organized by the non-profit Mālama Hulē'ia as the organizations five-year anniversary workday, it appears the ambitious goal to have 2,000 volunteers helping today was realized.
Jan TenBruggencate, the organization's board president said this was the largest community engagement day yet. As of Friday morning, 1,500 people were registered and hundreds of unregistered volunteers showed up today.
"We have school groups, paddling clubs, high school athletic teams, and cultural practitioners from across the islands. The level of support that this project has generated is just remarkable," TenBruggencate said.
Working in teams of 20, each group worked in sections to raise the rock wall, which at one time protected the fishpond from flooding and will again, upon completion.
The Alakoko fishpond wall is somewhat unique as it is one sided, only facing the Hulē'ia River. Most other walls are two sided. There are several breaches in its 2,700-foot length that will need to be filled before it can perform its intended purpose. Today, the volunteer force rebuilt the wall everywhere else.
Mālama Hulē'ia Executive Director Sara Bowen said one of the group's first restoration missions was to remove 26-acres of invasive mangrove.
"Alakoko fishpond is a link to the essence of what it means to grow your own food. It's a link to the culture and the history of the people who cared for this place. So, it really links the past, current, and future 'āina movement," Bowen commented.
Both she and TenBruggencate had praise for the DLNR Office of Conservation and Coastal Lands (OCCL) streamlined permitting process which was used for today's massive event, for the mangrove removal, and other activities at the fishpond.
The expedited permit application process, Hoʻāla Loko Iʻa,  among other things waives water quality certification requirements for restoration, repair, and operations of loko i'a that are permitted by OCCL.
Bowen said, "That process helped us reach our goals in a more efficient way, by having a programmatic permit, which means that everything is in alignment." Not unlike the alignment of many hands restoring the wall.
OCCL Administrator Michael Cain said, "This is a major step forward in the restoration of this pond. We're excited to see all the progress the crew at Alakoko is making and we're glad we could be part of and facilitate the process."
# # #
RESOURCES 
(All images and video courtesy: DLNR)
HD video – Alokoko Fishpond Wall Community Workday media clips (Oct. 21, 2023):
HD video – Alokoko Fishpond Wall Community Workday SOTS (Oct. 21, 2023):
(Jan TenBruggencate and Sara Bowen)
Photographs – Alokoko Fishpond Wall Community Workday (Oct. 21, 2023):
https://www.dropbox.com/scl/fo/giocd29rygrbipyreruoo/h?rlkey=nbjt1cuo4y8x1vfn8b83aew50&dl=0
Media Contact: 
Dan Dennison
Communications Director
(808) 587-0396
[email protected]