JOSH GREEN, M.D.
GOVERNOR

DAWN CHANG
CHAIRPERSON
FOR IMMEDIATE RELEASE
Oct. 31, 2023
MILILANI MAUKA FIRE AERIALS AND WATER OPERATIONS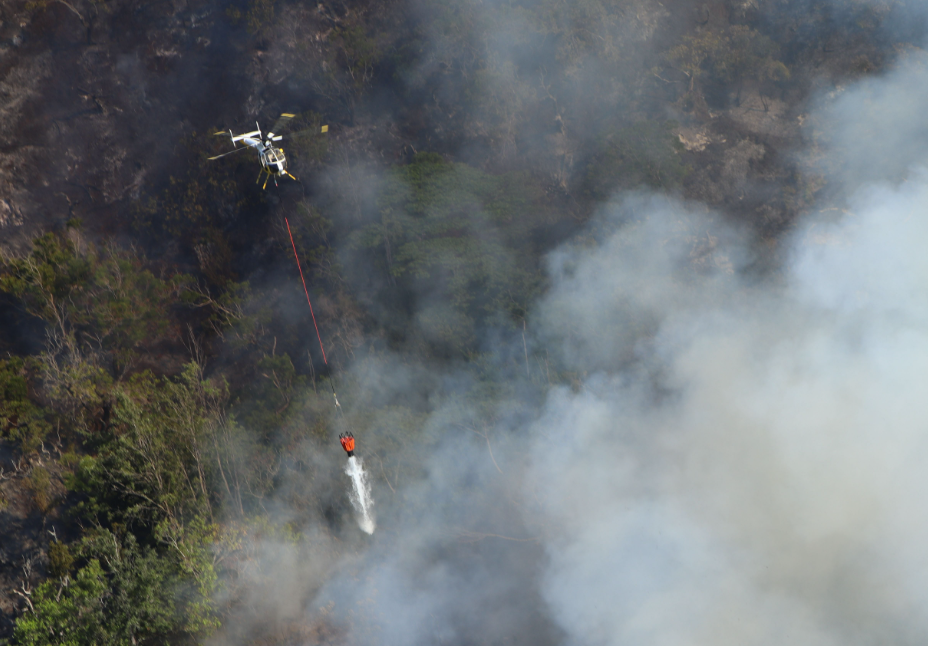 To view video please click on photo
(HONOLULU) – Firefighters from the DLNR Division of Forestry and Wildlife (DOFAW) continue providing support for the Honolulu Fire Dept. (HFD), and military firefighters trying to bring the Mililani Mauka Fire under control.
During a flyover of the perimeter of the fire, a DOFAW fire manager estimated the size at approximately 400 acres. It is burning in heavy timber and through native vegetation including ʻōhiʻa and koa trees.
For a second day, DLNR/DOFAW is providing a contract helicopter for water drops. DOFAW firefighters will not be cutting line today, unlike yesterday, when 17 state firefighters were called up to do so. The terrain is very rough and inaccessible, so helicopters are being used to try and douse the flames with tens of thousands of gallons of water.
Two HFD helicopters and the DOFAW contract helicopter can carry 60 to 70 gallons to the fire front on each trip. A U.S. Army Chinook can drop 2,000 gallons per load and a Blackhawk helicopter can ferry 666 gallons to the active fire each trip.
The fire is not impacting any state lands currently.
# # #
RESOURCES
(All images/video courtesy: DLNR)
HD video – Mililani Mauka Fire aerials and water operations (Oct. 31, 2023):
Photographs – Mililani Mauka Fire aerials and water operations (Oct. 31, 2023):
https://www.dropbox.com/scl/fi/tmlhcemlyoew9nll3g0hc/IMG_3528.JPG?rlkey=k54z0e5pyr24uehkgm5pg933n&dl=0
Media Contact:
Dan Dennison
Communications Director