Dawn N. S. Chang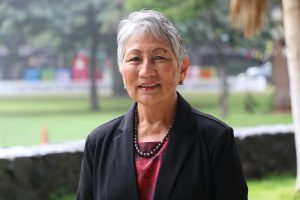 Dawn Naomi S. Chang, Esq.
Ms. Chang is an expert on land issues and regulatory requirements. She served 14-years as Deputy Attorney General with the Hawai'i Office of the Attorney General-Land/Transportation Division and counsel to various State Boards and Commissions such as the Board of Land and Natural Resources, Commission on Water Resources Management, Kaho'olawe Island Reserve Commission, Na Ala Hele Trails and Access system, Natural Area Reserves program, and Island Burial Councils. During her tenure with the Attorney General's Office, she litigated cases that were heard in state and federal courts. In 2016, Ms. Chang was appointed and confirmed to the State Land Use Commission and served until 2022. She is a former social worker with Queen Lili'uokalani Children's Center where she was a community organizer in Waimanalo and counseled orphaned and disenfrancished Native Hawaiian children and families. She received her law degree from the Richardson School of Law, a MA in Social Work from the University of Hawai'i, and a BA in sociology from the University of Hawai'i. Ms. Chang is a member of the Hawai'i State Bar Association and Native Hawaiian Bar Association. She has served on the boards of the Kualoa-He'eia Ecumenical Youth, Historic Hawaiʻi Foundation, Girl Scouts of Hawaii, Camp Mokule'ia with the Episcopal Church, William S. Richardson School of Law Alumni Association, Waimanalo Teen Project, Hawai'i Youth Opera Chorus, Hoʻokano Family Land Trust, Planned Parenthood, and Pacific Islands Land Institute.
She is the former principal of Ku'iwalu, a woman-owned, Native Hawaiian business enterprise, that assisted public and private sector clients since 2001 in engaging with communities, in particular Native Hawaiian communities, to ensure compliance with applicable Federal, state, and local regulations. Ku'iwalu specializes in resolving culturally sensitive and contentious issues, including the work with developers and native Hawaiian families on native Hawaiian burial issues to the development of a Comprehensive Management Plan for the Science Reserve on Mauna Kea.
Ms. Chang is a trained facilitator who coordinates and manages public meetings, culturally appropriate talk story sessions, crisis management, and government relations. In 2014, on behalf of the U.S. Department of Interior, Ms. Chang facilitated 14 statewide public meetings on federal recognition. In 2016, she facilitated two conservation case sessions at the IUCN Conference held in Honolulu. As a facilitator, Ms. Chang's role has been to design culturally sensitive community outreach processes that seek to genuinely engage the impacted communities, especially Native Hawaiians, to participate in meaningful ways in the regulatory process. She is known for her ability to be fair and objective, especially in facilitating hard discussions.
She conducted training courses in Cultural Orientation, Native Hawaiian Land Use and Native Hawaiian Rights, Native Hawaiian Burial Laws, and Ka Pa`akai Assessments to government agencies, attorneys, realtors, developers, and community organizations. Ms. Chang is a member of ACCORD3.0 an affiliation of global mediators and facilitators tackling very difficult and challenging issues. She is a trained mediator and court arbitrator with the State Court Annexed Arbitration Program.