Water Conservation
Water System Audits
To implement the Hawaii Water Conservation Plan, the Commission published a water audit and loss control manual for public water systems. The Commission also held training workshops across the state in April 2014. There are numerous benefits of water loss auditing, including: helping utilities improve their knowledge of their distribution system, reducing water losses by identifying problem or risk areas, making more efficient use of existing supplies, improving public relations and reducing disruption in service to customers. Reducing the amount of water a utility needs to pump will reduce its energy consumption and electricity bill.
Water Conservation
The Commission recognizes the need for coordinated water conservation planning and implementation across the State. The Commission developed a water conservation plan with input from an advisory group comprised of representatives from various water use sectors across Hawaii. The plan identifies priority programs, actions, and policy that the Commission should collaboratively initiate and support to promote water conservation across the state.
Prototype Water Conservation Plan
The Department of Land and Natural Resources (DLNR) through the Commission on Water Resource Management (CWRM) has embarked on a mission to develop a prototype water conservation plan for DLNR with potential application to other State agencies. One of the key objectives of the DLNR Water Conservation Plan is to ultimately establish policies and procedures for a statewide conservation program. Our long-term goals include addressing both potable and non-potable water demands, identifying practical water conservation measures, and developing implementation schedules and budgets for application of appropriate water conservation measures throughout State government, and eventually the State of Hawaii.
 Water Conservation Manual for State of Hawaii Facilities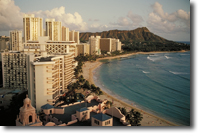 On January 20, 2006, Governor Linda Lingle issued Administrative Directive No. 06-01 requiring all State agencies and programs to increase their commitment towards implementing innovative and resource efficient operations and management. This manual is intended to help State agencies comply with Administrative Directive No. 06-01 by providing detailed information on how to implement a number of water efficient practices at State buildings and facilities that will result in waste reduction and increased levels of conservation. The conversion to State buildings and facilities to water-efficient status will assist State agencies in their efforts to meet and receive certification by the United States Green Building Council's (USGBC) Leadership in Energy and Environmental Design (LEED) standards.