County Water Use and Development Plans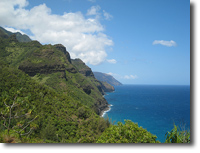 The purpose of the County Water Use and Development Plans (WUDPs) is to inventory all projected water demands within each county and ensure that the future water needs of the county are met. The WUDPs should set forth the "allocation of water to land use in that county" and maintain consistency with county zoning and land use policies. The WUDPs serve to inform future land use planning and provide guidance to the Commission for decision-making on water allocations and water reservation requests.
The responsibility for preparation of the County WUDP rests with the specific entities charged with water planning within that county, as may be enumerated by county ordinance. The Commission's Statewide Framework for Updating the Hawaii Water Plan (Framework) recommends that each county specify the actual roles and responsibilities of the various county agencies involved in the development of and preparation of the WUDPs.
The statutory requirements for the County WUDPs include:
Preparation of a WUDP that sets forth "the allocation of water to land use" in each county which shall be adopted by ordinance and submitted to the CWRM for approval and adoption.
Requirement for periodic updates and modifications to the WUDP to maintain consistency with zoning and land use policies;
Appropriate recognition of the current and future development needs of the Department of Hawaiian Home Lands (DHHL); and
Preparation of "regional plans for water development including recommended and alternative plans, costs, adequacy of plans and relationship to water resource protection and quality plan."
The Commission recognizes that there is a need for flexibility to accommodate each county's individual needs, priorities, and specific water issues. Plan versatility is also necessary to encourage innovation as well as to accommodate unique and county-specific concerns that may be addressed within the WUDP.
It is recommended that large files are downloaded before viewing in Adobe Acrobat:
For Windows users: Right-click > Save Target As…
For Mac users: Ctrl + Click > Download Linked File…