State Water Projects Plan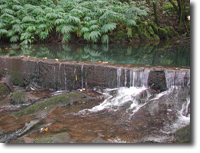 The Engineering Division of the Department of Land and Natural Resources (DLNR) has accountability for State projects and is responsible for the preparation of the State Water Projects Plan (SWPP) in conjunction with the Commission and other State agencies. The purpose of the SWPP is to provide a framework for planning and implementation of water development programs to meet projected demands for State projects over a 20-year planning horizon. The objective of the SWPP is to review current and future state water projects to insure orderly authorization and development of the state's water resources. The contents of the SWPP include, but are not limited to:
An inventory of existing State wells, stream diversions and water systems;
Identification of proposed States projects/developments;
Assessment of future water demand projections;
A water development strategy, strategy implementation and recommendations; and
Incorporation of State agricultural water needs as outlined in the Agricultural Water Use and Development Plan.
Each State department is surveyed to inventory existing and proposed State sponsored projects, associated water requirements by island and hydrologic unit, and proposed sources to meet the demand. Agency plans for future source development should be coordinated with DLNR and integrated within the County Water Use and Development Plans.
2020 State Water Projects Plan Update
The Hawai'i Department of Land and Natural Resources has completed an update of the plan and the Commission staff will be holding public hearings to receive public input on the document.  The State Water Projects Plan Update can be downloaded here.
Information on the public hearings and how you can provide comments on the document can be found on the Public Hearing Notice (State of Hawai'i, Update to the State Water Projects Plan, dated October 8, 2020).
The public hearings will be held virtually on the following dates and times:
2017 State Water Projects Plan Update
Due to budgetary constraints, DLNR decided that only the Department of Hawaiian Home Lands (DHHL) projects would be considered for this update of the SWPP.  DHHL was selected for the following reasons:  DHHL possesses the largest area of land of all State agencies and thus could have significant impact and requirements on water resources;  water needs of DHHL are public trust uses of water and have a special protection and priority in the State Water Code.
2003 State Water Projects Plan Update
Download Document by Sections