10/24/18 – STATE CONSERVATION POLICE SEEK TWO MEN SUSPECTS IN POSSIBLE STREAM POISONINGS
Posted on Oct 24, 2018 in DOCARE, Main, News Releases, slider
DEPARTMENT OF LAND AND NATURAL RESOURCES
News Release
DAVID Y. IGE
GOVERNOR

SUZANNE D. CASE 
CHAIRPERSON
For Immediate News Release: October 24, 2018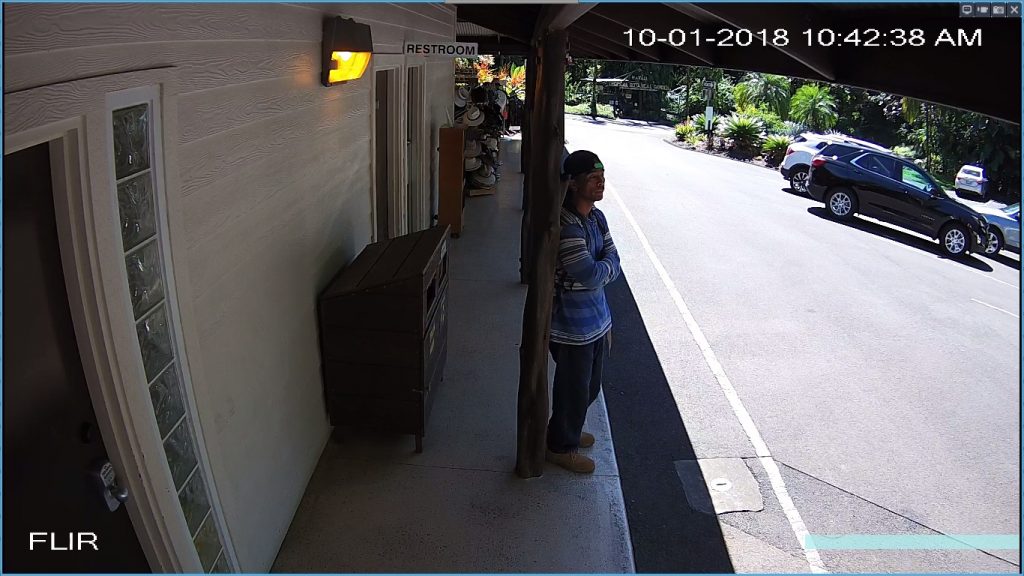 (click on image to watch video)
STATE CONSERVATION POLICE SEEK TWO MEN SUSPECTS IN POSSIBLE STREAM POISONINGS
(Hilo) – The DLNR Division of Conservation and Resources Enforcement (DOCARE) is asking for help in identifying two men they'd like to question in connection with the recent apparent poisonings of several East Hawai'i streams. Hundreds of dead Tahitian prawns were found in the streams shortly after the men were picked up on surveillance cameras at the Hawai'i Tropical Botanical Garden.
Officers report that on Monday, Oct. 1st at about 10:00 in the morning, two men snuck into the garden where they were contacted by staff and told to leave until they paid the entrance fee. It's believed they re-entered the gardens by crawling under a security fence that crosses over one of the streams.  A short time later their images were picked up on the garden's cameras.  The next day garden maintenance staff spotted hundreds of dead or near-dead prawns floating in stream pools.  DOCARE called inspectors from the State Dept. of Agriculture (DOA) in to take samples and DOA collected 20 prawns for further testing and analysis.  A day later DOCARE officers walked numerous streams and pools above the garden and spotted more dead prawns and an empty bottle of pesticide. They say all of the prawns in the water below the bottle were dead, while those above were alive. This happened in the Onomea Papaikou/Pepeekeo area and Alakahi Stream where it crosses Old Mamalahoa Highway to its ocean entrance past the Onomea Na Ala Hele trail.
Last May, DLNR/DOCARE issued a warning for people to avoid buying prawns from roadside stands or anywhere else when they don't know the source. While there's no evidence anyone has gotten sick eating prawns killed by poisons, there are stories in the community of people getting sick after eating them.  It is a Class C felony to poison streams or rivers in Hawai'i. Previously DOCARE officers have contacted men hauling 50-pound bags of prawns from East Hawai'i waterways. They also have tried to contact roadside vendors.  In all the cases there was not enough evidence to prove a poisoning or people took off before officers could contact them.
In the latest suspected case at Hawai'i Tropical Botanical Garden, the two men DOCARE officers would like to contact are:
Mid-20s, 5'6", 135 lbs and black hair
Mid-30's, 5'8", 145 lbs and black hair with a short pony tail.
Anyone with information on the suspected stream poisonings or if you can provide help in identifying the persons-of-interest please contact DOCARE:
Hilo Office – 808-933-3460
Statewide Tip Line – 643-DLNR (3567)
DLNRTip App-Free download for iPhones or Android devices
# # #
(RESOURCES)
(All images courtesy: DLNR)
HD video-Killing Stream Life to Collect Tahitian Prawns (April 2018):
HD video-East Hawai'i streams, DOCARE Officers and DOA Inspectors (April 2018):
Media Contact:
Dan Dennison
Senior Communications Manager
(808) 587-0396