DEPARTMENT OF LAND AND NATURAL RESOURCES
News Release
DAVID Y. IGE
GOVERNOR

SUZANNE D. CASE 
CHAIRPERSON
For Immediate News Release: November 30, 2018 
MORE RAPID ʻŌHIʻA DEATH CONFIRMED ON KAUA'I
Land-Based Tour Operators Encouraged To Register For Bio-Sanitation Workshop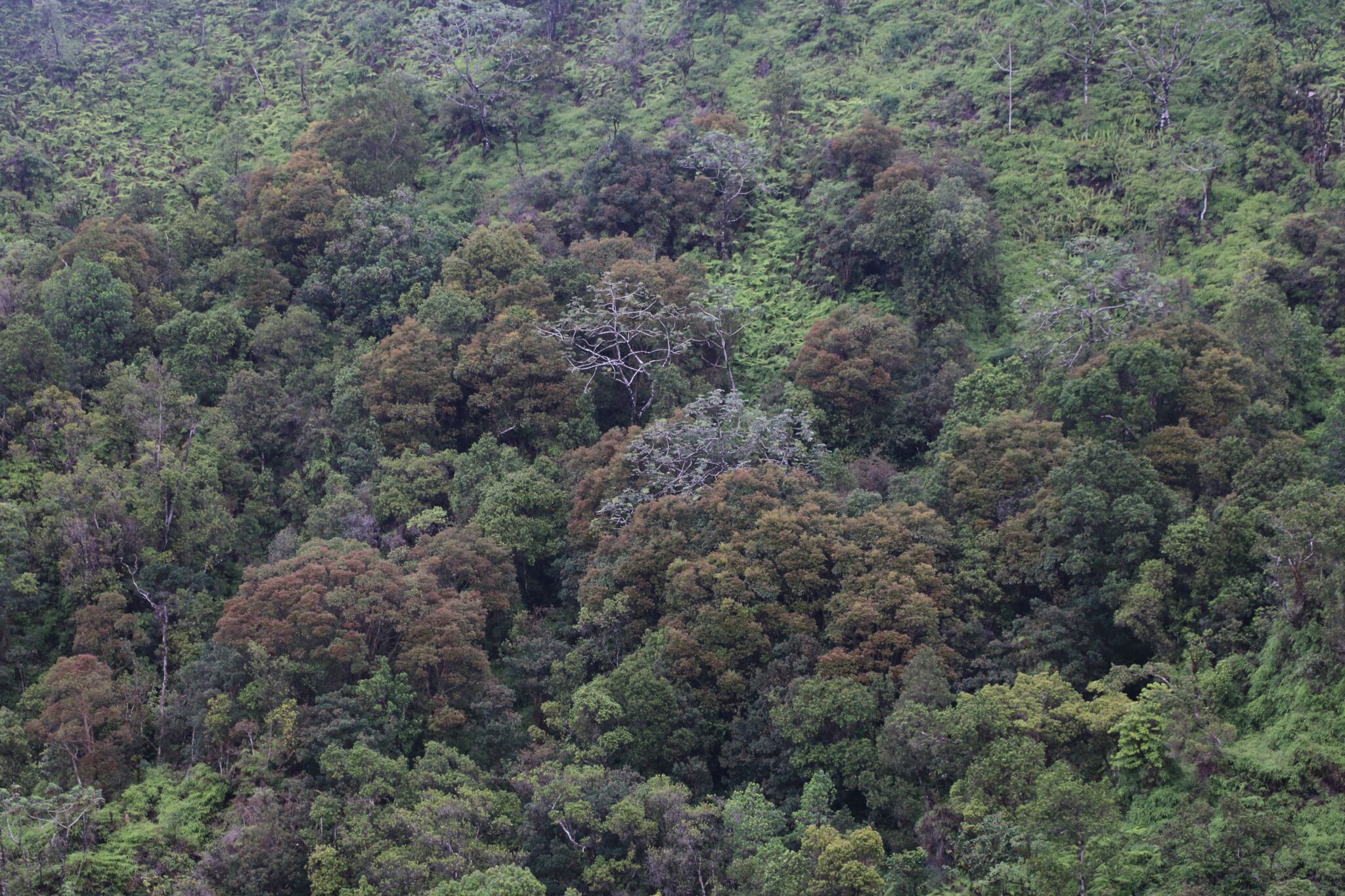 To watch video, please click on the photo
(Lihue) – Rapid ʻŌhi'a Death (ROD), a disease killing ʻōhiʻa trees, has been confirmed at two new locations on Kaua'i. Since ROD was discovered in Moloa'a State Forest Reserve in 14 trees earlier this year, a collaborative team of scientists from state, federal, and private organizations has been working together to survey the island and develop response plans to an introduced disease threat facing Hawai'i's native tree. ʻŌhiʻa is considered foundational to Hawaiian forests and culture.
Teams conducted aerial drone flights and helicopter surveys using digital mobile sketch mapping and identified 22 areas on state and private lands with ʻōhiʻa trees showing symptoms consistent with the disease. So far in 2018, 76 samples have been collected and submitted for lab testing. Since the Moloa'a detection in the spring, three more trees have been confirmed to have Ceratocystis huliohia, the less virulent of the two species of fungi that cause ROD. On Hawai'i Island, scientists at the U.S. Department of Agriculture identified the two-different species of fungi that cause ROD, C. huliohia and C. lukuohia. Both species are new to science.
The new positive detections come from privately-owned land in Halelea Moku and near the Lihue-Koloa Forest Reserve. This locates ROD at three distinct locations on the island at elevations ranging from 600 to 1,600 feet above sea level.
"This new detection is the same species of Ceratocystis found in Moloa'a where it was evident the trees had been dead for some time," said Sheri S. Mann, Kaua'i Branch Manager for the DLNR Division of Forestry and Wildlife (DOFAW). "We are finding trees with ROD now because we are searching for them. It's clear we must be vigilant about doing what we can to stop the spread of C. huliohia and, especially, to prevent the introduction of the more aggressive C. lukuohia."
Since ROD was identified on Hawai'i Island more than four years ago, it has affected more than 135,000 acres of ʻōhiʻa forest. On the older smaller island of Kaua'i, ʻōhiʻa are relegated to remnant forested areas, and any loss is profoundly detrimental to endangered native birds and other plants, insects and animals that rely on them for survival.
Research partners from many organizations have made significant progress in understanding the disease. One of the biggest is how the fungus enters trees. "It's clear that both fungal species enter trees through wounds, as do many other tree diseases, so it's important not to wound them by taking clippings, trimming, or stepping on roots," said Tiffani Keanini, project manager of Kaua'i Invasive Species Committee (KISC). "The next layer of defense is to avoid spreading the fungus by scrubbing all footwear clean of mud and spraying with 70% isopropyl alcohol after any forest activity, washing all gear and clothing, and thoroughly washing any equipment and vehicles–especially tires–that enter or are used in the forest, along roadsides, or off road."
Scientists are also investigating the role burrowing beetles play in spreading the fungus. Once the fungal spores enter the trees, the disease advances by cutting off the tree's flow of water.
Providing a bit of hopeful news, some ʻōhi'a trees on Hawai'i Island are showing tolerance to the disease, as are some forest types.
"At this point, only one of the two fungal pathogens have been confirmed on Kaua'i," said Melissa Fisher, Kaua'i Forest Program Director, The Nature Conservancy. "Now we need everyone to be extra vigilant to prevent further spread of the existing disease and help to keep the other ROD-causing pathogen off our island as well."
Since the ROD detection in Moloa'a, a rapid response team including scientists and managers from DLNR/DOFAW, KISC, The Nature Conservancy, National Tropical Botanical Garden, Kaua'i Watershed Alliance, and the University of Hawai'i has been working together to conduct additional sampling island-wide and evaluate the most appropriate next steps. One way kama'aina and visitors can help prevent the spread of ROD is by following these key five guidelines:
1) Keep your eyes open. If you see ʻōhiʻa with a limb or crown turning brown, take a picture, and contact KISC via email ([email protected]) or phone (808-821-1490). Samples of the wood must be taken by trained technicians and tested in a laboratory to confirm the presence of the ROD fungi.
2) Avoid injuring ʻōhiʻa. Wounds serve as entry points for the fungus and increase the odds that the tree will become infected and die from ROD. Avoid pruning and contact with heavy equipment wherever possible.
3) Clean gear and tools, including shoes and clothes, before and after entering the forest and areas where ʻōhiʻa may be present. Brush all soil off tools and gear, then spray with 70% rubbing alcohol. Wash clothes with hot water and soap.
4) Wash your vehicle with a high-pressure hose or washer if you've been off-roading or have picked up mud from driving. Clean all soil off tires–including mountain bikes and motorcycles–and vehicle undercarriage.
5) Don't move ʻōhiʻa wood or ʻōhiʻa parts, including adjacent soil. The disease can be spread to new areas by moving plants, plant parts, and wood from infected areas to non-infected areas.
The visitor industry can help, too, by adopting bio-sanitation practices. On Wednesday, December 12, from 1:00 to 3:30 p.m., land-based tour operators are encouraged to attend a free workshop on how to prevent the spread of Rapid ʻŌhiʻa Death on Kaua'i. The course covers best sanitation practices for tour operators so guides and guests can feel confident about minimizing their impact on Kaua'i's native landscape. The workshop will be held at the Kaua'i Agricultural Research Station at 7370-K Kuamo'o Road in Kapa'a. Interested parties can sign up at www.rapidohiadeath.org. Registration is required.
'Ōhiʻa is the keystone species of the Hawaiian forest, and the trees are considered critical to the function of Hawaiian watersheds and the ecology of Hawai'i, as evidenced by this Hawaiian mo'olelo (saying): I walea ka manu i ka 'ula o ka lehua. The bird is attracted by the redness of the lehua. 'Ōhiʻa also plays an important role in Hawaiian culture.
You can learn more about ʻōhiʻa, its role in the culture, and ROD on Tuesday, December 11, 2018, starting at 5:30 p.m., at the Kaua'i premier of "Saving 'Ōhiʻa." The documentary is part of the collaborative National Tropical Garden-Kauai Community College 'Earth Matters' public lecture series and will air in the KCC Campus Center Cafeteria (behind the Performing Arts Center).
###
Media Contacts:
Kaua'i Invasive Species Committee
Kim S. Rogers
(808) 821-1490
(808) 634-6667 (cell)
Dept. of Land and Natural Resources
Dan Dennison
Senior Communications Manager
(808) 587-0396
[email protected]