DEPARTMENT OF LAND AND NATURAL RESOURCES
News Release
DAVID Y. IGE
GOVERNOR

SUZANNE D. CASE 
CHAIRPERSON
FOR IMMEDIATE RELEASE
April 27, 2020
TEN WORLD WAR II ERA MUNITIONS REMOVED FROM WATERS OFF LANIKAI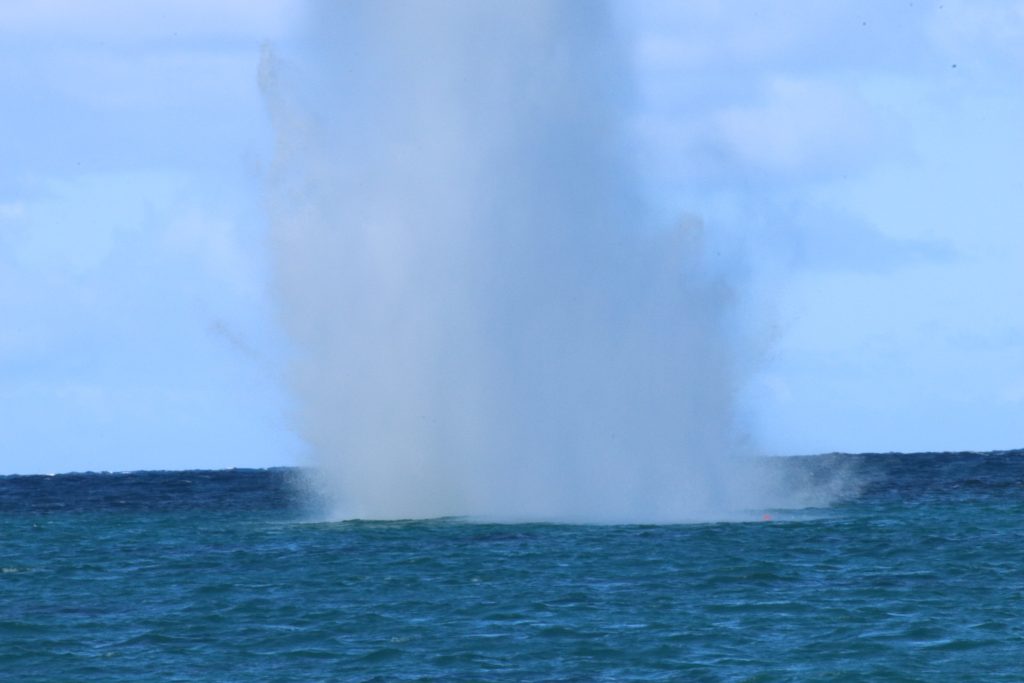 To view video please click on photo or view at this link: https://vimeo.com/412561496
(Kailua) – With three successive "fire-in-the-hole" warnings, LT Jordan Bethke of the U.S. Navy's Explosive Ordnance Disposal (EOD) team (Detachment Mid-Pacific) set off C-4 explosives attached to two potential Unexploded Ordnance (UXO) off Lanikai Beach this afternoon.
Water shot into the air during a brief explosion, 400 yards offshore; the explosion was likely caused from the C-4 and not necessarily from the UXO. The detonation was the culmination of an all-day UXO removal for the special Navy team in cooperation with the Dept. of Land and Natural Resources.
DLNR is responsible for managing, administering, and exercising control over public lands, water resources, ocean waters, navigable streams, coastal areas (except commercial harbors), minerals.
Five members of the team took a Zodiac raft out to where a citizen had reported possible unexploded ordnance in February. It is likely World War II era munitions dropped during military training exercises. Prior to the detonation of the two UXO, blown-up because fuses were still visible, the team brought eight smaller potential UXO to shore and lined them up, side-by-side. Once those items were loaded onto a truck, the boat team went back to the site to begin preparations for the detonation.
Officers from the DLNR Division of Conservation and Resources Enforcement (DOCARE) and Honolulu Police patrolled the beach to make sure it was clear of people. A pair of DOCARE officers on jet skis shooed away several kayakers and scanned the surrounding water for marine life. Earlier LT Bethke showed the "floating Freddie," a bright orange, waterproof box the EOD experts use to carry a receiver out to the site. It is connected to a transmitter at the shoreline used to trigger the explosive caps. The entire operation was considered a complete success.
Biologists from the DLNR Division of Aquatic Resources (DAR) carried-out a baseline assessment last month to assess and document coral in the area and will revisit the site this week to conduct a post-assessment to determine the impact of the UXO mitigation mission. 
Unexploded munitions left behind more than 70 years ago from historical military activities in areas around the state pose a serious risk if disturbed. No injuries or deaths in Hawai'i have been attributed to UXOs since extensive public education efforts conducted by the U.S. Army Corp of Engineers and the Hawai'i Department of Health. 
Citizens are reminded of the 3 R's of UXO safety:
Recognize – when you may have encountered a munition and the potential danger
Retreat – do not approach, touch, move or disturb it and carefully leave the area
Report – call 911 or the DOH HEER Office at (808) 586-5815

DLNR's jurisdiction encompasses nearly 1.3 million acres of State lands, beaches, and coastal waters as well as 750 miles of coastline (the fourth longest in the country). It includes state parks; historical sites; forests and forest reserves; aquatic life and its sanctuaries; public fishing areas; boating, ocean recreation, and coastal programs; wildlife and its sanctuaries; game management areas; public hunting areas; and natural area reserves.

                                                                        # # #
Media Contact:
Dan Dennison
Senior Communications Manager
Hawaii Dept. of Land & Natural Resources
Communications Office
[email protected]
(808) 587-0396