DEPARTMENT OF LAND AND NATURAL RESOURCES
News Release
DAVID Y. IGE
GOVERNOR

SUZANNE D. CASE 
CHAIRPERSON
FOR IMMEDIATE RELEASE
May 18, 2020
NEW VIDEO AIMED AT DETERRING TRESPASSING AT SACRED FALLS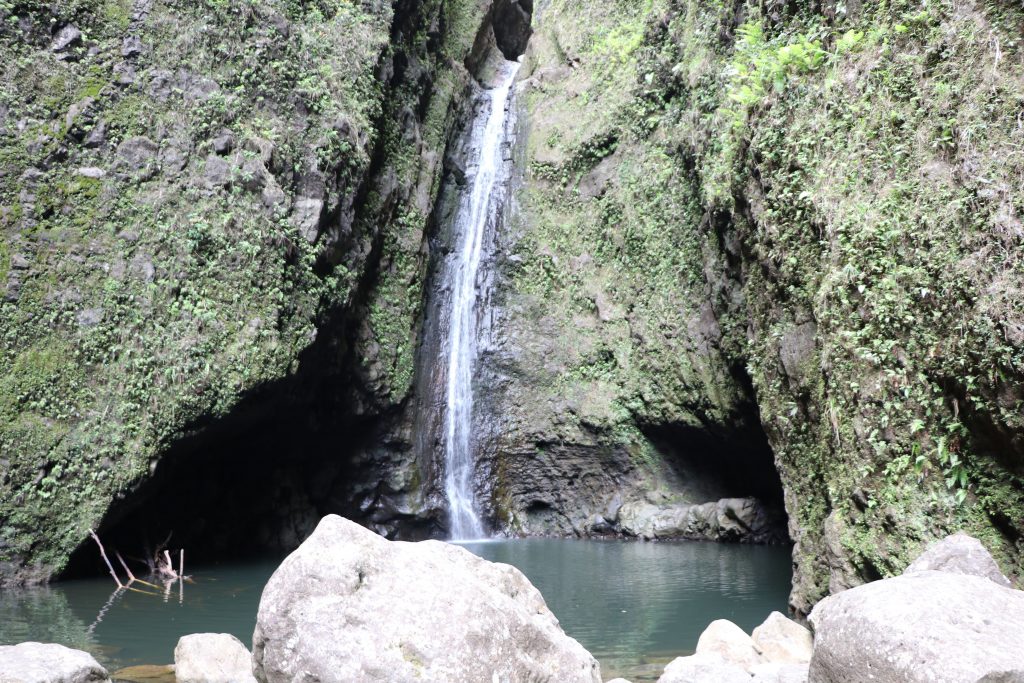 To view video please click on photo or view at this link: https://vimeo.com/419650794
(Honolulu) – Sacred Falls State Park has been closed 21-years, after a Mother's Day 1999 rockslide killed eight people and seriously hurt dozens of others. In spite of hundreds of trespassers getting citations for entering a closed area since then, continued rockfalls and landslides in the park, and numerous encouragements for people to stay out, they continue to come.
In 2015, DLNR released a video, that can be viewed on smartphones right at the closed gates into the park. Using a QRC symbol imprinted on several signs, more than 18,700 people have viewed the original video, though there's no way of knowing how many of them were prompted to turn back.
Today, a new video, produced on the 21st anniversary of the tragedy (May 9, 2020), and again involving a DLNR Division of Conservation and Resources Enforcement (DOCARE) enforcement team, was released and it is directed to a specific demographic. Over the year's officers have found the majority of violators are men between 20 and 30-years-old. The video begins with images of three young men just entering the park to be immediately turned back by a DOCARE officer. He asks if they saw all the closed signs. They replied, they had.
DOCARE Chief Jason Redulla commented, "We want this message to resonate clearly not only with this particular age group, but with anyone considering trespassing into the park." After the encounter between the three men and the DOCARE officer, the narrator remarks, "After you trespassed into this park, imagine your mom and dad getting the call every parent dreads? We're sorry to tell you, but your son was killed in a rockslide today."
The video incorporates a "Scared Straight" style of storytelling. DLNR Division of State Parks Administrator Curt Cottrell said, "If we can get people to understand that entering the park is illegal, dangerous, and disrespectful to our host culture, maybe some of them will have second thoughts and turn around." It features an interview with a DOCARE officer who recounts the personal toll the 1999 tragedy took on him and on dozens of first responders and rescuers.
It also highlights the cultural insensitivity of entering Kaliuwa'a, the Native Hawaiian name for Sacred Falls. Redulla added, "We want to appeal to would-be trespassers not only on the level of risk and illegality, but hopefully to get them to appreciate that the area is kapu, in part, because visitors have not been schooled in customary and traditional practices and how to behave."
The video concludes, "Do yourself a favor, turn around, avoid a citation, avoid jail, avoid fines. Most importantly respect this place, respect your own life, and respect those who will be called in to rescue you if you get into trouble.  You are not invincible, and nature does not take into consideration your selfish desires. Please turn around and live." It ends with a link to the State Na Ala Hele trails website, which includes hundreds of open and legal trails around the islands.
Link to Na Ala Hele Trails and Access Program: www.hawaiitrails.hawaii.gov
# # #
Media Contact:
Dan Dennison
Senior Communications Manager
(808) 587-0396
[email protected]