DEPARTMENT OF LAND AND NATURAL RESOURCES
News Release
DAVID Y. IGE
GOVERNOR

SUZANNE D. CASE 
CHAIRPERSON
FOR IMMEDIATE RELEASE
May 24, 2020
FAMILY ATMOSPHERE ON FIRST DAY OF THE HOLIDAY AT AHU O LAKA
Only One Citation at Kaneohe Sandbar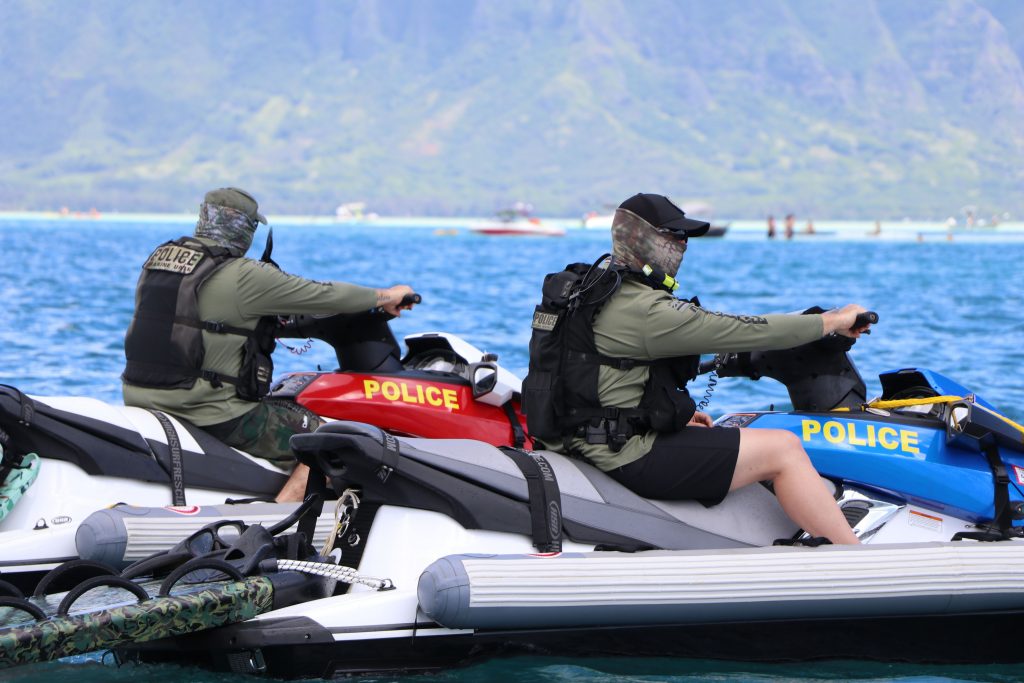 To view video please click on photo or view at this link: https://vimeo.com/422196912
(Honolulu) – At the peak, an estimated 35 boats were anchored at the Kaneohe sandbar (Ahu O Laka) on Saturday, the first day of the three-day Memorial Day holiday weekend. A team of six officers from the DLNR Division of Conservation and Resources Enforcement (DOCARE), patrolled the area, educating people and watching for violations.
Ahu O Laka is under its usual no-alcohol ban this weekend and during all summertime three- day holiday weekends. Yesterday, passengers on one boat departing the sandbar, were warned about the rule, but that was the only time officers spotted any illegal consumption.
In the morning they warned a 19-year old jet ski operator, who had taken his craft onto the sandbar. Thrillcraft, like jet skis, are always restricted there. In the afternoon officers encountered another jet ski, being steered by a young boy sitting in front of his father. Officers escorted the man, his wife and two young children back to the He'eia Kea Small Boat Harbor. On the return trip his young daughter was steering from her father's lap. The Waianae man was cited for two violations: operating a thrillcraft in an off-limits area and underage operation of a thrillcraft. This was the only citation given on Saturday.
Unlike previous years, when alcohol-fueled sandbar parties, resulted in fights and unruly behaviors, so far this Memorial Day weekend, Ahu O Laka has had a definite family feel…lots of keiki, inflatable devices, and water football tossing. DOCARE Chief Jason Redulla said, "We hope on Sunday and Monday, people continue to have fun, practice social distancing unless they're part of the same family or residential unit, and refrain from drinking at the sandbar."
DOCARE officers focus on education first and then enforcement. On Saturday, they also warned and escorted a group of five spear fishermen back to their boat. They had failed to put out a dive flag, which is required, if you are not in close proximity to your vessel.
# # #
Media Contact:
Dan Dennison
Senior Communications Manager
(808) 587-0396
[email protected]