JOSH GREEN, M.D.
GOVERNOR

DAWN CHANG
CHAIRPERSON
For Immediate Release:  March 19, 2023
41 NEW DOCARE OFFICERS GO INTO THE FIELD MONDAY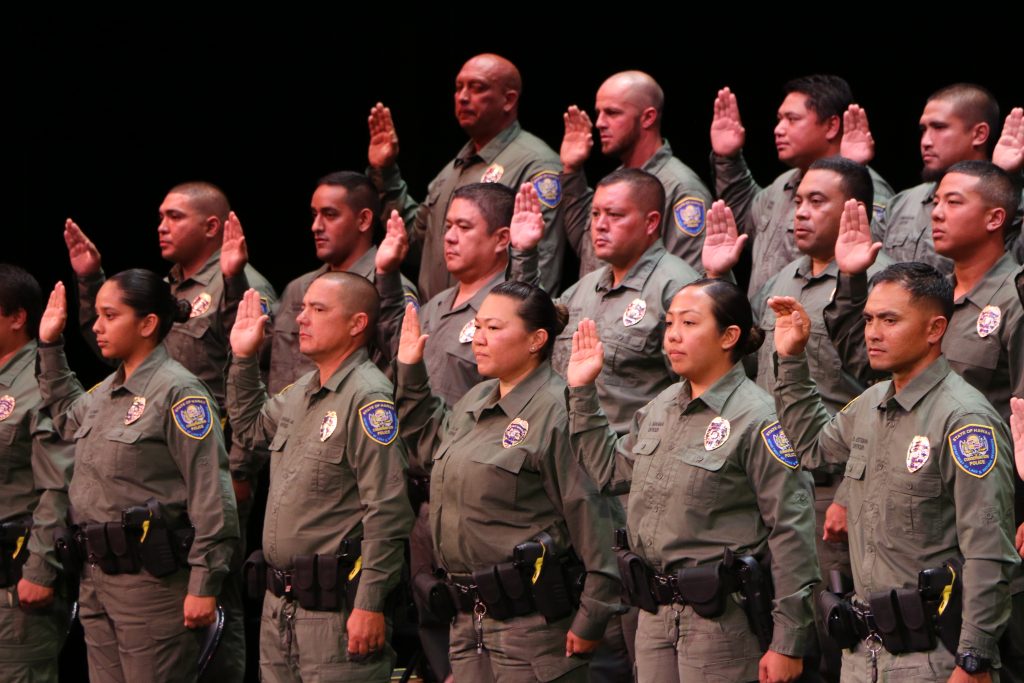 To view video please click on photo or view at this link: https://vimeo.com/809551901
(HONOLULU) – On Friday, the largest recruit class in the history of the DLNR Division of Conservation and Resources Enforcement (DOCARE) was commissioned. The class of 41 men and women was sworn in and commissioned in a ceremony at Leeward Community College and presented commission certificates and badges. This marks the formal end of their academy training to become Hawai'i Conservation Resources Enforcement Officers (CREOs).
After eight months of training in more than100 training disciplines combining classroom work and intense field exercises, the new CREOs will deploy to four DOCARE branches: O'ahu (14), Hawai'i Island (14), Maui (7), and Kaua'i (6). Their presence is expected to make an immediate impact in conservation enforcement and will bolster patrol needs and staff ranks.
"I'm greatly appreciative for the kuleana that these men and women have accepted," said DLNR Chair Dawn Chang. "I welcome them to the DLNR 'Ohana." Other speakers at the graduation included Lt. Governor Sylvia Luke, Senator Donovan Dela Cruz, and Lt. Oscar Diaz (DPS Retired). The graduates' family members participated when they were asked to take the stage to pin badges on the officers' uniforms.
CREO duties include enforcing rules and laws, educating residents and visitors and interacting with the community. DOCARE officers cover large geographic areas, often working independently with little or no oversight. They're expected to command a firm understanding of natural resource laws, and to work in challenging conditions on land and at sea.
"If you combine the skills of a police officer, game warden, park ranger, marine patrol officer, educator, medic and counselor, that's a DOCARE officer," said DOCARE Chief Jason Redulla. "These officers have a broad skillset and the academy was the vehicle to get them equipped so they can best serve Hawai'i in protecting its natural and cultural resources."
The academy program is a community effort with stakeholders including Honolulu Community College, elected officials, DLNR and other state department leadership, conservation nonprofits, subject matter experts, other partner organizations, and residents. The program is unique in that it offers both a public safety and a natural resources component.
Recruits who have no law or conservation enforcement experience are developed into competent officers, learning skills to perform the job and keeping the values of kuleana, community service, and being pono, top of mind.
"To the visitor mindset, Hawai'i's natural resources are elements of paradise – clear ocean waters, sandy beaches, warm sun, tropical fish, but to residents with ties to this place it means a lot more, it's our identity," said DOCARE Lt. Carlton Helm, who led the academy. "Without the resources, little by little, we start to lose that identity. CREOs are committed to our communities and to protecting our resources."
Next for these newly commissioned CREOs is their field-training phase, working alongside seasoned officers at their respective island posts. They will have the opportunity to apply what they've learned, with guidance, in real world situations.
"Learning in a classroom is one thing," Lt. Helm explained. "Having role players and stopping to provide remedial training for the sake of recruit development is good, but in the real world there are no timeouts. That's where the seasoned officers come in – to provide support, safety, and proper direction if need be."
As the new class of CREOs transition from one phase of training to the next, they are aware of their unique position and excited to put into practice their oath and commitment to state conservation efforts. Each officer's new role, working directly with communities, begins tomorrow.
# # #
RESOURCES
(All images/video courtesy: DLNR)
HD Video – DOCARE Commissioning Ceremony (March 17, 2023):
Photographs – DOCARE Commissioning Ceremony (March 17, 2023):
https://www.dropbox.com/sh/wo0bp7fvb8oov26/AAA4p5Rf_YfbRYDTNOEVcrYca?dl=0
Media Contact:
Ryan Aguilar
Communications Specialist
Hawai'i Dept. of Land and Natural Resources