04/26/23 – DOCARE OFFICERS CONDUCT O'AHU-WIDE ENFORCEMENT OF FISHING NET REGULATIONS
Posted on Apr 26, 2023 in DOCARE, Main, News Releases, slider
JOSH GREEN, M.D.
GOVERNOR

DAWN CHANG
CHAIRPERSON
For Immediate Release:  April 26, 2023
DOCARE OFFICERS CONDUCT O'AHU-WIDE ENFORCEMENT OF FISHING NET REGULATIONS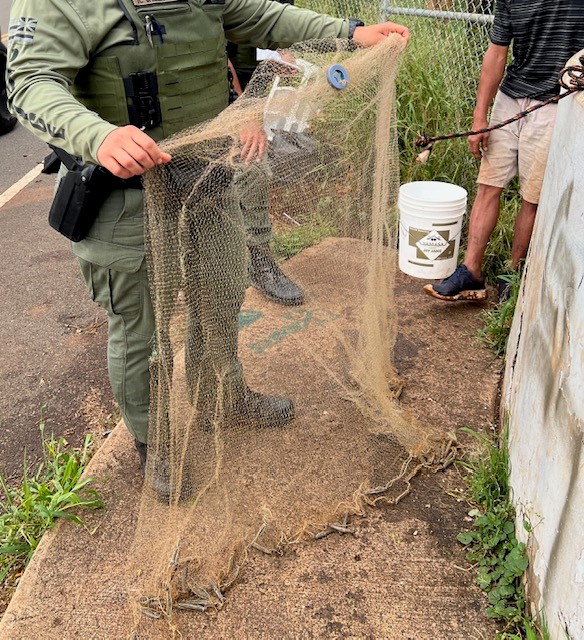 (HONOLULU) – Over the past month, more than a dozen small-eye throw nets have been confiscated by officers from the Division of Conservation and Resources Enforcement (DOCARE) O'ahu Branch.
An island-wide enforcement sweep to find illegal throw and gill nets was prompted by tips from citizens, including via the DLNRTip app.
Small-eye throw nets are commonly known as bait nets. In addition to the dozen that were recovered and seized, more than a dozen illegally laid or undersized gill nets were also recovered.
On Sunday April 16, at approximately 10:30 p.m., two men with Honolulu addresses were cited for net violations at Wailupe Beach in East O'ahu. Officers encountered them on the shoreline in possession of a gill net with multiple pieces of undersized āholehole. The net was found to be in violation of legal-size requirements. Upon further inspection, an undersized nylon throw net was also recovered, along with four undersized ulua (pāpio) in a bait bucket, and several more undersized āholehole hidden under the recovered throw net.
On the same night a man with a Honolulu address was found crabbing off Sand Island Access Road, and through the investigation officers were able to recover another undersized throw net.
On Monday April 24, at approximately 8:00 a.m., two men with Kāneʻohe addresses were cited after officers observed unattended lay nets in the water just off  Waikalua Stream and Nāonealaʻa Beach Park. The investigation determined these lay nets were not in compliance with Hawai'i Administrative Rules. An illegal, undersized throw net was also recovered from the shallows.
All violators were cited and were issued court appearance dates.
People are encouraged to report violations to the statewide DLNR Enforcement Hotline (808) 643-DLNR or utilize the free Tip411 app. All tips are anonymous.
# # #
RESOURCES
(All images/video Courtesy: DLNR)
Photographs – O'ahu net violations (April 2023): https://www.dropbox.com/scl/fo/nolyp78lyu42xfiepelzh/h?dl=0&rlkey=krk02os3x59dl8xbgs89tnt7x
Hawai'i Fishing Rules and Regulations: https://dlnr.hawaii.gov/dar/fishing/fishing-regulations/
Media Contact:
Dan Dennison
Senior Communications Manager