JOSH GREEN, M.D.
GOVERNOR

DAWN CHANG
CHAIRPERSON
For Immediate Release:  May 15, 2023
ANONYMOUS TIP SHOWS COUPLE AND LOOSE DOG CLOSE TO RESTING MONK SEAL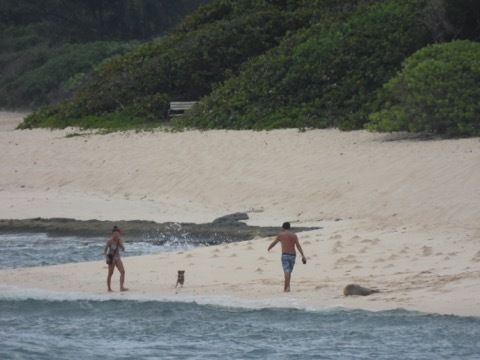 (HONOLULU) – Last Wednesday, an anonymous tip received on the DLNRTip app showed photographs of a couple posing for pictures with a Hawaiian monk seal on a beach within the Ka'ena Point State Park.
In addition to not complying with NOAA's safe viewing guidelines, to compound the situation they had a small dog, off-leash and on-the-loose around the seal.
DLNR Division of Conservation and Resources Enforcement (DOCARE) Chief Jason Redulla said, "Regrettably we did not have an officer in the area, but we wanted to release the tipster's photographs to illustrate this irresponsible behavior."
Having violated the safe viewing guidelines and having their pet dog present is a recipe for trouble, especially around a  wild monk seal. Both of these circumstances create an unsafe situation that must be avoided and could have easily resulted in an unlawful "take" situation under Federal and State laws.
Several individuals have been charged and convicted on similar violations in recent years.
Redulla added, "Monk seal pupping on beaches like Kaimana in Waikīkī, illustrate the protection and care that DLNR, NOAA, and other partners institute to protect seals. They are critically endangered and have the highest levels of protections available. We hope that local residents and visitors alike will become educated about safe wildlife viewing guidelines and the rules and laws regarding human behavior around seals."
# # #
RESOURCES 
(All images and video courtesy: DLNR)
Photographs – From DLNRTip App:
https://www.dropbox.com/sh/vzqehfbbmh3r4r7/AABGuY6aHRmpatmrHAmfAl7-a?dl=0
Safe marine wildlife viewing guidelines:
https://www.fisheries.noaa.gov/pacific-islands/marine-life-viewing-guidelines/viewing-marine-wildlife-hawaii
View from a distance. Use binoculars or your camera's zoom for a close up.
Do not disturb sea turtles or monk seals sleeping on the beach.
Never touch, chase, or feed. Animals are wild, unpredictable, and protected.
Limit viewing time to a few minutes.
Never swim with spinner dolphins—they rest and nurture their young during the day.
View dolphins and whales from a boat or from shore.
To report natural resource violations:
Report illegal or suspicious activity to 1-800-853-1964, (808) 643-DLNR (3567), or the DLNRTip App. 
Media Contact: 
Dan Dennison
Senior Communications Manager