JOSH GREEN, M.D.
GOVERNOR

DAWN CHANG
CHAIRPERSON
For Immediate Release:  May 27, 2023
HAWAI'I ISLAND CANOE REGATTA PERMITTED TO CONTINUE
 Event Starts Again After Reef Damage Assessment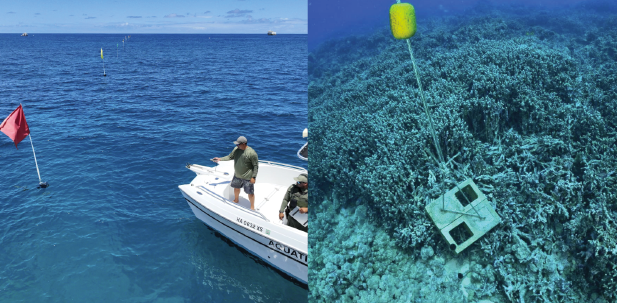 (KAILUA-KONA, HAWAI'I ISLAND) – The Founders Regatta hosted by the Keauhou Canoe Club was placed on temporary hold today, after the discovery of course markers on the coral reef which may have caused significant damage.
Teams from the DLNR Division of Aquatic Resources (DAR) and the DLNR Division of Conservation and Resources Enforcement (DOCARE) looked at the placement of each of the 28 markers at the Kailua-Kona Wharf and conducted a preliminary assessment to determine which ones may have caused damage. The assessment showed 16 cinder block lane markers resting on coral structures.
A permit issued by the DLNR Division of Boating and Ocean Recreation (DOBOR) allows a race stoppage in the event of any issues, including potential natural resource problems.
DLNR First Deputy Laura Kaakua said, "We know paddlers love the ocean and want reefs to be protected and to thrive. Mistakenly placing markers on the reef can cause damage to a vital part of the ocean ecosystem. The ocean comes first and that's the reason for we asked for this pause, so we could conduct an initial coral damage assessment. We appreciate everyone's patience and support in caring for our reefs and are happy we were able to work with race organizers to resume their event."
DLNR agreed to let the race continue without moving the blocks, but they will be removed at the end of the day to prevent further damage.
A more complete assessment of any damage caused by the markers will happen after the regatta is finished.
# # #
RESOURCES
(Images Courtesy: DLNR unless otherwise noted)
Photographs – Founders Regatta course markers (May 27, 2023):
https://www.dropbox.com/sh/tdywh1km0xvntom/AABLLKdv0wNrTjEgfNLVDDO1a?dl=0
Media Contact:
Dan Dennison
Senior Communications Manager