JOSH GREEN, M.D.
GOVERNOR

DAWN CHANG
CHAIRPERSON
For Immediate Release:  June 15, 2023
COMMUNITY GRANTS AVAILABLE FOR URBAN FORESTRY PROJECTS
Kaulunani program welcomes grant proposals between $5,000-$20,000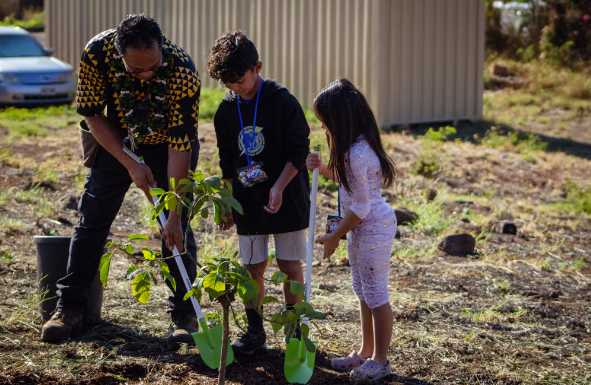 (HONOLULU) – Organizations across Hawai'i are encouraged to apply for Kaulunani Community Partnership Grants to support projects that protect and enhance our urban and community trees and forests.
Eligible applicants include community groups, schools, private organizations, and government agencies. Project examples can range from tree planting and tree care, developing technological tools for urban and community forestry or supporting professional development, and education and public outreach.
"Urban forests are critical for supporting socio-ecological health and resilience within the context of a changing climate," said Dr. Heather McMillen, Hawai'i's Urban Forester and Kaulunani Program Coordinator. "In order to realize the full potential of these benefits, we need to expand urban forest areas and increase tree canopy coverage across Hawaiʻi. Investing in our urban forests improves human health while also raising awareness and knowledge of trees so community members can better maintain them. The Community Partnership grant funding aims to identify and empower community-driven solutions to these issues."
Applications are sought from across Hawaiʻi for project support of between $5,000 and $20,000. Applicants should demonstrate the principles of equity, access, and environmental justice in project partnerships. The deadline to submit proposals is July 20, 2023 at 11:59pm (HST). Awards will be announced on August 14. The total amount available for this round of grants is $100,000.
# # #
RESOURCES
Grant Application: https://www.cognitoforms.com/HawaiiDivisionOfForestryAndWildlife/KaulunaniCommunityGrants2023
Request for Proposals: https://dlnr.hawaii.gov/forestry/files/2023/06/Request-for-Proposals.pdf
Kaulunani Grant Program Webpage: https://dlnr.hawaii.gov/forestry/lap/kaulunani/grants/
For more information, please contact Dr. Heather McMillen at: [email protected].
Media Contact:
Ryan Aguilar
Communications Specialist
Hawai'i Dept. of Land and Natural Resources