JOSH GREEN, M.D.
GOVERNOR

DAWN CHANG
CHAIRPERSON
For Immediate Release:  June 23, 2023
SAFETY CONCERNS PROMPT DISMANTLING OF DIAMOND HEAD BREAKWATER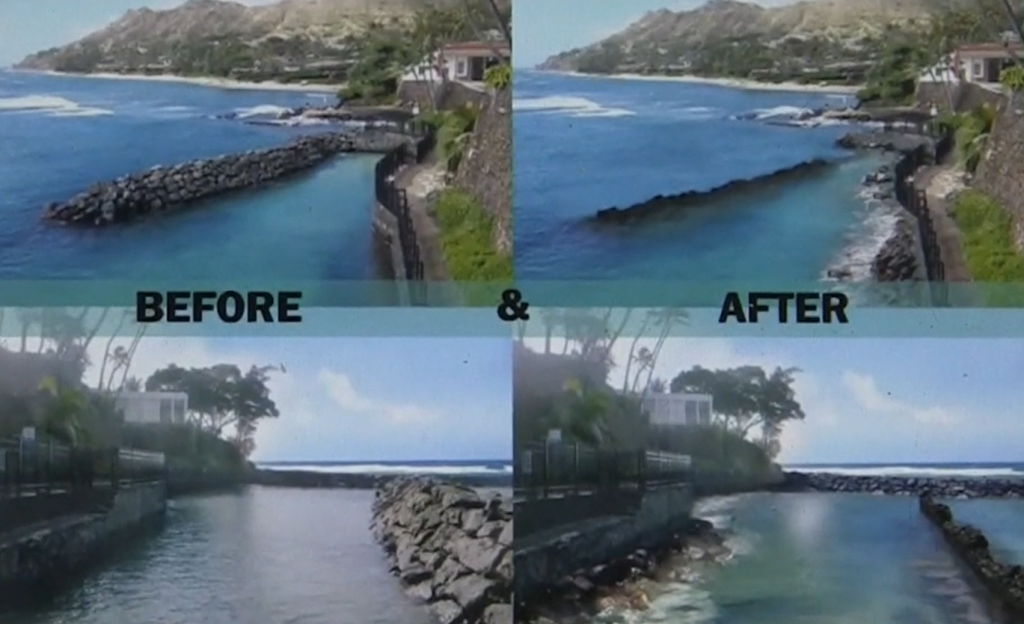 To view video please click on photo or view at this link: https://vimeo.com/839203170
(HONOLULU) – The state Board of Land and Natural Resources (BLNR) today voted to approve the dismantling of the Diamond Head Breakwater in front of Shangri La to address and deter unsafe behavior. Boulders from the breakwater will be relocated to create a natural rocky shoreline fronting the Shangri La estate seawall.
The 140-foot-long breakwater was constructed in 1938 to create a boat basin and over time it has become a popular recreational area for picnicking, swimming, diving, snorkeling, and access to surf spots. At least three people have been paralyzed for life and other serious injuries have resulted from people engaging in unsafe recreational behavior such as jumping or diving from the breakwater and seawall. Social media has glamorized unsafe activities, which appears to have increased the number of people going to the area, including the promotion of organized gatherings.
The Doris Duke Foundation for Islamic Arts (DDFIA) has posted warning signs, hired private security, called police, and erected a six-foot-high fence on the walkway to discourage unsafe activities, all of which have failed to deter reckless behavior. Efforts to dismantle the breakwater started nearly six years ago when DDFIA submitted a Conservation District Use Application (CDUA) to remove the breakwater. While the Office of Conservation and Coastal Lands (OCCL) recommended approval of the application, the land board in 2018 denied the CDUA based on testimony from opponents.
Later the DDFIA conveyed the deed to submerged lands and improvements associated with the breakwater to the State and agreed to contribute $1 million towards the dismantling and construction of the re-naturalized shoreline. After review by the DLNR State Historic Preservation Division (SHPD) and a public hearing in April, the DLNR Land Division submitted a final proposal to remove the breakwater.
In its submittal to the land board, OCCL wrote, "To address and deter the unsafe behavior, the applicant proposes to dismantle the Diamond Head Breakwater and to relocate the boulders to create a natural rocky shoreline fronting the Shangri La seawall. The proposed sloped re-naturalize shoreline is to deter the current risky behavior by members of the public, and to return the near-shore area to a more natural state. The stated purpose is to address public safety issues while maintaining public access to submerged lands."
The BLNR agreed with the Land Division that this project is the most effective way to mitigate hazardous conditions that has left people as paraplegics and threatens public health and safety. If the project receives all regulatory approvals and funding, construction work would take approximately six to nine months.  During the construction period, best management practices (BMPs) would be implemented to avoid or minimize possible short-term effects on marine resources, and water quality.
# # #
RESOURCES
(All images/video courtesy: DLNR)
HD video – Select BLNR discussion/decision on Diamond Head Breakwater (June 23, 2023):
Submittal for Diamond Head Breakwater Safety Project:
https://dlnr.hawaii.gov/meetings/blnr-meetings-2023/land-board-submittals-06-23-23/
Media Contact:
Dan Dennison
Senior Communications Manager