JOSH GREEN, M.D.
GOVERNOR

DAWN CHANG
CHAIRPERSON
FOR IMMEDIATE RELEASE
September 27, 2023
MULTI-AGENCY SEARCH AND RESCUE EXERCISE ON O'AHU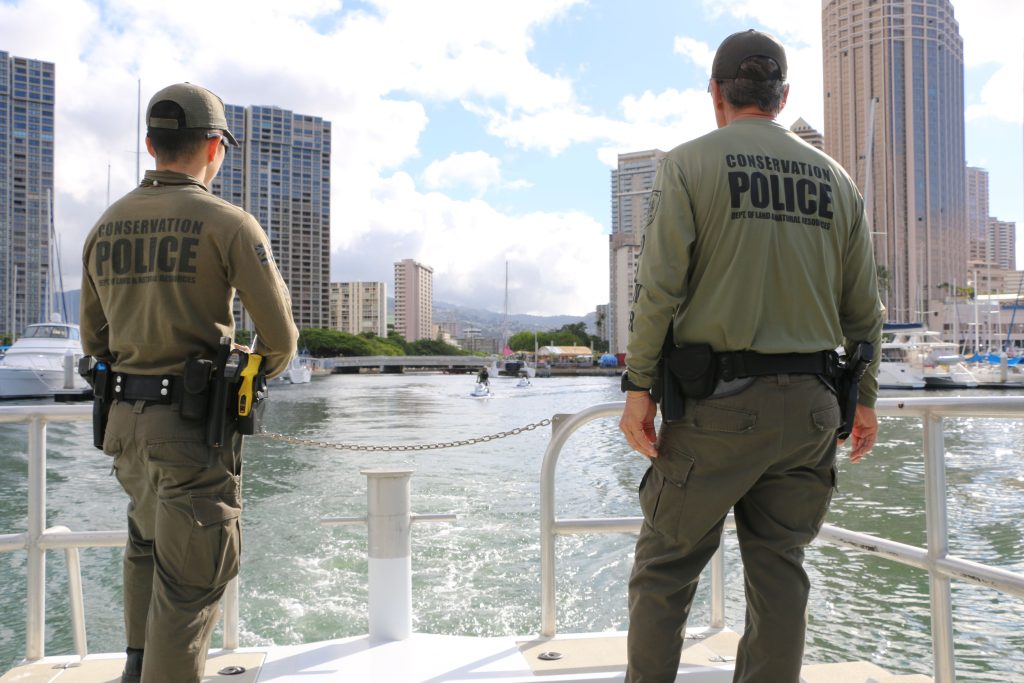 To view video please click on photo
(HONOLULU) — Officers from the DLNR Division of Conservation and Resources Enforcement (DOCARE), along with personnel from the U.S. Coast Guard, City and County of Honolulu Ocean Safety, and the Honolulu Fire Department, participated in a joint search and rescue exercise in the waters off Magic Island on O'ahu's south shore Wednesday morning.
The training exercise was a collaborative effort to help define interagency responsibilities and roles, enhance team communications, and prepare for coastal emergencies in a variety of rescue situations. The scenario highlighted individual victims separated from watercraft, and involved agency coordination of boats, helicopters, and jet skis.
"This was a multi-unit operation where agencies worked together and combined their assets to accomplish the search and rescue mission," said Errol Kane, Acting Lieutenant for the DOCARE Marine Unit.
A major hurdle for search and rescue operations in marine environments is all the moving parts. In addition to wind, current, and steady four-foot rollers during the exercise, sport fishing boats, commercial operators, divers, tugs pulling container ships, and other ocean users occupied the training boundary waters. This made for tricky search conditions and increased the degree of difficulty for the deployed teams. Coordination of efforts, on the water and in the air, was critical to mission success.
"Group communications are key, both in training and real emergencies," added Lt. Kane. "With the help of the other agencies and DOCARE officers Lt. Vance Lime, John Pang, Brandon Martin, Lokene Fao, and Eddie Thompson, we were able to accomplish the task."
# # #
RESOURCES
(All images/video courtesy: DLNR)
HD video – Search and Rescue Exercise on O'ahu (Sept. 27, 2023):
Photographs – Search and Rescue Exercise (Sept. 27, 2023):
Search and Rescue Exercise – Dropbox
Media Contact:
Ryan Aguilar
Communications Specialist
(808) 587-0396
[email protected]