JOSH GREEN, M.D.
GOVERNOR

DAWN CHANG
CHAIRPERSON
FOR IMMEDIATE RELEASE
September 29, 2023
DESPITE CATASTROPHIC DESTRUCTION HOPE FOR MANY HISTORIC LĀHAINĀ STRUCTURES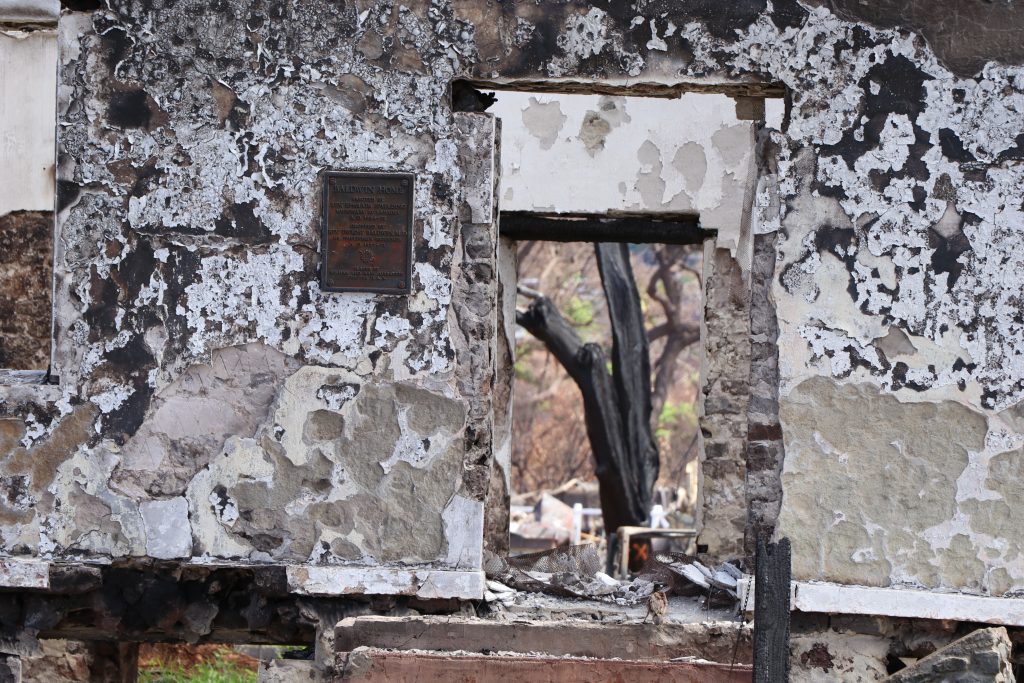 To view video please click on photo
(LĀHAINĀ, MAUI) – A team from the DLNR State Historic Preservation Division (SHPD), joined by the Lead Environmental Advisor from the Federal Emergency Management Agency (FEMA) have made preliminary conclusions that some of the most notable historic structures burned in the Lāhainā fires can be rehabilitated.
Maui County has placed small signs in front of at least 12 buildings, noting that "This site has been identified for the highest level of care…access to this site without a cultural monitor is prohibited."
Chelsea Klein, FEMA's lead environmental planning and historic preservation advisor for the Lāhainā disaster said, "I'm impressed by the fact that particularly the stone, masonry and concrete buildings appear to have a lot of structural integrity."
Klein has been with FEMA for 17 years and has responded to hurricanes, floods, tornadoes, earthquakes, and fires. "The historic fabric seems to hold up better through some of these disasters than more modern construction," she explained. "I guess there was more time and care associated with building public buildings or infrastructure in times gone by, rather than modern planned obsolescence," Klein added.
Those who built structures like the Old Lāhainā Courthouse, the Baldwin House and Master's Reading Room, and the Seamen's House and Hospital used a level of effort that Klein said we don't spend these days. "The structures were built better and stronger back then. It is highly likely that these structures can be rehabilitated, as the historic fabric is still there, and should continue to endure for the community," Klein said.
Tuesday was SHPD Administrator Dr. Alan Downer's first visit to Lāhainā since the August 8 fires.
"Obviously the level of destruction in Lāhainā is catastrophic, but many of the iconic buildings in the town's National Historic Landmark District are actually in pretty decent shape," Downer commented.
In addition to public historic buildings, the team found many of the stone or masonry commercial buildings on Front Street can be restored to the condition they were in prior to the tragedy.
Downer added, "I'm really pleased. From the first photographs I saw it looked like everything was gone and that's not the case. There are important historic buildings here that I think can be repaired."
SHPD will be involved along with cultural practitioners and experts in monitoring clean-up activities and debris removal.
The long-term fate of each building will depend on what the county and the community want. Property owners will make the final decisions about what they want for their buildings. As for who pays for rehabilitation of damaged structures, FEMA will help to identify if rebuilding is eligible for public assistance, will work to ensure compliance with the National Historic Preservation Act, and will help bring in the right people and expertise to rehabilitate structures appropriately. Additional financial assistance, such as state and federal historic preservation tax credits or grant programs, may be available to owners of historic properties to assist with their rehabilitation and restoration through the Hawaiʻi State Historic Preservation Division.
# # #
RESOURCES
(All images/video courtesy: DLNR)
HD video – Lāhainā historic buildings assessment (Sept. 26, 2027):
Photographs – Lāhainā historic buildings assessment (Sept. 26, 2027):
https://www.dropbox.com/scl/fo/y7lqs6oavz2n3h3115mvi/h?rlkey=dyjxb2z9jtuz0j18i66sq87sd&dl=0
Media Contact:
Dan Dennison
Communications Director
(808) 587-0396
[email protected]