JOSH GREEN, M.D.
GOVERNOR

DAWN CHANG
CHAIRPERSON
FOR IMMEDIATE RELEASE
Oct. 30, 2023
ARBOR DAY EVENTS ACROSS THE STATE HONOR TREES AND FOSTER COMMUNITY CONNECTIONS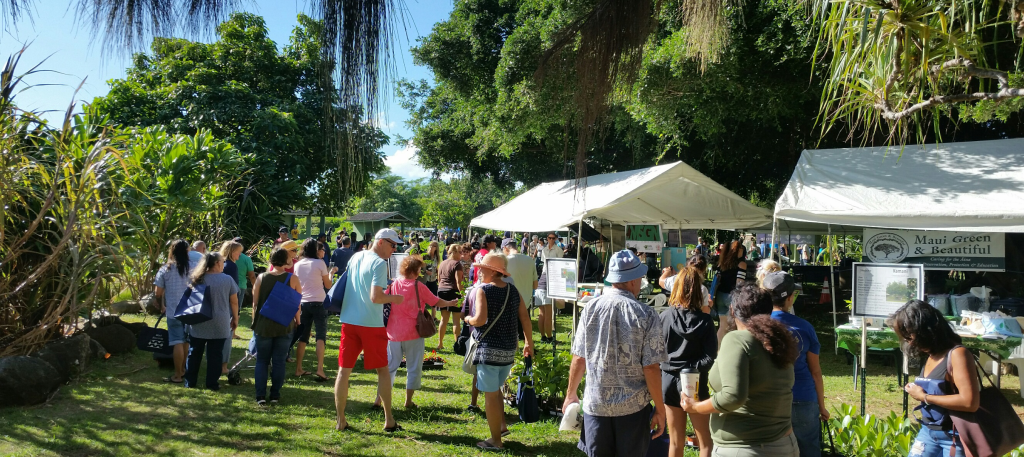 (HONOLULU) – Arbor Day is November 4 and celebrations will take place across Hawaiʻi this weekend. Events sponsored by a variety of organizations will feature tree giveaways, educational booths, cultural activities, and workshops.
Recognizing the value that trees bring to our neighborhoods and public health overall, Kaulunani, the urban and community forestry program of the DLNR Division of Forestry and Wildlife (DOFAW), provides support for collaborative outreach projects each year.
November is the start of the rainy season in Hawaiʻi, making it the perfect time to plant a tree. The wet weather during this time nurtures new growth and abundance for the coming year. It's also makahiki season, a traditional time of harvest, rest, peace and prosperity. Arbor Day Hawaiʻi sets aside a day during this season to plant trees and honor the hope they hold for the future.
This year marks the first Arbor Day event on Molokaʻi in several years. The Molokaʻi Land Trust, in partnership with Kaulunani, worked to bring back the event and has grown native plants for community members to adopt and plant at home.
"We felt it was important to provide trees for our community that were grown right here on Molokaʻi," said Ali Lucas, Programs Manager for Molokaʻi Land Trust. "We've taken care of these seedlings since they first emerged and will be happy to see them go to their forever homes."
Community members can take home a free ʻōhiʻa, wiliwili or ʻākia plant, all native to Hawaiʻi and well-suited to thrive in Molokaʻi environments. Molokaʻi Land Trust and Kaulunani staff will be on-hand to provide tree care and planting tips. Trees will be available on Saturday from 9 a.m. to 12 p.m. at the Molokaiʻi Land Trust office in Hoʻolehua.
The Maui Nui Botanical Garden will host Maui's 20th annual Arbor Day celebration on Saturday from 9 a.m. to 2 p.m. Tree care presentations will address firewise landscaping, and post-fire tree and plant questions. "Hale ʻUlu" and "Hale ʻŌhiʻa" will feature booths and activities on those tree species, in addition to the event's giveaway of over 2,000 native Hawaiian trees. Visit arbordayexpo.com to learn more.
The Kauaʻi Landscape Industry Association will host a tree giveaway, educational booths and keiki planting zone at the Kukui Grove Center in Līhuʻe this Saturday from 9 a.m.-12 p.m.
On Hawaiʻi Island, the West Hawaiʻi Master Gardeners will have free trees available at the Mālama Market parking lot in Ocean View from 8:30 a.m.-12 p.m on Saturday.
The University of Hawaiʻi Mānoa Campus Arboretum on Oʻahu will offer free trees and provide education focusing on Coconut Rhinoceros Beetle on Friday, November 3, from 9:30 a.m.-2 p.m.
"Arbor Day has been recognized in Hawaiʻi for more than 110 years and I'm happy to see more communities holding events, along with those who have a strong tradition of doing so," said Dr. Heather McMillen, Urban and Community Forester with DOFAW and Kaulunani's Program Coordinator. "Trees provide an abundance of things to celebrate. From clean air and water, to cooling shade and iconic natural beauty, trees help create healthy communities and a healthy planet."
To find out more about Hawaiʻi Arbor Day 2023 events, visit Kaulunani.org.
# # #
RESOURCES
Arbor Day Hawaiʻi Kaulunani Website: https://dlnr.hawaii.gov/forestry/lap/kaulunani/arbor-day-in-hawaii/
Molokaʻi Land Trust Website: https://molokailandtrust.org/
2023 Maui Arbor Day Garden Expo and Tree Giveaway: https://www.arbordayexpo.com/
Media Contact:
Ryan Aguilar
Communications Specialist
Hawai'i Dept. of Land and Natural Resources