Arbor Day Hawaiʻi
Arbor Day is a formally designated holiday around the world dedicated to honoring, planting and enjoying the benefits of trees. Arbor Day has been recognized in Hawai'i for over 110 years, and every November communities across the Hawaiian islands gather to celebrate trees!
November marks the beginning of the rainy season in Hawai'i, which is the perfect time to plant a tree! Arbor Day in Hawai'i officially falls on the first Friday in November, however, tree adoptions and celebrations across the state typically take place on the first Saturday.
If you are a fan of trees, then you won't want to miss another Arbor Day! Arbor Day is the one day, formally designated across our entire nation, to honor, plant and enjoy trees. Every November,all across Hawaiʻi people celebrate trees with free tree adoptions, tree planting, gardening demonstrations and woodworking and craft exhibits.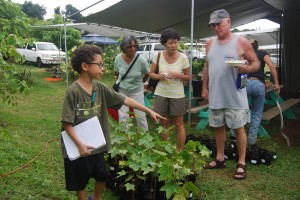 "Arbor Day gives us the important opportunity to share with the community of [Hawaiʻi] the importance of urban forestry, and a grander scale, the importance of how urban forestry impacts the entire ecosystem of Hawaiʻi."
– Keren Gundersen, Project Manager, Kauai Invasive Species Committee

Today, advocates of Arbor Day Hawaiʻi are big proponents of native and Polynesian introduced plants with a sprinkling of food trees and soil saving ground covers thrown in. The island giveaways have become a way to celebrate trees and gather with friends, new and old. Each islands' giveaway has taken on a special character. Featured below are glimpses into the celebrations across the State.
This year, Arbor Day falls on November 6th in Hawaiʻi. Many of this yearʻs celebrations will be hosted online, and while we eagerly await the day where we can celebrate this holiday in person amongst our community members, there are still many ways to get involved!
Our favorite way to celebrate our urban forests is by planting a tree! Offering seedling adoptions on Arbor Day has been a custom in Hawaiʻi since 1993, and this custom will still be present this year at many sites across the islands thanks to the work of Kaulunani and our partners! 
Events
Kaimuki Arbor Day 2021 – A Community Growing Trees Together!
"Supplies limited. One per household. A commitment to plant, register, and tag your tree is part of the process — we will be happy to help!"
WHEN: Saturday, November 6, 2021 (7:30 – 11:00 am)
WHERE: KCC Farmers Market (Parking Lot C; 4303 Diamond Head Rd, Honolulu, HI 96816)
HOW: Pre-registration at https://www.treesforhonolulu.org/a-community-growing-trees-together/
LEARN MORE: Trees for Honoluluʻs Future
Hoa ʻĀina O Mākaha – Leeward Oʻahu Arbor Day Tree Giveaway
"Following a very successful Arbor Day tree give-away in 2020, Hoa ʻĀina O Mākaha has prepared for Arbor Day 2021 by growing more than 700 trees and plants for giveaway to Wai'anae residents. Hoa ʻĀina o Mākaha is a working farm that provides aina-based education for the local community. No reservations are needed. The event is walk-in with mask wearing and social distancing required. Trees are grown to be given to Wai'anae residents. One tree per family. A wide variety of fruit trees will be available and some native Hawaiian trees."
WHEN: Saturday, November 6, 2021 (8:00 – 10:00 am, while supplies last)
WHERE: 84-766 Lahaina St., Wai'anae, HI 96792
HOW: No reservations needed!
LEARN MORE: Mālama Learning Center

Mākeke Wai'anae – Leeward Oʻahu Arbor Day Tree Giveaway
"Arbor Day Tree-Giveaway for Wai'anae Coast residents will take place at Mākeke Waianae, a Farmers' and Green Market located at Wai'anae Mall's eastern parking lot. Shop for produce and other Wai'anae-grown and -made items while you're there. No reservations are needed. The event is walk-in with mask wearing and social distancing required. One tree per family. A variety of native Hawaiian, landscaping, and food trees will be available."
WHEN: Saturday, November 6, 2021 (8:00 am – 12:00 noon, while supplies last)
WHERE: Wai'anae Mall, 86-120 Farrington Highway, Waianae, HI 96792
HOW: No reservations needed!
LEARN MORE: Mālama Learning Center

Mālama Learning Center – Leeward Oʻahu Arbor Day Tree Giveaway
"This Arbor Day event will be a full learning experience! Participants will rotate among three stations that will feature seed saving and planting methods, gardening and mini farmers' market, and plant pest corner where experts will talk about some of the worst invasive pests to watch out for. Due to COVID-19 safety considerations, registration/acceptance is required and walk-ins will NOT be allowed to enter. Proof of COVID-19 vaccination or negative test results within 48 hours of entry is required along with mask wearing and social distancing. Completion of Assumption of Risk form is also required."
WHEN: Saturday, November 6, 2021 (8:30 am – 12:00 noon)
WHERE: Hawai'i Agriculture Research Center in Kunia, 94-340 Kunia Rd, Waipahu, HI 96797
HOW: Registration link coming soon!
LEARN MORE: Mālama Learning Center

The Maui Arbor Day Garden Expo and 1,000 Tree Giveaway
"Residents of Maui County may choose from 25 species and 1,400 native and Polynesian introduced trees, one per person, no age limit. Pick up is at Maui Nui Botanical Gardens anytime between 9 am and 3 pm on your reserved day; masks and social distancing will be required at all times on site. Trees not picked up by 3 pm on the reserved day will be forfeited and become available for online reservation again. Free tree care and related webinars held virtually."
WHEN: Tuesday November 2 – Saturday November 6 (9:00 am – 4:00 pm)
WHERE: Maui Nui Botanical Gardens, 150 Kanaloa Ave, Kahului, HI 96732
HOW: Reserve your tree at https://mnbg.org/2021-maui-arbor-day-tree-giveaway/
LEARN MORE: Arbor Day Expo
Garden Island RCD – Kauai Arbor Day
More information coming soon!
Ke Kula Nui O Waimānalo – Waimānalo Celebrates Arbor Day 2021
More information coming soon!
Other Kaulunani Supported Arbor Day Celebrations
City and County of Honolulu – Liliʻuokalani Botanical Garden Tree Planting
"This year to celebrate Arbor Day Hawaiʻi, the City and County of Honolulu Division of Urban Forestry (DUF) are partnering with the School for Examining Essential Questions of Sustainability (SEEQS). These students are developing projects focusing on soil science, erosion, planting design, and native out plantings at Liliʻuokalani Botanical Garden (LBG). Our horticulturist Talia has been advising SEEQS students on their projects and guiding them to plant native groundcover, shrubs, and trees at LBG. We will be planting various species of native trees including koa, alaheʻe, lonomea, hao, keʻahi, and more! We are excited to be working with these bright students to learn, plant trees, and care for such a special place."
Other Community Arbor Day Celebrations
*Not Sponsored by Kaulunani
ʻŌhiʻa Love Fest
"Join us on a tour of Hawaii's beautiful forests and celebrate native Hawaiian biodiversity, especially 'ōhi'a lehua, a tree that's critical to providing the water we drink, keeping our ocean reefs healthy, and revered in Hawaiian culture. You will also learn ways you can protect our forests by reducing the spread of diseases like Rapid ʻŌhiʻa Death. Letʻs Celebrate Forests at this ʻŌhiʻa Love Fest, a free, virtual event for the family beginning on Wednesday, November 3rd through Saturday, November 6th. Join us for special presentations, hands-on demonstrations, and fun keiki giveaways to celebrate 'ōhi'a lehua."
WHEN: Wednesday November 3 – Saturday November 6 (event times vary)
WHERE: Online, Keiki Kit giveaway locations to be determined
LEARN MORE: ʻŌhiʻa Love Fest
Check back frequently for event updates! 
Kaulunani is a federally funded urban and community forestry program of the Department of Land and Natural Resources (DLNR) Division of Forestry and Wildlife and the USDA Forest Service. The program is operated by the non-profit organization Smart Trees Pacific.