11/8/2023 – NINE HONOLULU MEN CITED FOR FISHING ILLEGALLY IN MARINE LIFE CONSERVATION DISTRICT
Posted on Nov 8, 2023 in DOCARE, Main, News Releases, slider
JOSH GREEN, M.D.
GOVERNOR

DAWN CHANG
CHAIRPERSON
FOR IMMEDIATE RELEASE
Nov. 8, 2023
NINE HONOLULU MEN CITED FOR FISHING ILLEGALLY IN MARINE LIFE CONSERVATION DISTRICT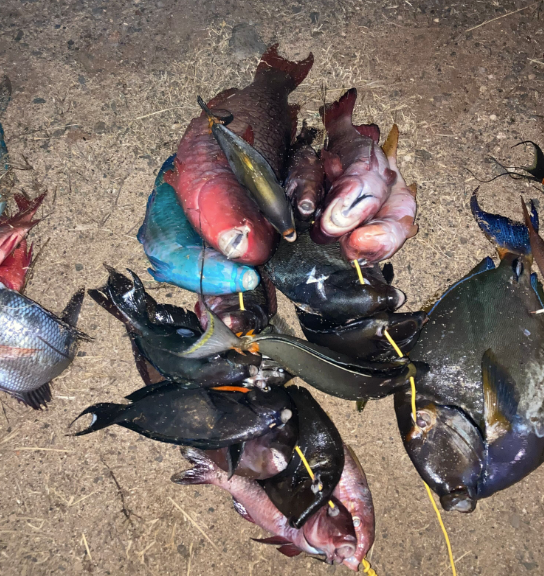 (HONOLULU) – Nine men were cited by DLNR Division of Conservation and Resources Enforcement (DOCARE) officers for illegal fishing in a North Shore marine conservation district on Saturday.
Just before 9 p.m., Nov. 4, the DOCARE officers noticed dive lights in the Pūpūkea Marine Life Conservation District (MLCD), on O'ahu's north shore. An hour and a half later DOCARE officers approached nine men as they came out of the water at the east end of Waimea Bay Beach Park. Officers allege all the men were in possession of three-prong spears, dive fins, snorkel masks and underwater lights.
DOCARE Chief Jason Redulla said, "After further investigation our officers found the suspects had more than 150 fish of various species in their possession, including regulated species of Manini, Kala, Uhu, and Weke."
Hawai'i has eleven MLCD's, including Pūpūkea, which are designed to conserve and replenish marine resources. These marine areas are protected by rules which restrict the taking of marine resources such as fish, shells, corals, etc. The Pūpūkea MLCD was established in 1979. 
The men involved, all with Honolulu addresses, were cited for prohibited activity violations which carry petty misdemeanor penalties of up to 30 days imprisonment or a fine.
Redulla added, "Protecting our marine life conservation districts for the enjoyment of future generations is essential. The welfare of the marine environment is our most important consideration."
# # #
RESOURCES 
(All images courtesy: DLNR)
Photographs – Pūpūkea Marine Life Conservation District (Nov. 4, 2023):
https://www.dropbox.com/scl/fo/sfasb18ox8gu285k3kqgd/h?rlkey=3z6jq64k2gxru6jqz9h8erut9&dl=0
Media Contact: 
Dan Dennison
Communications Director