04/18/20-OFFICERS OUT IN FULL FORCE EDUCATING AND ENFORCING BEACH CLOSURES
Posted on Apr 18, 2020 in Aquatic Resources, Boating, Boating & Ocean Recreations, DOCARE, Fishing, Forestry & Wildlife, Main, Media, Natural Area Reserves, News Releases, slider, Trail
DEPARTMENT OF LAND AND NATURAL RESOURCES
News Release
DAVID Y. IGE
GOVERNOR

SUZANNE D. CASE 
CHAIRPERSON
FOR IMMEDIATE RELEASE
April 18, 2020
OFFICERS OUT IN FULL FORCE EDUCATING AND ENFORCING BEACH CLOSURES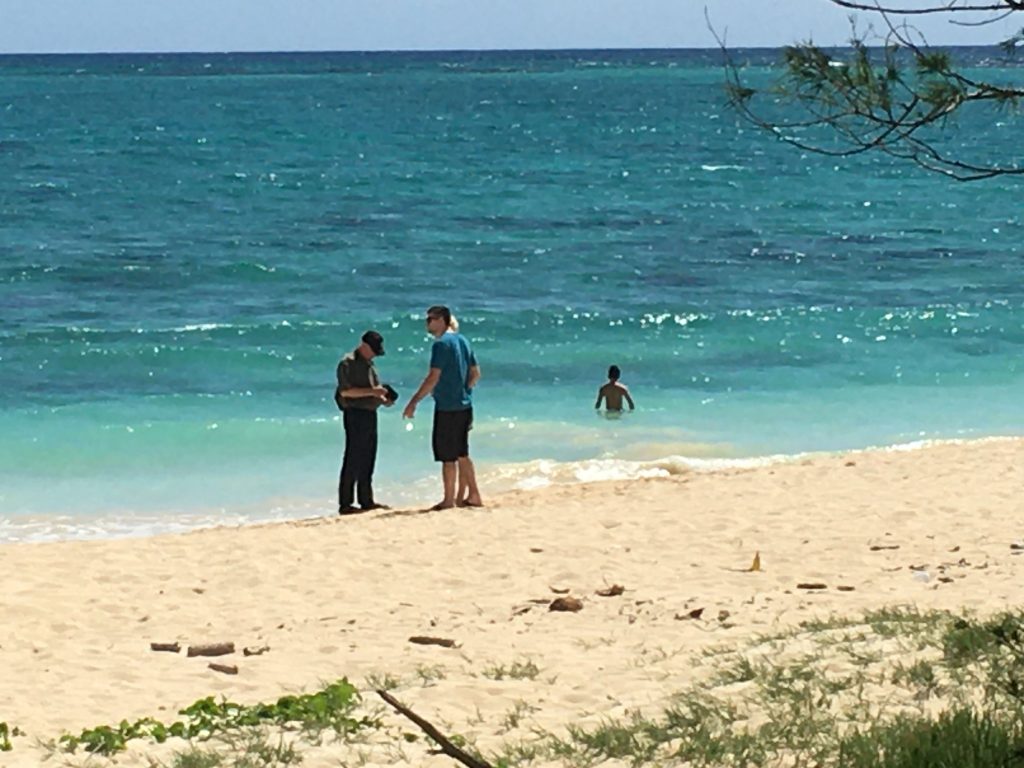 To view video please click on photo or view at this link: https://vimeo.com/user/10051674/folder/1731129
(Honolulu) – Beaches in the Waimanalo area were more empty today than usual on the first full day of Governor Ige's emergency rules that has closed all beaches under State of Hawai'i jurisdiction, other than to cross them to get to the ocean for exercise.
On one stretch of sand, two fishermen were casting at the shoreline, more than the social distancing recommendation of at least six feet apart. A short distance away a couple lounged in beach chairs. The fishermen were within the rules set out by the Governor's Fifth Supplementary Proclamation yesterday, but the beach loungers were not.
Officers from the DLNR Division of Conservation and Resources Enforcement (DOCARE) and the Honolulu Police Dept., were patrolling beaches around O'ahu educating people on the temporary rules, aimed at preventing people from congregating on state beaches during the COVID-19 crisis. DOCARE Supervisor John Silberstein said he was answering a lot of questions, as many people seemed unaware of the new restrictions. Some of his officers, he said, were writing citations.
DLNR Chair Suzanne Case and DOCARE Chief Jason Redulla, joined in asking everyone to abide by the closures and only be on the beach to get to the water for swimming, fishing, or solo paddling. "This is necessary," they said, "in order to try and flatten the curve of coronavirus infections, so life can begin to return to normal in Hawai'i."
Through a series of Supplementary Proclamations, Governor Ige has called on everyone to practice social distancing, even when outside; to wear masks when in businesses or around other people; and to abide by various closures. Violations of the emergency rules can carrying fines of up to $5,000 and a year in jail.
At Kaiwi State Scenic Shoreline, a family of five was advised the park was closed, as they were about to cross over the closed gate at the beginning of the popular Makapu'u Overlook trail. They said someone told them it was okay to make the walk, but after they learned it wasn't, they got back in their car to search for an open, alternate trail.
While the majority of beaches in the state are under State of Hawai'i jurisdiction, some are under individual counties. In the City and County of Honolulu, previously announced rules mirror those of the State's. It's okay to cross the beach to get to the water, but not okay to sit, stand, lie down, lounge, sunbathe, or loiter on beaches and sandbars. It's currently against the law to walk or run on state beaches.
Beaches under individual county jurisdictions may have different rules.
# # #
Media Contact:
Dan Dennison
Lead Public Information Officer
Hawai'i COVID-19 Joint Information Center
[email protected]
Senior Communications Manager
Dept. of Land and Natural Resources
(808) 587-0396
[email protected]