DEPARTMENT OF LAND AND NATURAL RESOURCES
News Release
DAVID Y. IGE
GOVERNOR

SUZANNE D. CASE
CHAIRPERSON
For Immediate News Release: July 9, 2020
DLNRTIP APP UPGRADE INCREASES REPORTING CAPABILITIES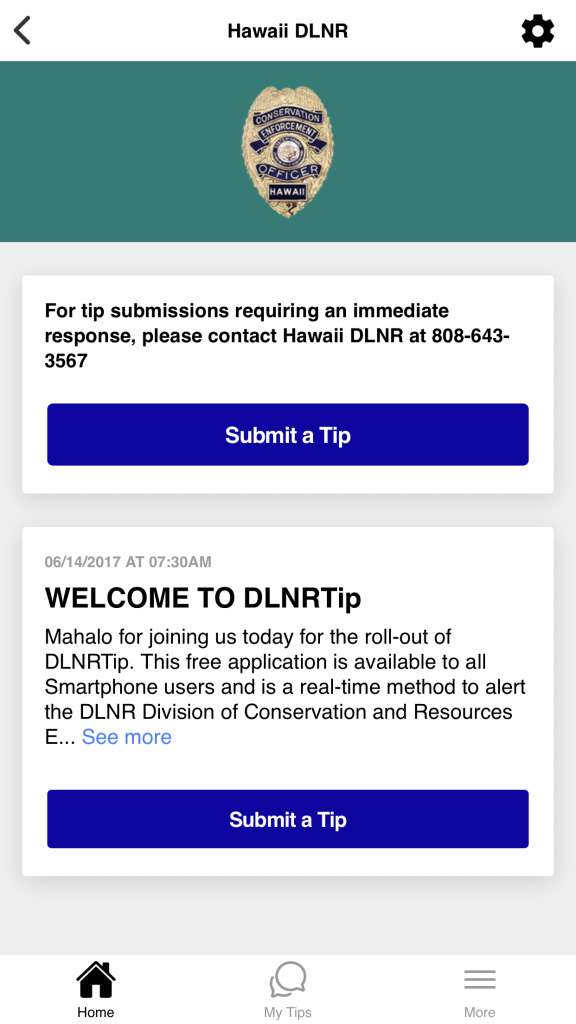 (Honolulu) – Hawai'i's official application for reporting natural resource violations is receiving a major update. The DLNRTip App now includes ​new features that allow ​users  to choose an island when submitting a tip. This sends the tip directly to the appropriate DLNR Division of Conservation and Resources Enforcement (DOCARE) branch.
​Another upgrade is the "Use My Location" button, ​which more accurately pinpoint​ a user's location. ​ DOCARE Chief Jason Redulla said, "It is important to use as much detail when describing ​and reporting a suspected natural or cultural resource violation. ​We ask users to be sure to include the island ​where the violation is occurring. ​Since its introduction several years ago, the application has been valuable in helping people immediately report violations, which allows us to dispatch DOCARE officers quickly to a scene."
​Download the free DLNRTip app ​from the Apple App Store for iPhones or Google Play Store for Android ​devices.
# # #