Beetle Busters: Help Save Hawaii's Coconut Trees
Click here to download an informational packet about Coconut Rhinoceros Beetle and the threat it poses to Hawaii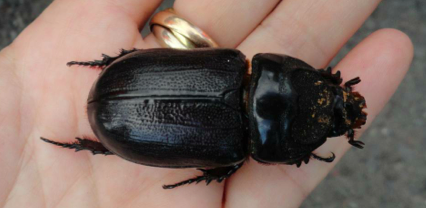 Want to help survey trees for Coconut Rhinoceros Beetles?  You can help document the possible presence or absence of these beetles by using your digital camera or smartphone camera to take photos of the crowns (tops) of coconut trees.  Upload your photos to the Project Noah website to have the Beetle Buster Team assess them for any visible v-shaped cuts to the fronds.  V-shaped cuts could be caused by rats, or when the trees are trimmed, OR, by Coconut Rhinoceros Beetles when they burrow into the crown to feed on the sap.
Click here to go to the Project Noah website "Help Save Hawaii's Coconut Trees" mission: https://www.projectnoah.org/missions/182566002 .  You can also download the app for Apple or Android by searching for the "Project Noah" app.
Click on "Sign In to join the Mission".   Once you've joined the mission, start taking photos.   Try to zoom in to get a good shot of the entire top, and try to set your camera to a fairly high resolution (more dots per inch).
To upload your photos, click on "New Spotting" button on Project Noah page
Click the plant (cactus) icon to select it
Click on "+" sign to upload a photo
Drag and drop photos from your files or upload photos from your Dropbox, Facebook, Flickr, or Google Drive accounts
Add multiple pictures to help experts identify your spotting
You don't need to click on "Help me ID this species", as we're only looking at coconut trees.
For Common name, just write in "coconut"
For Description, give an assessment of health, such as "no visible v-shaped damage", or, "does not look healthy, leaves browning", or "visible v-shaped cuts in leaves"
For Location, either click on the address uploaded automatically by photo or type the address under "where did you find it?" and adjust by dragging the point to the  approximate location
For Notes, add any additional info.
Assign to Help Save Hawaii's Coconut Trees mission, under "Is it for a mission"
Click on "Save Changes"
An email will be sent to you when one of the Beetle Buster Team views and comments on your photo.  Check back and see how many coconut trees we are able to survey.  There are an estimated 1,000 coconut trees in downtown Honolulu alone, but we're also particularly interested in surveying outside of Honolulu.  Thank YOU!