Prevention/EDRR Working Group

The Prevention and Early Detection-Rapid Response Working Group is working to implement Strategies 1 & 2 from the HISC/CGAPS 2025 Strategy  that was released in 2020. These strategies focus on building knowledge, capacity, and tools to prevent species from entering Hawaiʻi or moving intrastate. Preventing the introduction of invasive species is the most effective way to protect Hawaiʻi. The Prevention/EDRR Working Group is co-chaired by representatives from HDOA and UH CTAHR.
Strategy 1: PREVENTION & EARLY DETECTION/RAPID RESPONSE FOR NEW TERRESTRIAL INVASIONS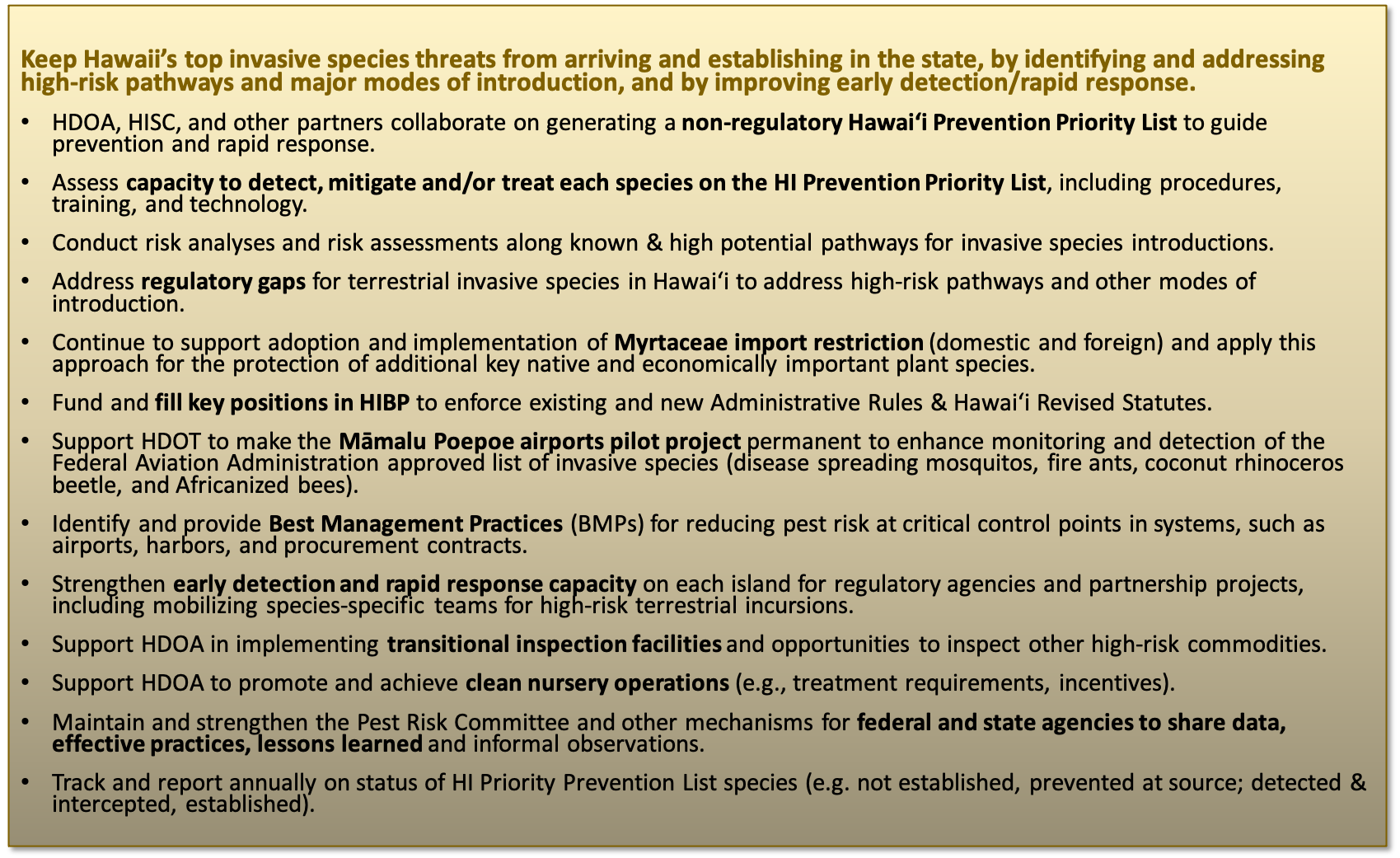 Strategy 2: INTER/INTRA-ISLAND MOVEMENT OF TERRESTRIAL INVASIVE SPECIES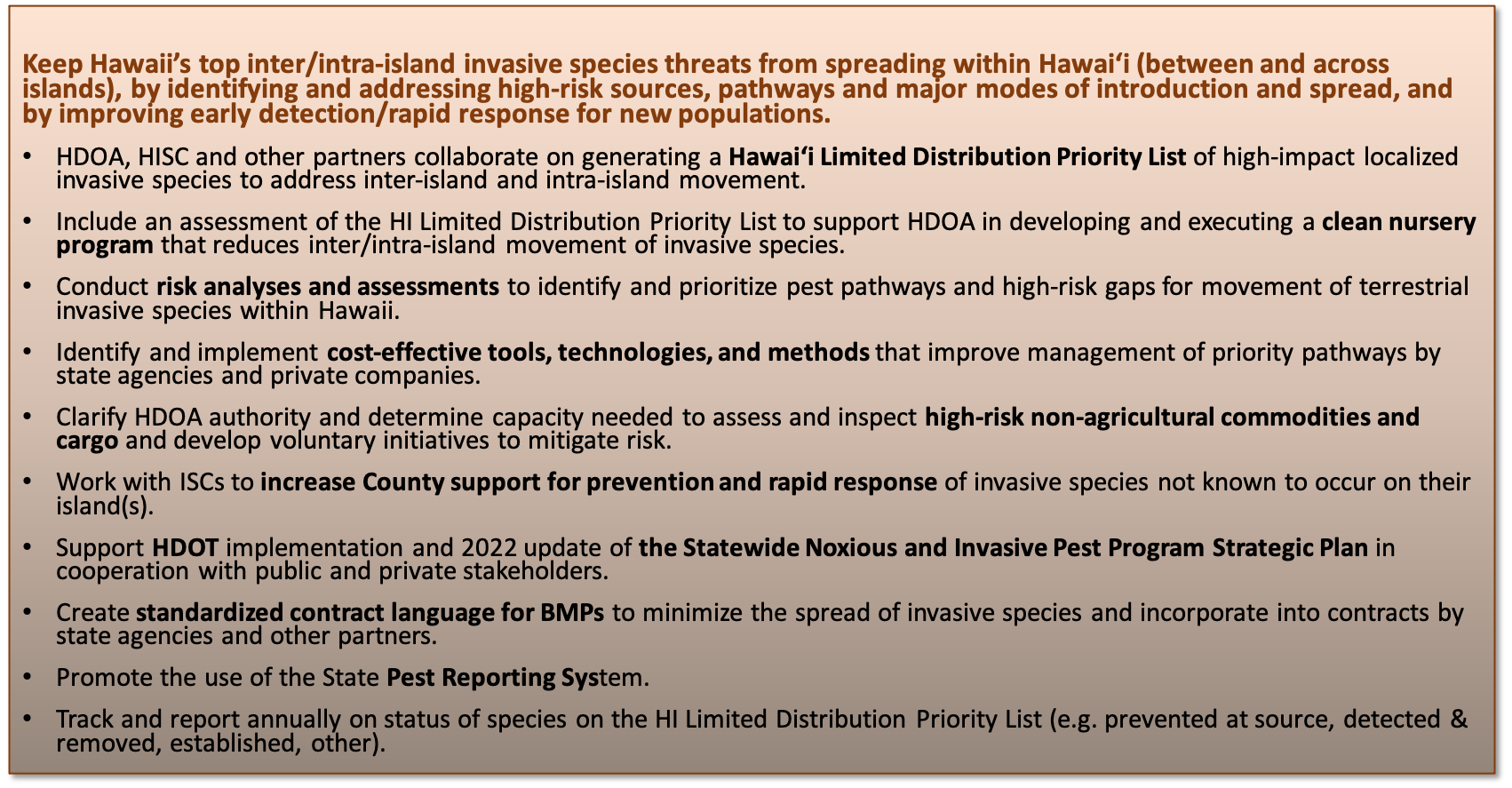 Non-regulatory prevention & limited distribution species lists:
Two non-regulatory species lists were developed in support of Strategies 1,2, & 3 to guide those key actions related to prevention:
How does this relate to the Hawaiʻi Interagency Biosecurity Plan (HIBP)?
Gaps in action or progress on HIBP actions guided the priorities in this five-year plan. Strategy 1 addresses over 30 HIBP tasks for Pre-border Policy (PrePol), Process (PrePro), and Technology, Infrastructure, and Funding (PreTifs). Highlights include addressing high-risk packaging material, expanding inspections to include non-ag commodities, developing pre-screening requirements for horticultural and agricultural products, conducting risk analysis, enhancing early detection with working groups, action plans, and utilizing detector dogs and other technologies.
Strategy 2 addresses over 10 HIBP tasks for Border & PostBorder Policy (Pol), Process (Pro), and Technology, Infrastructure, and Funding (Tifs). Highlights include increasing HDOA staff at PPC, implementing an electronic manifesting system for interisland transport of commodities, minimizing the movement of pest and pest-pathogens interisland with rule changes, utilizing detector dogs to intercept high-risk species, expanding interisland inspections to include non-ag commodities, and promoting the statewide pest hotline. For a more detailed list HIBP linkages for each strategy look to Appendix F of the HISC/CGAPS 2025 Strategy.
---
Archived Meeting Notes:
July 16, 2012 – Agenda | Minutes
July 14, 2011 – Agenda | Minutes
August 19, 2010 – Agenda |Minutes
August 4, 2008 – Agenda |Minutes
March 19, 2008 – Agenda | Minutes
April, 27, 2007 – Agenda
August 2, 2005 – Agenda | Minutes
Sept. 15, 2004 – Agenda | Minutes