Outreach Working Group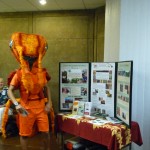 Raising awareness about invasive species in Hawaii is the primary purpose of the outreach working group. The focus of this group is to encourage citizens, law makers, and businesses to make responsible and informed decisions to protect Hawaii.
Outreach Working Group Chair: Christy Martin (pro tem), University of Hawaii at Manoa, Pacific Cooperative Studies Unit (PCSU), Coordinating Group on Alien Pest Species (CGAPS)
Next Meeting: TBD; online via Zoom due to COVID-19 guidelines
Outreach WG Meeting Agenda  (scroll down for Past Meeting agendas) 
HISC FY18 Funding Priorities Table per the Hawaii Interagency Biosecurity Plan Executive Summary
This year the HISC staff has reviewed guiding docs and made a single, consolidated list of 10 priorities for funding. This is in contrast to last year, where we provided multiple lists of priorities from each guiding document (HISC Strategic Plan, Regional Biosecurity Plan, etc).
The 10 priority areas roughly match to the key areas of the Hawaii Interagency Biosecurity Plan described in the HIBP executive summary.
For each priority, we've listed examples of projects that would address this priority. These project examples are largely based on action items from the HIBP.
The project examples are not exclusive. Anyone can propose anything for HISC funding.
Same as last year, proposals will be scored based on how well the proposal addresses the priorities in the call for proposals.
Recent Articles & Reports:
The Hawaii Legislative Reference Bureau (LRB) has released its update to the 2002 report Filling the Gaps in the Fight Against Invasive Species. The new report, titled Can't See the Forest for the (Albizia) Trees: An Invasive Species Update, is located at the link below:
2015 Hawaii LRB Invasive Species Update
Goals, Strategies and Evaluation Measures as outlined in the HISC 2015 – 2020 Strategic Plan:
Goal 1: There is statewide coordination of invasive species outreach.
Support for invasive species work relies on strong understanding and support of the issues from the general public, decision makers, and industry. Statewide outreach campaigns should address the overarching priorities for invasive species issues in Hawaii. Statewide coordination will result in clear consistent messages that increase stakeholder awareness, support, and engagement.
Strategies:
Work with CGAPS and contractor to develop a coordinated outreach strategy to develop outreach messages for statewide invasive species priorities.
Develop and disseminate outreach media and materials.
Act as centralized information hub for invasive species outreach.
Goal 2: All stakeholders are informed and engaged in invasive species efforts.
Strategies:
Identify stakeholder groups and develop personas for outreach.
Develop and work on collaborative projects with other stakeholders (i.e. partner workdays, exchanges etc.).
Goal 3: Outreach and collaborations on invasive species issues are culturally relevant and inclusive.
It is important that invasive species work have broad support of our missions and strategies across cultures. All of our work should strive to be culturally inclusive and ensure that lands and practices are respected.
Strategies:
Translate outreach materials into multiple languages.
Engage Aha Moku and other cultural leaders.
Provide in-reach to the invasive species community of practice through identification and participation of cultural events that currently exist as well as develop new opportunities (workshops, webinars, talk story).
Evaluation Measures for Outreach Strategies
Stakeholder attitudes towards and understanding of priority invasive species issues.
Increased stakeholder engagement.
Participation in educational opportunities and increased understanding of local cultures.
Number of materials produced in other languages.
Messages
We are promoting simple, easily remembered, one sentence messages to the public:
Protect Hawaii.
Report a pest to 643-PEST (7378).
Don't dump aquarium pets or plants.
Don't plant a pest.
Don't pack a pest.
Report dead birds to 211 or www.gotdeadbird.org.
Don't sell or buy a pest.
Keep pets contained (e.g. cats).
Plant native species (promote the value of biodiversity).
Audience
Our priority audience includes:
Decision makers, with the authority and means to offer support and/or enact regulations
Special interest groups that play an important role in introducing, promoting, or observing invasive species (e.g., transportation agencies and companies, plant and landscape trades)
Students, our next generation of decision makers
The general public, in order to raise awareness of and concern for invasive species issues
Upcoming & Past Meetings
October 9, 2020 – Agenda
September 22, 2020 – STA Agenda
August 31, 2020 – STA Agenda
July 30, 2020 – Agenda & Notes
March 4, 2020 – Agenda & Notes
December 12, 2019 – Agenda & Notes
June 19, 2019 – Agenda & Notes
November 20, 2018 – Agenda & Notes
May 8, 2018 – Agenda & Notes
February 14, 2018 – Agenda & Notes
September 26, 2017 – Agenda & Notes
May 3, 2017 – Agenda & Notes
February 1, 2017 – Agenda & Notes
December 6, 2016 – Agenda & Notes 
August 3, 2016 – Agenda | Notes 
April 20, 2016 – Agenda | Notes
February 2, 2016 – Agenda | Notes 
December 3, 2015 – Agenda | Notes 
November 5, 2015 – Agenda | Notes
September 29, 2015 – Agenda | Notes 
January 8, 2013 – Agenda
July 17, 2012 – Agenda | Minutes
May 2, 2012 – Agenda
January 17, 2012 – Agenda |Minutes
July 15, 2011 – Agenda | Minutes
January 19, 2011 – Agenda
October 21, 2010 – Agenda |Minutes
August 2, 2010 – Agenda
February 26, 2009 – Agenda
November 19, 2008 – Agenda |Minutes
September 16, 2008 – Agenda |Minutes
May 27, 2008 – Agenda
March 3, 2008 – Agenda | Minutes
August 13, 2007 – Agenda
May 18, 2007 – Agenda | Minutes
March 9, 2007 – Agenda | Minutes
January 29, 2007 – Agenda | Minutes
October 30, 2006 – Agenda | Minutes
March 10, 2006 – Agenda
December 5, 2005 – Agenda | Minutes
October 27, 2005 – Agenda | Minutes
September 13, 2005 – Agenda | Minutes
July 11, 2005 – Agenda | Minutes
May 18, 2005 – Agenda | Minutes
March 17, 2005 – Agenda
January 19, 2005 – Agenda | Minutes
December 15, 2004 – Agenda | Minutes
September 22, 2004 – Agenda | Minutes
August 25, 2004 – Agenda | Minutes
July 21, 2004 – Agenda | Minutes
June 23, 2004 – Agenda | Minutes
May 5, 2004 – Agenda | Minutes
March 17, 2004 – Agenda | Minutes